New LEGO Harry Potter Sets Coming This Summer
New Harry Potter LEGO sets will be coming to stores this summer, all of them featuring fan-favorite moments from Prisoner of Azkaban and Goblet of Fire. Along with those, this year's Harry Potter Advent Calendar is also revealed, featuring seven mini-figures and tons of Harry Potter Christmas goodies. Of the movie-based sets, the Hogwarts Clock Tower looks great and locks in place with the other previously released Hogwarts sets. I see what you are doing there LEGO…
Check out everything below, and keep an eye out for these sets over the summer.
-This LEGO Harry Potter advent calendar includes 7 minifigures: Harry Potter, Hermione Granger, Ron Weasley, Professor McGonagall, Albus Dumbledore, Professor Flitwick and the Hogwarts Architect plus a Hedwig figure.
-Models include a micro Hogwarts Express train, buildable fireplace with Christmas decoration, Great Hall table with accessories and a statue pedestal decorated with the 4 house crests.
-The 24 gifts combine to inspire kids to recreate festive scenes from the Harry Potter movies and invent magical stories of their own.
Based on scenes from Harry Potter and the Prisoner of Azkaban™
• Includes Harry Potter, Sirius Black and 2x Dementor LEGO Minifigures
• Includes all new Stag Patronus charm element and a tree-based shooting function for when Harry casts the Expecto Patronum spell!
• Features Harry Potter™ summoning his stag Patronusfor the first time to protect Sirius Black from the Dementors
Based on scenes from Harry Potter and the Goblet of Fire™
• Includes Harry Potter, Viktor Krum, Fleur Delacour and Cedric Diggory LEGO Minifigures
• Join Harry Potter in his first challenge of the Triwizard Tournament as he must retrieve a golden egg from the clutches of a dangerous Hungarian Horntail dragon
• Includes a buildable Hungarian Horntail dragon and Golden Egg elemen
Based on scenes from Harry Potter and the Prisoner of Azkaban™
• Includes Harry Potter, Ron Weasley, Hermione Granger, Minister of Magic Cornelius Fudge, the executioner and Rubeus Hagrid LEGO Minifigures
• Using Harry Potter, Ron Weasley and Hermione Granger, you must rescue Buckbeak the Hippogrifffrom the executioner.
• Includes a Buckbeak element and buildable Hagrid's Hut that opens into two, with a light brick in Hagrid's fireplace
Based on scenes from Harry Potter and the Prisoner of Azkaban &Harry Potter™ andthe Goblet of Fire™
• Includes Harry Potter, Ron Weasley™, Hermione Granger™, Fleur Delacour, Cedric Diggory, Viktor Krum, Albus Dumbledore™ and Madame Maxime LEGO Minifigures
• An iconic section of Hogwarts™ recreated in LEGO brick form, featuring the Entrance Hall, Defence Against the Dark Arts classroom, Hospital Wing, Prefect's Bathroom, Dumbledore's Office and a section of icy decorations for the Yule Ball
• This set is attachable to the LEGO Hogwarts™ Great Hall and Whomping Willow™ sets from 2018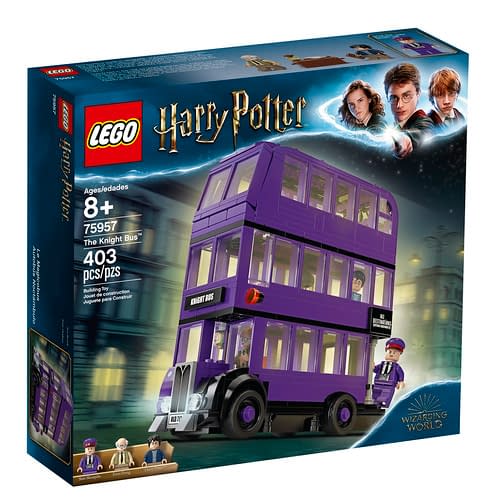 Based on Harry Potter and the Prisoner of Azkaban™
• Includes Harry Potter and all-new Stan Shunpike and Ernie Prang LEGO Minifigures
• Join Harry Potter as he steps onboard the Knight Bus following his departure from the Dursley's home
• Includes a three-storey Knight Bus, which opens out and includes a sliding bed