Pennywise Q-Fig Walmart Exclusive Preorders Now Live
Walmart is now taking preorders for a black and white Pennywise Q-Fig from QMx. The figure is an exclusive, part of the new big push of collectibles on the Walmart website and their Collector Con that went up and running this afternoon. The figure features an awesome sculpt of the horror villain, based on his appearance in the two IT films from 2017 and 2019. This version is in black and white while holding a red "I Love Derry" balloon. The cost is $29.99, and Pennywise is now available to preorder for shipping in September here. Check out the figure below.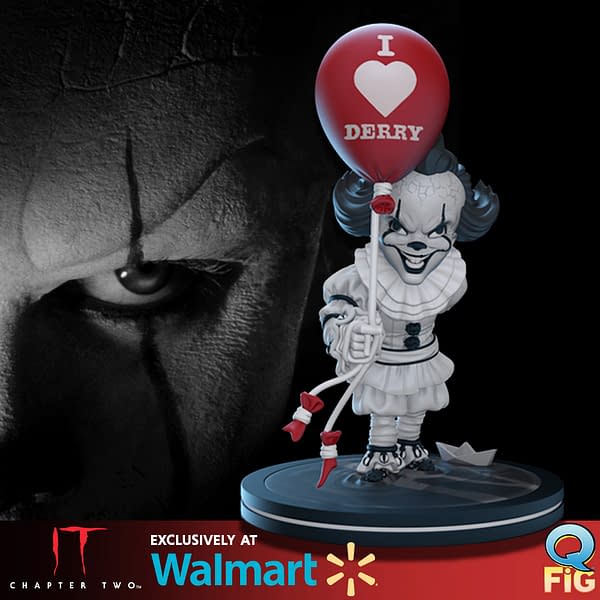 Pennywise Is A Perfect Q-Fig
"Pennywise knows your secrets. He's your worst nightmare. And he's the most frightening Q-Fig ever created, now in a haunting black and white design available for a limited time exclusively at Walmart. Our Pennywise, the Dancing Clown, grins malevolently, offering hapless passersby a bright red balloon — the only spot of color against a grim palette. His dioramic base features a watery expanse with poor Georgie Denbrough's boat floating nearby. Pennywise's clown costume and make-up are captured with intricate detail, unrivaled from a collectible in this scale. Individually numbered and limited to 1,000 pieces, the meticulously sculpted Black & White Q-Fig is certain to be a highly coveted collector's item. Join the Losers Club and add Pennywise to your Q-Fig collection today, available exclusively at Walmart. We all float down here. Pennywise Limited Edition B&W Q-Fig"
Really, this might be one of the coolest Q-Figs QMx has done. What a perfect character for this line as well. While there have been no shortages of figures and such made of this version of Pennywise in the past, but I would argue that this Q-Fig is up there as one of the best. Get your preorders for the figure in now.