Robin is a constant in the Batman universe. Originally it started with Dick Grayson who became Nightwing. Then it was Jason Todd, who after some tragic events ended up as the Red Hood. Next, was Tim Drake who upgraded to Red Robin and now just Drake. The newest one is Batman's son and the grandson of Ra's al Ghul; Damien Wayne. In the events of Batman: Ninja, we see some of our favorite heroes and villains from Gotham city transported to ancient Japan. This gives us a look at some of these iconic characters donning old Japanese outfits. With XM Studios Premium Collectibles we get to see Robin donning his samurai outfit. He does come load it out with interchangeable parts too! He comes with two right hands, one holding a bow-staff and the other a batarang, as well as two left hands one Sword and the other just opposed gloved hand. He also comes with three interchangeable heads, one being hooded, one being masked, and finally, one showing him in a Japanese style mask. The base is also decked out with Japanese style, from a crashed bell showing Joker hints to Poison Ivy vines and other wrecked ancient debris. Robin is beautifully crafted, the statues are usually hand-painted and made to order so you know you're dealing with some great pieces work. This statue would be a must-have for any Robin fans or fans of Batman: Ninja.
The Robin Samurai Statue from Batman: Ninja made by XM studios Premium Collectibles is priced at roughly $950. Payment plans are available as well as discounts if you are a member. The release date was not given, but pre-orders will start to go on sale on October 23 and that link is located here. These pre-orders will only be open until December 23 so make sure if you wanted you to lock yours down before it's too late.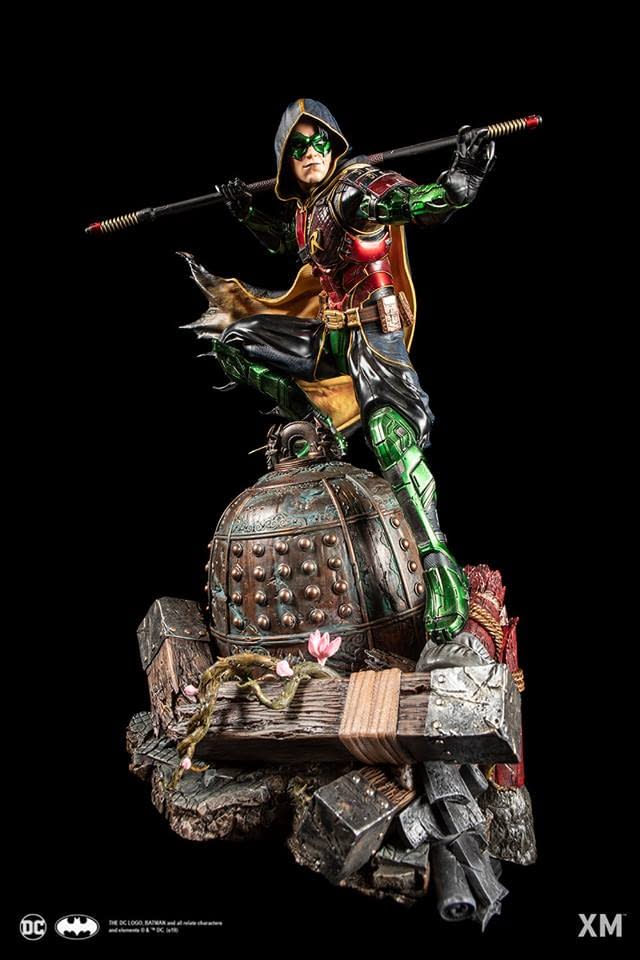 Robin – Samurai 1:4 Scale Statue
Start: 23 Oct 2019, 11PM (GMT+8) Ends: 23 Dec 2019
Pre-order link goes live on 23 Oct, 11pm
XM Studios is excited to present our next DC Premium Collectibles series statue, Robin! This incredible work of Art is immortalized in amazingly detailed 1:4 scale cold-cast porcelain. Each painstakingly handcrafted statue is individually hand-painted with the highest possible quality finish. This unique line is a result of creative collaboration between Warner Bros. and XM Studios to showcase the Batman universe in exotic settings as you've never seen.
Features:
– Robin clad in a traditional Japanese inspired armour as he lands deftly on a destroyed temple bell.
– Three (3) Headsculpt – 1 with hood, 1 unhooded, 1 with Tengu-inspired mask.
– Two (2) Right Arm – 1 holding staff, 1 holding batarang
– Two (2) Left Hand – 1 holding a Wakizashi inspired samurai sword, 1 with his gloved hand.
– Poison Ivy's vines can be seen on the base and the patterns etched on the bell gives a little clue of The Joker – Samurai's concept.
– Crafted in cold cast porcelain.
– Each painstakingly handcrafted statue is individually hand-painted with the highest possible quality finish
– ES: Made-to-order (MTO)