Ever since Scarlet Witch created the Marvel Comics storyline House of M I feel she has been shuffled to the back of the roster. This is honestly quite sad as Wanda Maximoff is such a powerful and beautiful character. I hope we can get more character story for her one the Disney + Wanda/Vison show finally comes out later this year. Until then fans have something to look forward to a Kotobukiya announce that Scarlet Witch is next in their Women of Marvel statue series. This statue is inspired by the Marvel Comics Scarlet Witch #1 comic from 2016. The scarlet color is a huge plus here and it really will stand out in any collection. She is shown with a spell in hand and each part of her is defined with great detail. Her facial feature showcase a real world version of the character and from her clothes and her hair she is something special.
This Scarlet Witch ArtFX Premier Statue from Kotobukiya does not have a price or a preorder link just yet. She is set to release in July 2020 so I would expect we can see pre-orders soon and you will be able to find her located here when she goes live.
"A new world has opened for me, and I am aware of much more than your cloistered intellect could hope to know!"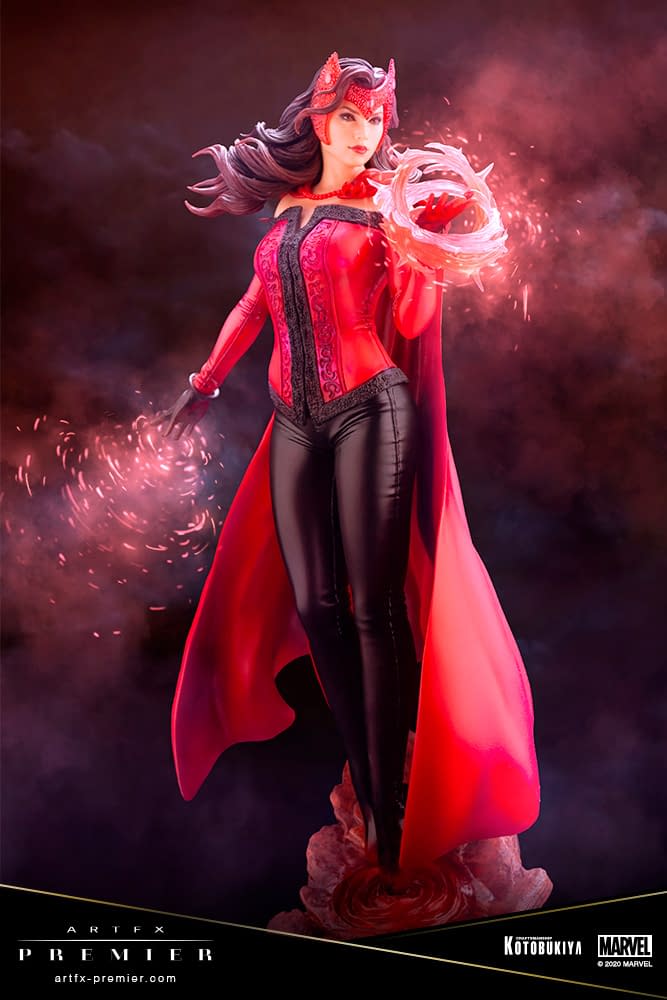 SCARLET WITCH ARTFX PREMIER
Scarlet Witch is the third character to join Kotobukiya's special "WOMAN of MARVEL" line in the ARTFX PREMIER series!
Inspired by the 2016 "Scarlet Witch #1" comic, the elaborate costume design in the sculpt brings out her presence as a "witch," and the realistic expression and overall "scarlet" color scheme fully showcase the realism and "beauty" of this statue.
Despite her face being smaller than 3.5 cm, the paint decorating the statue perfectly emulates the character's personality seamlessly. This statue will be sure to woo fans worldwide with her beautiful gaze and expression. The display of her power of telekinesis is beautifully emulated at her fingertips.
Be sure to pay close attention to the fine details in this statue; from the hair and cape that can be seen fluttering about, to the ripples where her toes touch. The base further brings out the tension of this statue with its "scarlet" color scheme and realistic sculpting of the "witch" in this new addition to the ARTFX PREMIER line.
The "beauty" resonating from each statue in this new line in the ARTFX PREMIER series is a work of art that will please collectors worldwide.
Each ARTFX PREMIER statue comes in a luxurious packaging that differs from other Kotobukiya products. Every ARTFX PREMIER statue includes a serial number on the base, making each statue a one of a kind product.
This all-new and refined statue will be sure to stand out in any collection.
© 2020 MARVEL