Star Wars Jedi Hero Qui-Gon Jinn Finally Getting a Hot Toys Figure
Star Wars fan-favorite Jedi Qui-Gon Jinn is finally getting the Hot Toys release he deserves. He will come with his Jedi robes, tunic, lightsaber, eight sets of interchangeable unique hands, a comlink, grappling hook, three holograms of Yoda, Mace Windu, and the Naboo starfighter, and so much more. He will be up for preorder soon, for release early 2020. Check him out below, along with full release details.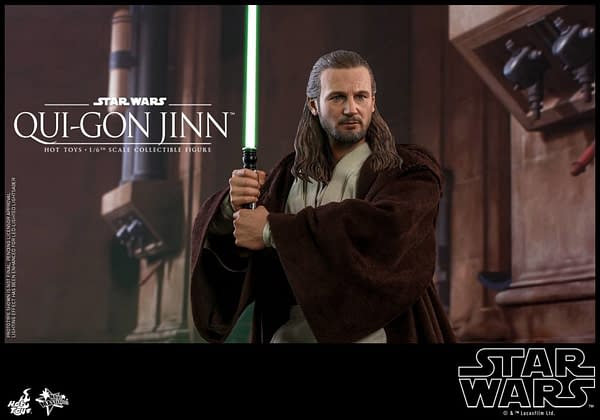 Star Wars: Episode I – The Phantom Menace – Qui-Gon Jinn 1/6 Scale Collectible Figure
A venerable if maverick Jedi Master, Qui-Gon Jinn was a student of the living Force. Qui-Gon lived for the moment, espousing a philosophy of "feel, don't think — use your instincts." On Tatooine, Qui-Gon discovered a young slave boy named Anakin Skywalker who was strong in the Force. Sensing the boy's potential, Qui-Gon liberated Anakin from slavery. The Jedi Master presented Anakin to the Jedi Council, but they deemed the boy too old to begin training and dangerously full of fear and anger. They refused to allow Qui-Gon to train Anakin, but rescinded their decision to fulfill Qui-Gon's dying wish.
Today, Hot Toys is very excited to introduce the new 1/6th scale collectible figure of Qui-Gon Jinn from Star Wars: The Phantom Menace!
Skillfully crafted based on the appearance of Qui-Gon Jinn in the film, this 1/6th scale collectible figure features a newly developed head sculpt, finely tailored Jedi robe and tunic, a desert poncho, a LED light-up lightsaber, a Comlink, a grappling hook, a hologram projector with interchangeable holograms, and a themed figure base!
Battle the dark side with Jedi Master Qui-Gon in your Star Wars collection!
Specifications:
– Product Code: MMS525
– Product Name: Qui-Gon Jinn
– Height: Approximately 32 cm tall
– Points of Articulations: 30
– Special Features: A grey desert poncho with weathering effects, A LED light-up lightsaber, A hologram projector with interchangeable holograms
The 1/6th scale Qui-Gon Jinn Collectible Figure specially features:
– Authentic and detailed likeness of Liam Neeson as Qui-Gon Jinn in Star Wars: Episode I – The Phantom Menace
– Movie-accurate facial expression with detailed wrinkles, beard, and skin texture
– Body with over 30 points of articulations
– Approximately 32 cm tall
– Eight (8) pieces of newly sculpted interchangeable hands including:
– One (1) pair of hands for holding lightsaber
– One (1) left hand for holding holoprojector
– Two (2) gesture left hands
– One (1) Force-using right hand
– One (1) right hand for holding comlink
– One (1) relaxed right hand
– Each piece of head sculpt is specially hand-painted
Costume:
– One (1) grey-colored poncho with weathering effects
– One (1) brown-colored Jedi robe
– One (1) beige-colored tunic with belt
– One (1) beige-colored under tunic
– One (1) beige-colored sleeveless tunic
– One (1) pair of beige-colored arm wraps
– One (1) beige-colored interchangeable arm wrap for LED left arm with lightsaber
– One (1) brown leather-like belt with lightsaber holster
– One (1) pair of brown-colored pants
– One (1) pair of brown leather-like boots
Weapons:
– One (1) LED-lighted green lightsaber (green light, battery operated)
– One (1) green lightsaber blade in motion (attachable to the hilt)
– One (1) lightsaber hilt
Accessories:
– One (1) Comlink
– One (1) grappling hook
– One (1) holoprojector
– One (1) hologram figure of Mace Windu
– One (1) hologram figure of Yoda
– One (1) hologram figure of Naboo Royal Starship
– Figure stand with Qui-Gon Jinn nameplate and movie logo