Mezco doesn't only give us some great One:12 Collective figures but they love to bring horror collectibles to life. From Living dead Doll to Mezco Designer Series they keep that phenomenon alive. This time horror fans can rejoice as Chucky's lovely bride, Tiffany comes to life. With Mezco Designer Series Mega Scale we are getting a 15" figure Tiffany doll from the Chucky film Seed of Chucky that really packs a punch. Tiffany will feature 11 points of articulation and has a button hidden on her back that with prompt 8 voice phrases. That's right, this doll does talk and will make any collector want to sleep with at least one eye open.
The Mezco Designer Series Mega Scale Seed of Chucky Talking Tiffany Doll will be priced at $98. She is set to slay once again between June and August 2020 with pre-orders already live and available here. Don't forget to check out the other amazing horror dolls coming soon from Mezco.
"This is nuts! And I have a VERY high tolerance for nuts!" – Chucky
MDS Mega Scale Seed of Chucky: Talking Tiffany
"My mother always said, 'Once is a blessing, twice is a curse.'"
In 'Seed of Chucky', Chucky and Tiffany embark on a new killing spree after being resurrected by their offspring, Glen.
Beautiful yet deadly, Tiffany is outfitted in an all-white gown and choker necklace. She comes complete with a knife accessory that fits nearly in her right hand.
Tiffany has a lot to say. Depress the button discretely hidden on her back to hear her speak 8 phrases from the film including "Hold still honey or I am going to poke you in the eye again" and "Sweet face, come to mommy".
Tiffany stands approximately 15" tall and features 11 points of articulation. She comes packaged in a window box, perfect for display.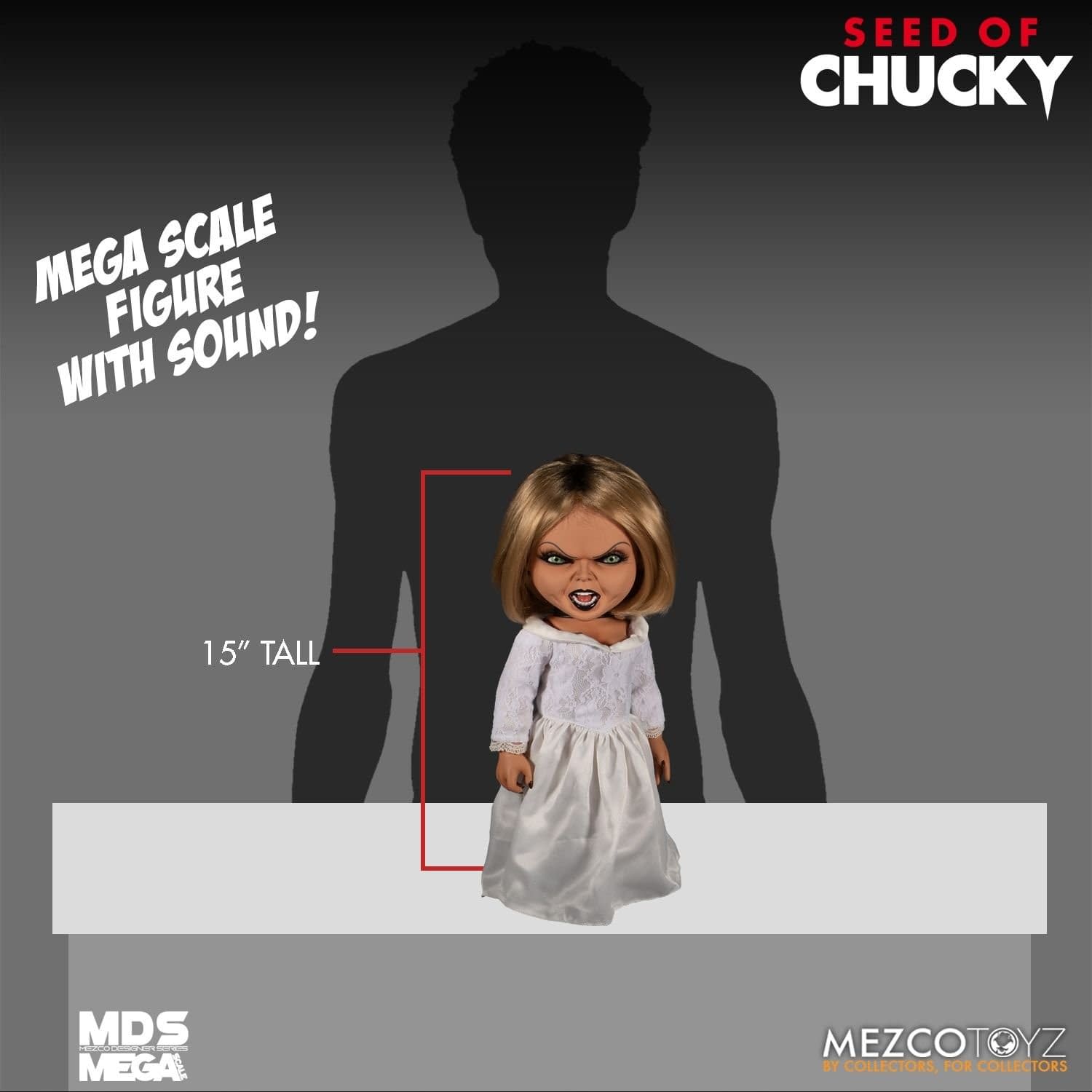 Enjoyed this article? Share it!