The Mandalorian Scout Troopers Catch The Child with Hot Toys
All fans are dealing with remission from The Mandalorian and hopefully season 2 can arrive with no delays. Hot Toys is trying to ease that wait as they give us two new Star Wars figure sets. As seen from the final episode, members of the Empire are still around and some Scout Troopers have been tasked with getting back The Child. These troopers come to life with Hoy Toys and there will be a single figure release or a set that includes a Speeder Bike and a new The Child figure. The trooper will be 12" tall, multiple interchangeable pieces, and over 30 points of articulation. The new Mandalorian figure will come with multiple hands, pistol, and a nice display stand. The bike version will include added extras like The Child, backpack, and of course the Speeder Bike that will have a special rocky display stand.
Mandalorian fans will want to add this bad boy to their massive collection. These post-Empire figures all seem to feature the same dirty style armor. Not surprising after the fall and it does add a new aesthetic to the figure. The Speeder Bike set is almost a full package and the detail on the bike alone is quite amazing. These two are literally made together so take advantage of it. They are scheduled to come out in summer 2021 so you have some time to save. Prices and pre-orders are not known yet but they will be here when they go live.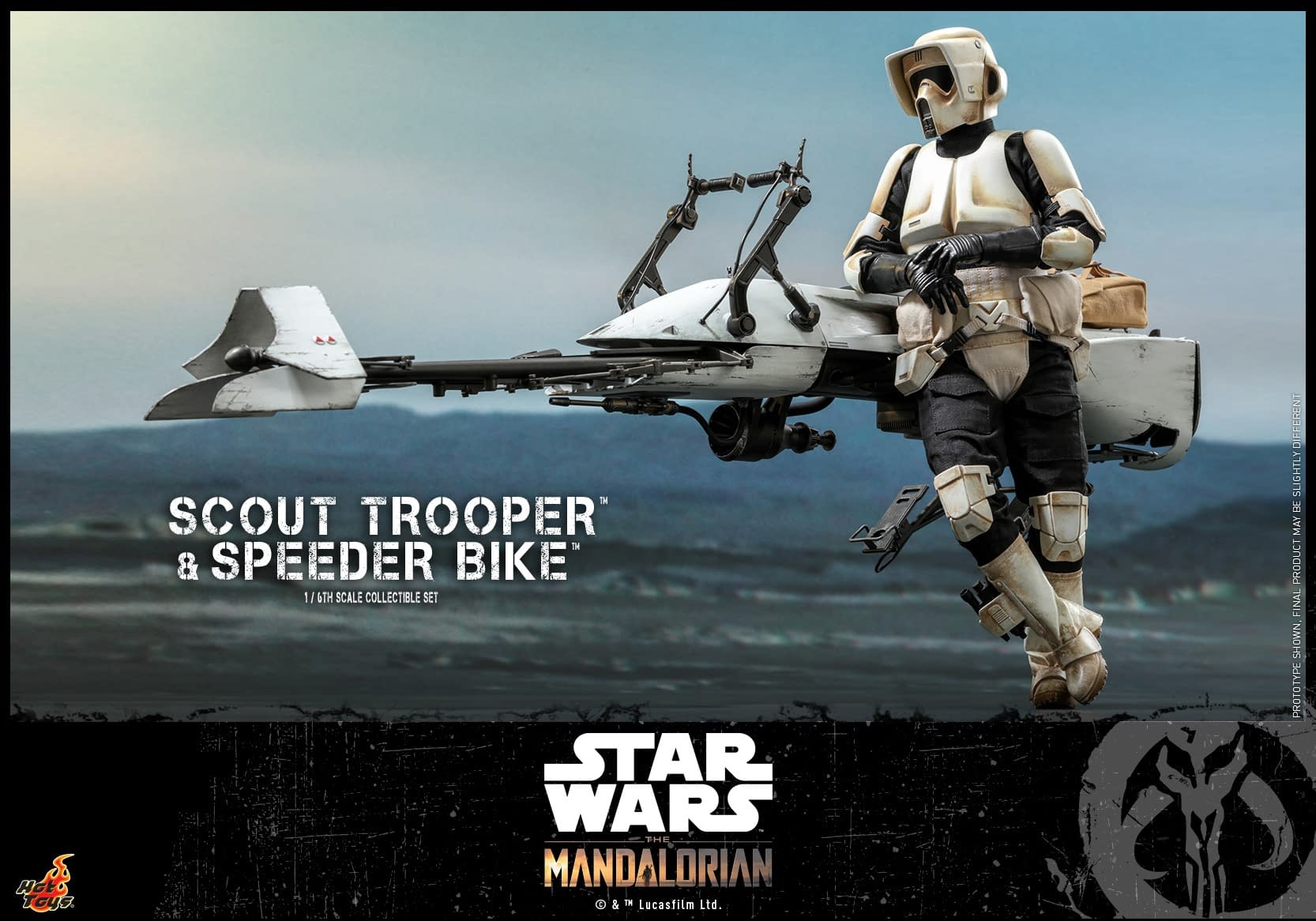 "In the highly acclaimed Star Wars live-action series, The Mandalorian, Moff Gideon was in search of the young alien founding, under the protection of the Mandalorian, and dispatched Scout Troopers to acquire the asset. These specialized troopers are adept for a range of missions, including reconnaissance and infiltration. In the climax of the first season, fans witnessed memorable scenes featuring the Scout Troopers' interaction with the Child and thrilling Speeder Bike action!"
"Today, Hot Toys is elated to expands its Star Wars collection and officially introduce the stunning 1/6th scale Scout Trooper and Speeder Bike collectible set based on The Mandalorian! The highly-accurate collectible figure is skillfully crafted based on the appearance of the Imperial Scout Trooper in The Mandalorian. Featuring greatly detailed helmet and armor with astonishing weathering effects, fabric body suit, a blaster rifle, and a desert-themed figure stand!"
"The 1/6th scale Speeder Bike is created with precision and meticulous craftsmanship. The sleek design of the speeder and its mechanical details throughout the body are beautifully recreated! Measuring at approximately 52.5cm in length, it features realistic weathering effects, articulated grip, foot pedals, steering vane, engine flaps and cannon, and a desert-themed figure stand. Moreover, this collectible set will specially include a 1/6th scale figure of the widely popular little alien the Child with newly sculpted expression and a shoulder bag for the Speeder Bike pilot to carry any special asset!"