Funko has been releasing a lot of Marvel 80th-Anniversary Funko Pop! figures. These figures have been paying tribute to the past 80 years of Marvel with new sleek boxing as well as first appearance, pictures on the back. We have already seen X-Men members Iceman and Beast but this time we were able to get our hands on Cyclops, Marvel Girl, and Angel.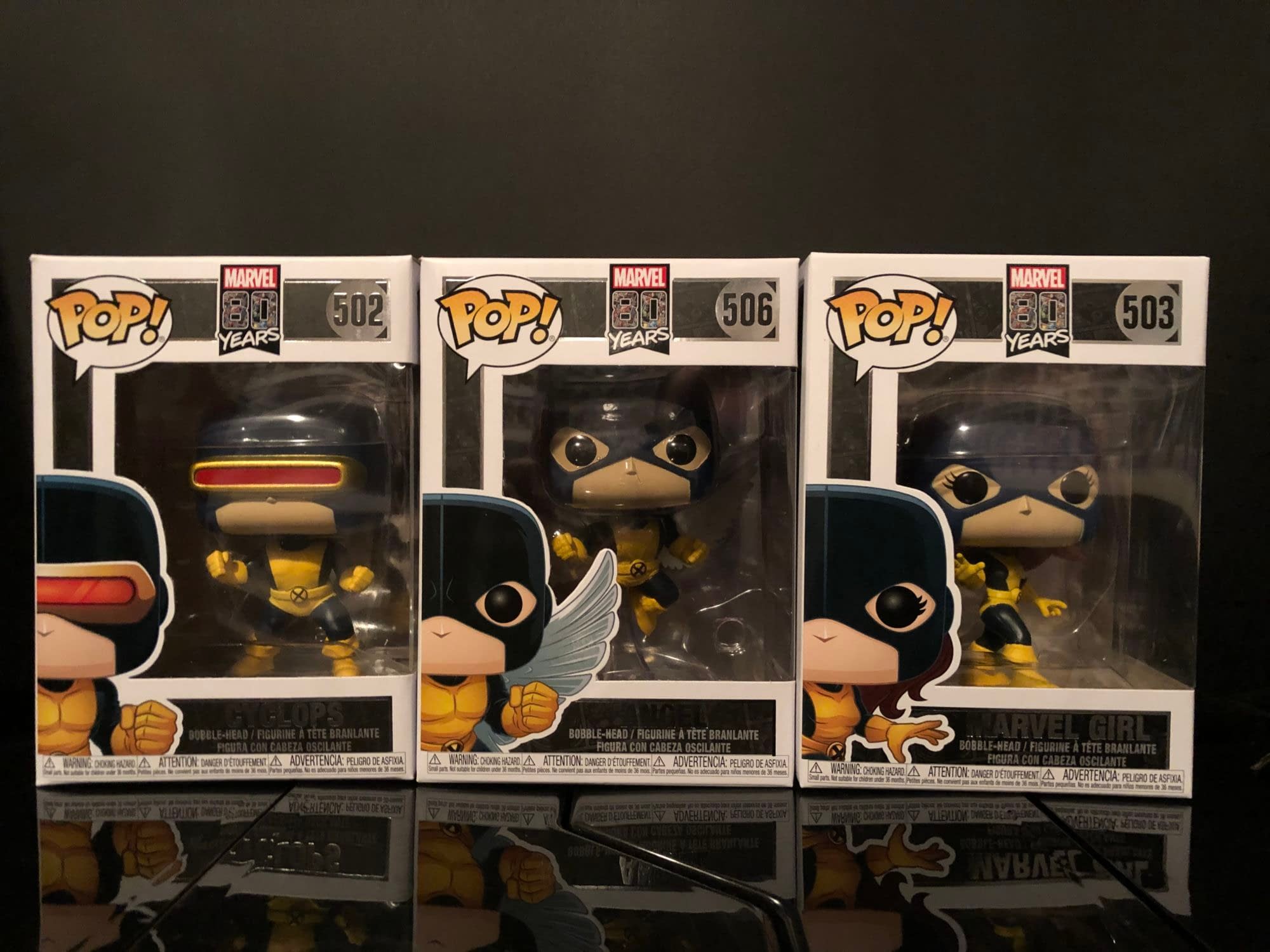 The boxes this time are the same as the other Marvel 80th-Anniversary Funko Pop! figures. It's a basic silver trim with the Marvel 80 years logo as well as the first appearance of the characters comic on the back. Being that this is the X-Men they all share the same comic.
Now into the Funko Pop! figures themselves. The Cyclops has already had a Funko Pop! release but features his classic style outfit. This one features his first appearance outfit recently recognized from the All-New X-Men series. The figures are very dynamic as it shows Cyclops posed. He did not come with the stand, and I kinda wish she did and he was very top-heavy. But based on appearances it's a really nice figure the red visor really stands out to the yellow and blue outfit.
Next up we have Marvel Girl who is getting her first Funko Pop! debut. We have seen other Jean Grey figures, as well as Phoenix and Dark Phoenix Funko Pops! Marvel Girl it's time to shine is now and it really does. Like Cyclops, she also is posed, and ready for action. I do you like the dynamic style of her hair as you can see the layers and its movement. Nothing else really specifically stands out for this figure but it definitely goes perfect with the set.
Lastly, we have the X-Men of flight and beauty, Angel. He has had a release before, and the X-Men Marvel Collector Corp Subscription box. I love this figure and it really stands out compared to the rest. With an included base, Angel flies high with his wings spread. It's like the other X-Men he has a yellow and blue outfit but this time his white rings really stand out.
Nothing is specifically special about each one of these Funko's but when you get the set together it's really something to behold. Getting all the X-Men together it's definitely an accomplishment in the zone in the hunt to find all these figures only adds to it. It is nice to see more dynamic and posed Funko Pop! figures compared to their old stiff counterparts. These Marvel 80th-Anniversary X-Men Funko Pops! are perfect for any fan of all classic comic books, Marvel, or fans of the X-Men. You can find these in stores now or you can walk down an online order or pre-order here.