Unboxing the December Box of Dread with More Vincent Price
I received the newest Box of Dread this week and dove right in to share with our readers what is in side. The only monthly horror subscription box, Box of Dread is put together by Jon Condit who also runs the website Dread Central. Over the last few months, the box has been improving, getting its own printed boxes with a unique logo design and a series of celebrity curators. But for the year end box, Condit himself curates the box so that he can pose a few questions to subscribers about the future of the box and the possibility of raising the price of the subscriptions so they can start including heavier items like mugs and t-shirt. But before doing it, he wants to get feed back. When you read his letter you can tell that for him, this subscription box is a labor of love. Lets move on and look inside this month's box. The box starts with a signed, ebook redemption code for Joe Chianakas follow up novel Burn the Rabbit, the sequel to Rabbit in Red, an ebook that was offered to subscribers a few months back.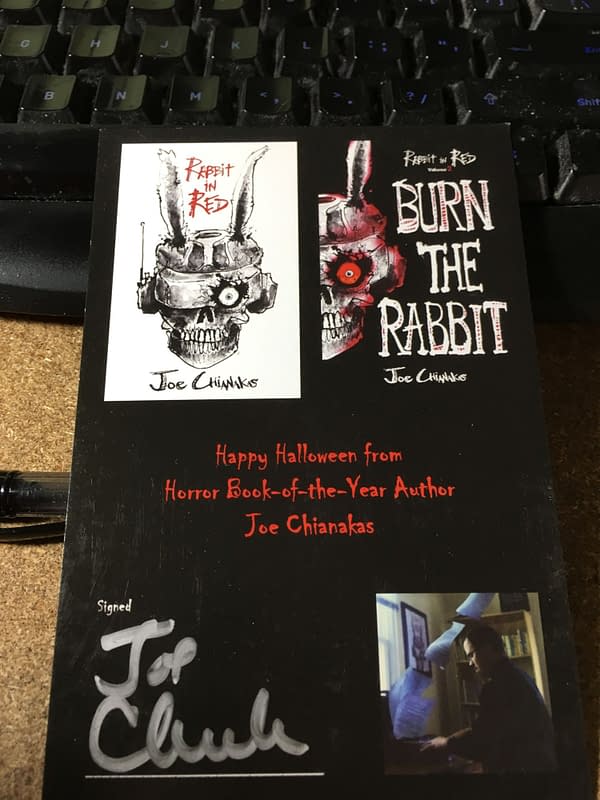 And there is a random vinyl figure from Titans' Edward Scissorhands series. The I'm Not Finished collection. There is also a DVD of the sci-fi/thriller Radius which stars Diego Klattenhoff and Charlotte Sullivan, telling the story of a man who wakes with amnesia and finds people mysteriously dead. That's definitely a bad Monday. You also get a Box of Dread exclusive variant cover of Ash vs The Army of Darkness #1 from Dynamite Entertainment. The cover is by Anthony Marques who has signed the issues.
And then there is my favorite piece in the box. A limited edition Vincent Price mini-bust from Rue Morgue and MVD Entertainment Group. It's a surprisingly light weight bust that has a hanger hole in the back so you could have this on your wall if all of your shelves are filled with books. Once again the folks at Box of Dread have put together a fun box for horror fans.