28 Thoughts About 28 Comics – Uncanny X-Men, Kung Fu Bible Classics, Batman Eternal, The Death Of Wolverine, Blood Queen, Dejah Mars, Hawkeye Vs Deadpool, Avengers World, Moon Knight, Southern Bastards, Star-Lord, Miracleman, God Is Dead, Extinction Parade, Uber, Alice Cooper, Chaos, Ex Con, Mars Attacks, Indestructible, My Little Pony, Red Sonja, Rogue Trooper, Turok, Squidder, Twilight Zone, Silent Hill and Angry Birds
Okay, so it's been gone a while. A mix of conventions, surgery and seeing to the kids during the summer holiday. But X Thoughts About X Comics is back… so how about we start looking at today's comics on a positive note? Or… possibly not. Bobby Drake there in Uncanny X-Men, showing why he is truly the most powerful mutant of all. And not this Matthew Malloy fellow.
Kung Fu Bible Classics from Image has many delights in it. But one highlight has to be a special Empowered chapter from Adam Warren outside of Dark Horse. If you didn't know it was there, you now have an added reason to pick up the comic. As well as that Medusa pinup from Art Adams… The Death Of Wolverine piles on the homoeroticism even more than usual in the first issue. Something Blood Queen #4 joins in on. Lots of backside covering it seems, for some reason. And looking at language… Here's that moment in Dejah Mars #4 when it feels like daytime TV has been having a go at the censorship… Marvel comics famously doesn't like to announce the cancellation of a comic book. Well, in Hawkeye Vs Deadpool, they get the characters to do it for them. Thank you Hawkeye in Avengers World. A little bit of cultural snobbery to keep the wannabees in line.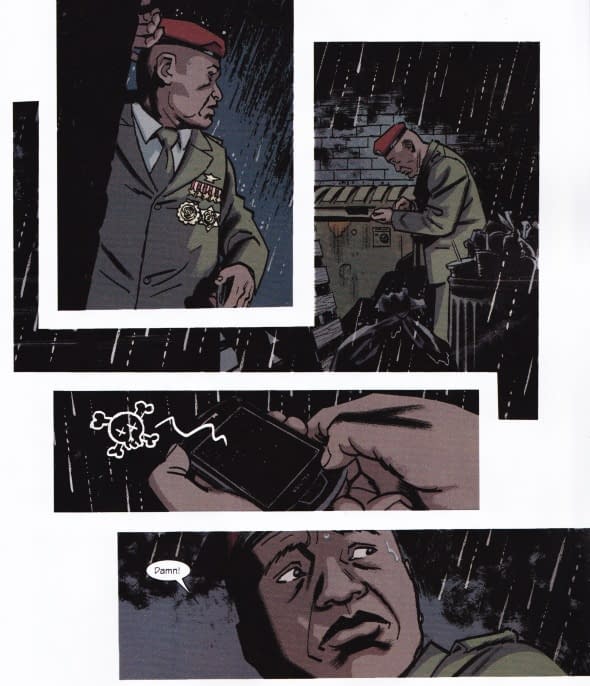 Warren Ellis has left Moon Knight. How do we know? Because someone's mobile phone/cellphone doesn't work. Even Southern Bastards gives you a little bit of energy left… Although, as with Batman Eternal, there's no guarantee you'll get who you are calling for. Yes, Rocket Raccoon, pretty much. Didn't you see your movie? Well, Kitty Pryde has. Probably more than once. hence this scene in The Legendary Star-Lord…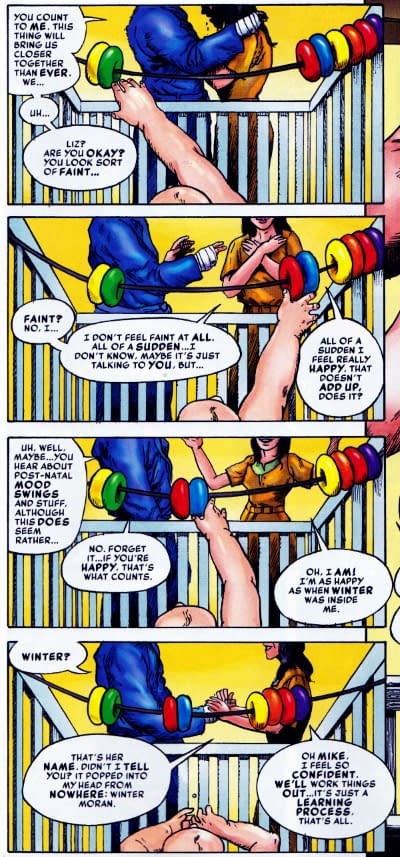 A fondly remembered scene from Miracleman. So much going on, so much being said, everything there for the reader to see if they wish to. When African and South American gods of a similar appearance decide to work =out which is best, in true Harry Hill style in God Is Dead. Uber discovers a new game of Rock-Paper-Scissors. Will people start playing Blitzmench, Tank Men and Heavy Tank Men at Baltimore this weekend?
Vampires get #FirstWorldProblems in Extinction Parade: War. Alice Cooper #1 astounds a child by showing him a vinyl record. The equivalent of pulling out a clockwork spinny jenny as an alternative to an XBox One. The omnipotence of Smiley in Chaos #5. He is unto a god… Ex Con #1 shows us just ho hard a punch can be by loosening a tooth, flying out of the mouth. I'm surprised some folk still have teeth in their head after being through a comic book fight scene or seven. Mars Attacks First Born #4 has a very down view on the fulfilment of parental responsibility. Surely that can't be justified? Okay, okay, from Indestructible #8 maybe it can. Okay, I need something cute to cleanse the palate.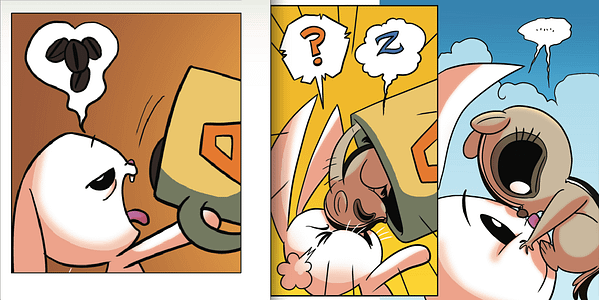 My Little Pony #23 shows you what happens when cute and cuter collide. Seriously, they should try doing this at the Cern Particle Accelerator. Red Sonja: Tower #1 points out the difficulties that a barbarian woman had keeping her weapons clean, in a fashion never expected of their male colleagues. Of course sometimes the weapons have problems of their own, such as in Rogue Trooper Classics #5 Turok #7, less a Dinosaur Hunter, more a Dinosaur Feeder. Poacher turned gamekeeper, perhaps?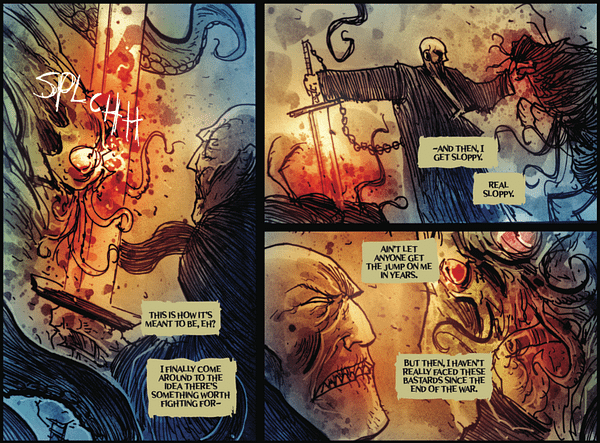 Squidder #3 is also paying less attention to his prey. Come on folks, get in the game! Dinosaurs, bastards, there's only one way to deal with them. Hey kids, if you are carrying a highly radioactive bomb, always look left and right before crossing the road. That's the lesson of today's Twilight Zone #8. Of course the driver must take some responsibility.. As Silent Hill Downpour Anne's Story #1 shows us. It's a dangerous game… maybe folks could learn from the Bad Piggies? Angry Birds #4 set up something Monty Python And The Holy Grail might have found rather useful too…
Comics courtesy of Orbital Comics, London. With an exhibition and launch of David Ziggy Greene's original art from Scene & Heard, the acclaimed illustrated reportage as published in Private Eye magazine since 2011.