In Armies by Jean-Pierre Dionnet, Picaret & Jean-Claude Gal, I finally found a comic that first saw publication in Metal Hurlant, back in the day when Les Humanoïdes Associés ran it. Penciller Jean-Claude Gal marks the pages as 79 and 80, making Armies (previously Conquering Armies) of the original Metal Hurlant vintage. Here are some thoughts about it:
I got the oversized deluxe hardcover, which makes it easy to swim in Jean-Claude Gal's detail. (Strangely, Humanoids' website doesn't list this edition of Armies anymore. Just the softcover.) Dan Brown's colors don't detract from the work, and Brown tastefully adds to it, but given the way Dionnet and Pat Mills talk about the black and white version, I'd like to see that as well.
Armies' scene of family mutilation inspires Jodorowsky in The Metabarons? In a pivotal scene, Armies' main character Arn cuts off his son's forearm so his son would resemble his father even more. It's difficult to say for sure, but after reading Armies, it's even more difficult not to ask the question. In The Metabarons, Jodorowsky, of course, took it to an entirely another level, where the sons eventually had to kill their fathers to become the Metabaron.
Mills calls Armies an anti-war comic, which Dionnet agreed and disagreed within an interview with The Comics Journal. Armies starts off as short stories of an unnamed army not in motion conquering, but at rest, so to speak.
There isn't a main character until book two, and then we meet Arn, the slave who will become a conqueror. By book three, even the team can't resist a final climactic battle, and they deliver that battle with gusto. Maybe there's also a shot or two that Mad Max: Fury Road drew inspiration from. Books two and three feel more like an adventure comic than a war comic, at least for my tastes.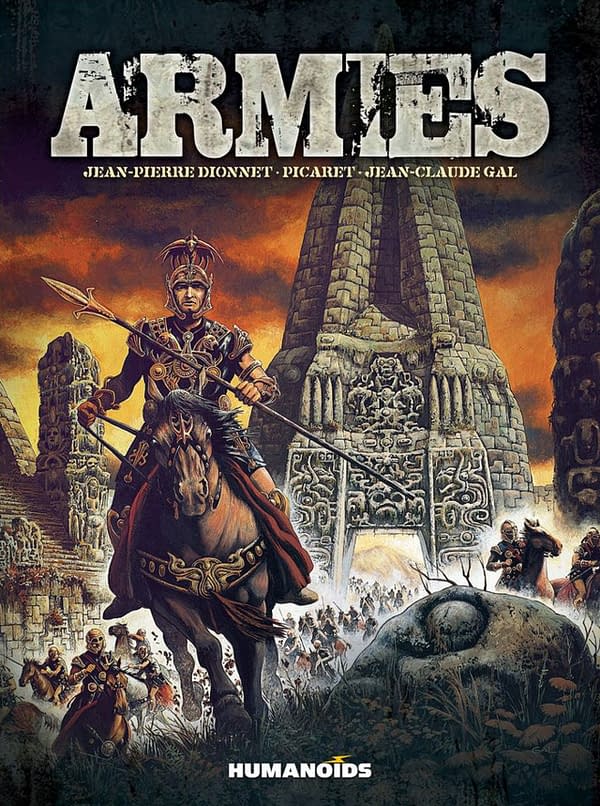 A collection of stories featuring an unstoppable army and an indomitable hero, all set amid the backdrop of barbaric and medieval lands.
Jean-Pierre Dionnet, one of the founders of "Metal Hurlant," started a new genre in comics when he collaborated with artist Jean-Claude Gal ("Diosamante") in the late 1970s: Heroic Fantasy. It shortly thereafter gained the favor of the public and has since grown immensely. This is the occasion for all lovers of the genre to return to its roots. 

Witness, with the help of Gal's intricate style, the devastating effects of war as you follow an army's forward progress, and then join Arn's bloody quest for revenge.
Enjoyed this article? Share it!