Raven finally confronts her brother in Princeless Raven: Year 2, Midnight Tiger continues the fight in Actionverse Ongoing, and Athena Voltaire receives her first collected edition.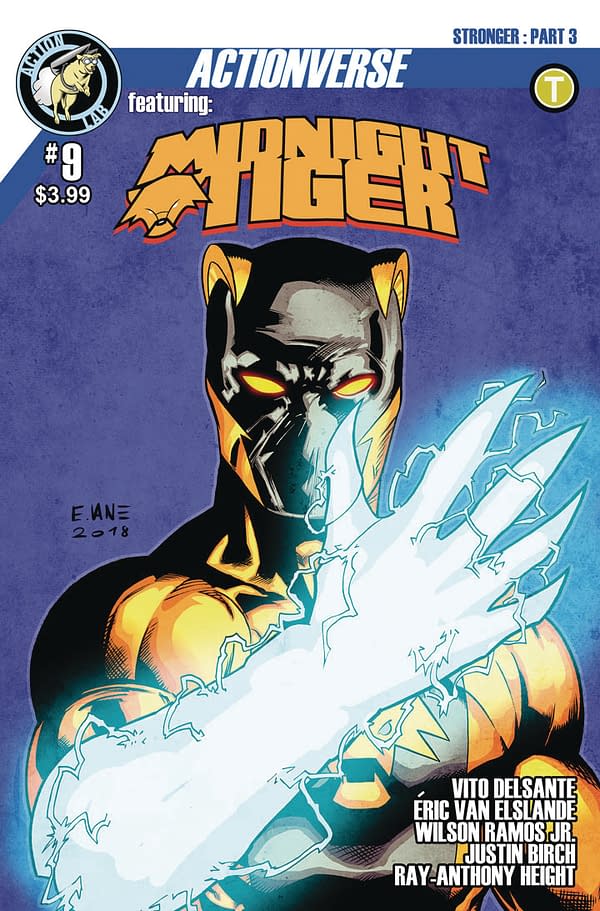 ACTIONVERSE ONGOING #9
APR181181
(W) Ray Anthony Heights, Vito Delsante (A/CA) Eric Van Elslande
"Stronger," Part 3! After almost being beaten by the Cutter Brothers, Midnight Tiger begins to look for something that will give him an edge. But how far is he willing to go as he brings his father into his inner circle!
In Shops: Jun 27, 2018
SRP: $3.99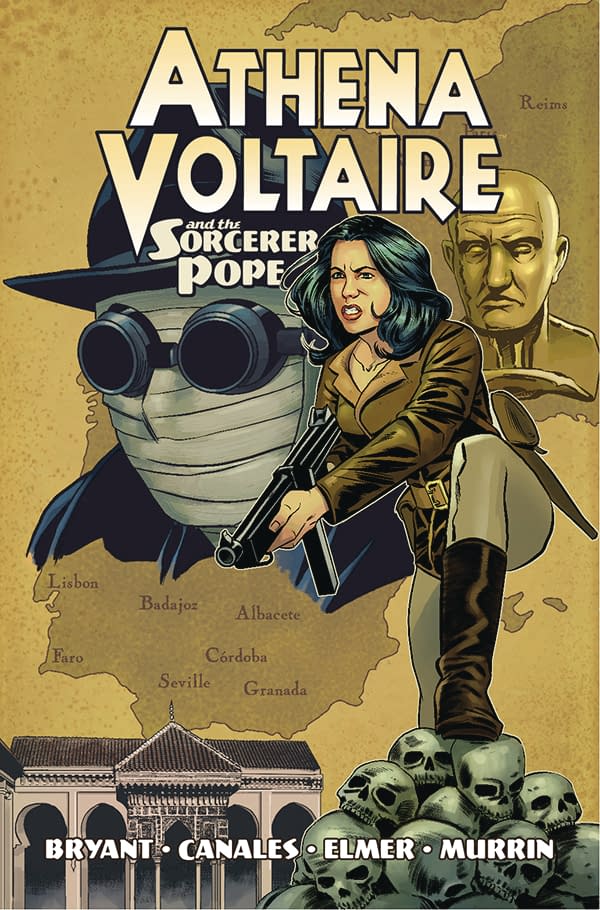 ATHENA VOLTAIRE SORCERER POPE TP
APR181182
(W) Steve Bryant (A) Ismeal Canales (CA) Steve Bryant
Collecting the first ongoing adventure of comics' favorite pulp heroine! Athena races against the Nazis to find an artifact once possessed by Pope Sylvester II, but the allies helping her have their own agendas. Loyalties will be tested. With absolute power up for grabs, who can you trust?
In Shops: Jun 27, 2018
SRP: $14.99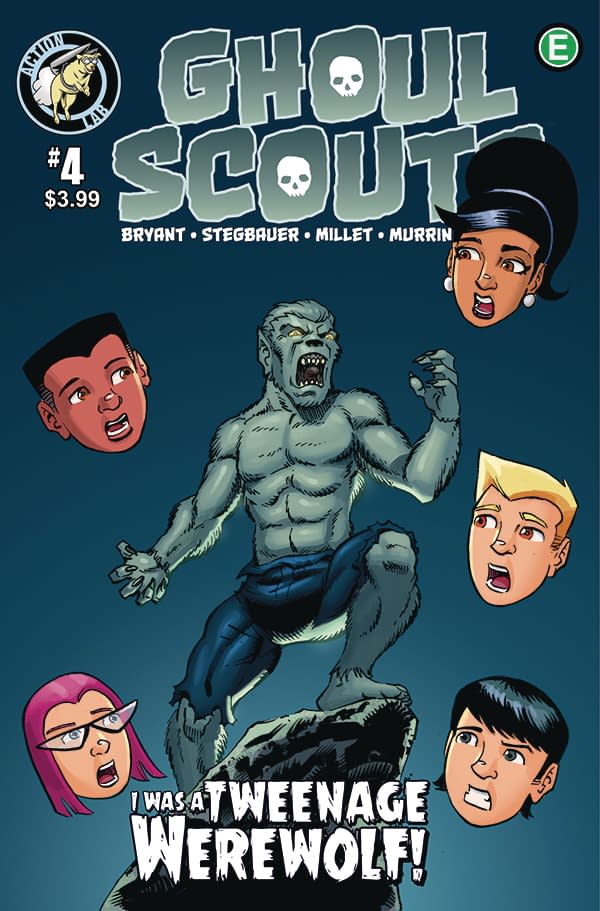 GHOUL SCOUTS TWEENAGE WEREWOLF #4
APR181183
(W) Steve Bryant (A/CA) Mark Stegbauer, Jason Millet
The exciting finale to I Was a Tweenage Werewolf! The identity of the werewolf is re-vealed, but can the scouts defeat it? Also, more details on the mystery surrounding the town of Full Moon Hollow!
In Shops: Jun 27, 2018
SRP: $3.99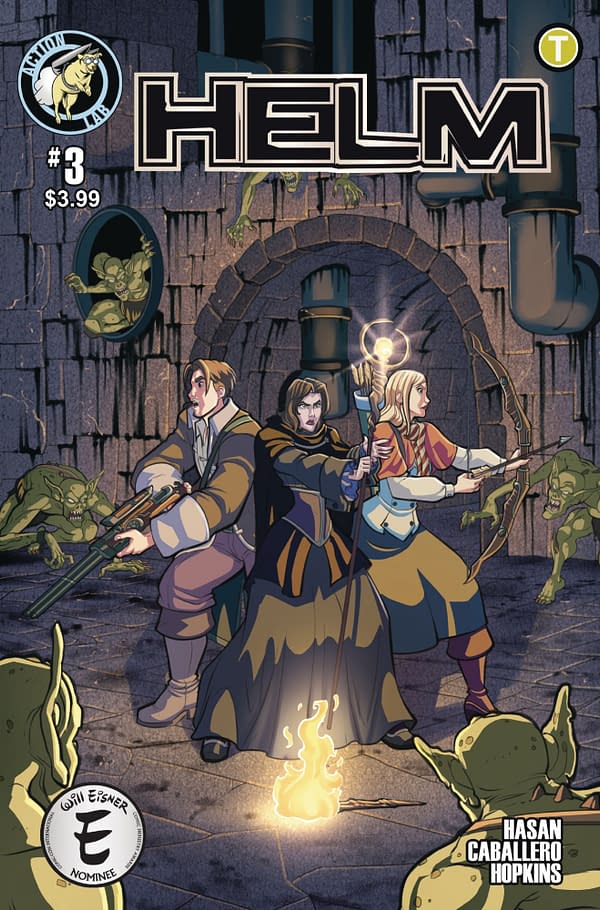 HELM #3
APR181184
(W) Jehanzeb Hasan (A/CA) Mauricio Caballero
Our heroes are on the run with Dapes and the Legion in hot pursuit! Eldrick is having second thoughts about being associated with a known criminal like Luna Lumere and openly ponders turning himself in. What exactly are Luna's motives and will she be able to convince Eldrick otherwise?
In Shops: Jun 27, 2018
SRP: $3.99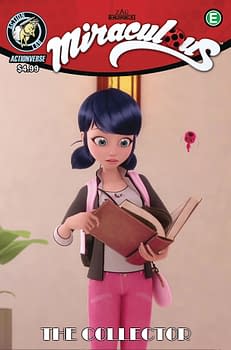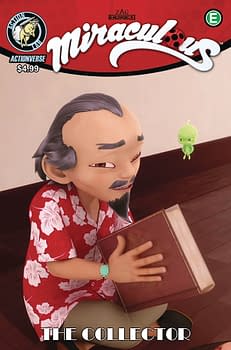 MIRACULOUS #25 VOLPINA CVR B
APR181186
(W) Zag Entertainment (A/CA) Zag Entertainment
As Ladybug tries to uncover Hawk Moth's secret identity, Adrien's father, Gabriel Agreste gets akumatized into the Collector. Will Ladybug and Cat Noir manage to stop him and to unmask Hawk Moth?
In Shops: Jun 27, 2018
SRP: $4.99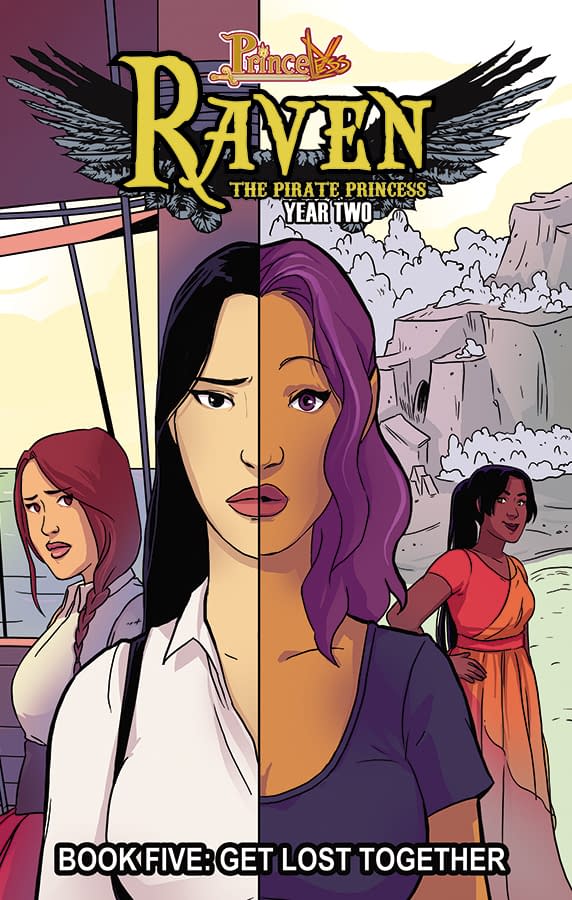 PRINCELESS RAVEN PIRATE PRINCESS TP VOL 05 TOGETHER
APR181187
(W) Jeremy Whitley (A/CA) Christine Hipp
Six weeks have passed since the attack on the ship and the loss of Sunshine. Now everyone is trying to get back to normal, including Ximena, who has been putting off confessing her feelings for the love of her life. Now she's finally ready to try and make it work, but is this relationship cursed? And what did happen to Sunshine? While the crew is sure she's dead, she has found a new life on a mysterious island. While everything seems perfect, is there something terrifying lurking beneath the surface?
In Shops: Jun 27, 2018
SRP: $14.99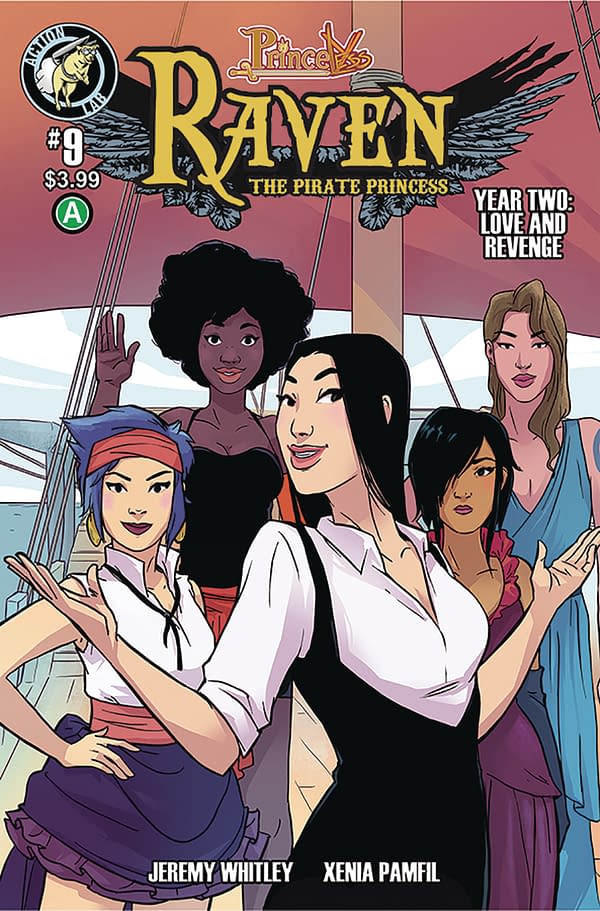 PRINCELESS RAVEN YEAR 2 #9
APR181188
(W) Jeremy Whitley (A/CA) Xenia Pamfil
This is it! Magpie's castle is in sight and Raven is ready to take down the first of her betraying brothers. There's only one problem: they've arrived just in time for Magpie to throw a huge party – and he's invited every pirate in the fleet. Raven's crew is going to need to find a way to sneak in and when they rescue a sinking boat full of beautiful dancers, they may have found just the cover they need.
In Shops: Jun 27, 2018
SRP: $3.99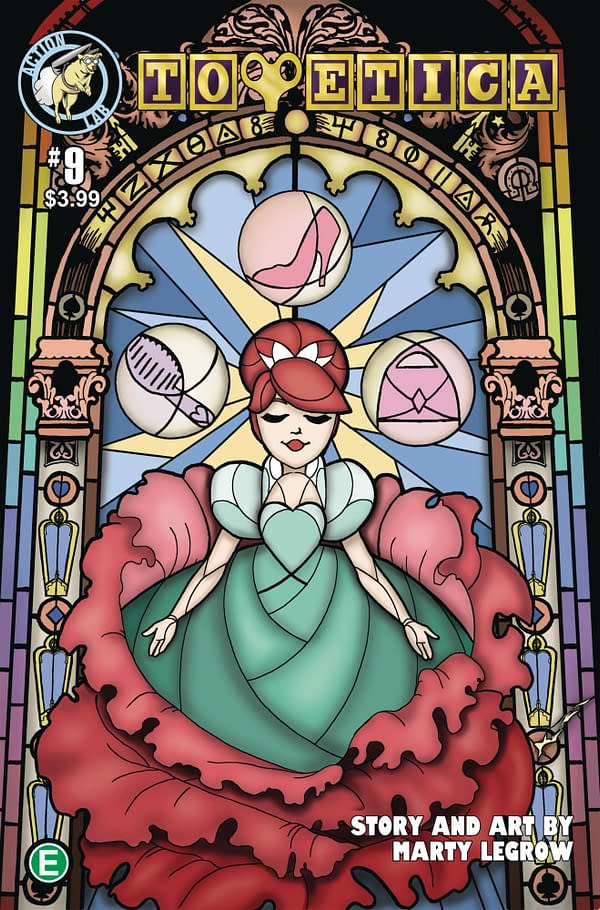 TOYETICA #9
APR181189
(W) Marty LeGrow (A/CA) Marty LeGrow
A field trip to Thread City brings the bittles into contact with both the human world and the legacy of Trixie's personal hero, Portia Palkin. But is the legendary "My Pretty Portia" model hiding a historical secret?
In Shops: Jun 27, 2018
SRP: $3.99
Rylend Grant and Zsomber Huszka bring out a new series about a soldier who wages a one-man war against a billionaire superhero. This book is called Aberrant, and it's coming out through Action Lab's Danger Zone imprint this June. Plus, Black Betty, Zombie Tramp, and Vampblade. Details below.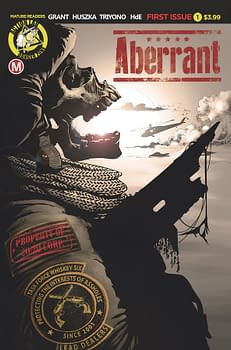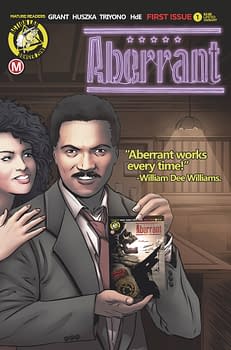 ABERRANT #1
(W) Rylend Grant (A) Zsomber Huszka
A U.S. Army Special Operations Commander, distraught after losing his entire unit to a superhuman attack, wages an absolutely brutal one-man war on the eccentric billionaire and former superhero that he believes is ultimately responsible.
In Shops: Jun 27, 2018
SRP: $3.99
BLACK BETTY #5
(W) Shawn Gabborin (A) Michela Da Sacco
What kind of creature would stalk an idyllic, quiet, small town? None, as far as Betty can tell. But there's one little boy in town who is convinced something is wrong. He's willing to put up his dead grandfather's money if Betty can find the killer… and Betty never turns down a bounty.
In Shops: Jun 27, 2018
SRP: $4.99
DANGER DOLL SQUAD GALACTIC GLADIATORS #3
(W) Jason Martin, Dan Mendoza, Bryan Seaton (A) Winston Young
What more do you need to know? It's Zombie Tramp, Vampblade, and Dollface in cosmic combat! Everyone's favorite bad girls must continue their conquest in the arena with the hopes of working out their way home. Features artist and action figure variant covers (each with their own risqué variant as well)!
In Shops: Jun 27, 2018
SRP: $4.99
RUIN OF THIEVES BRIGANDS #2
(W) Ram V. (A) Sumit Kumar
The past and the present collide as our Brigands attempt to find a way off the Island of Rekik, now under Krantali martial law. But an attack of conscience will turn an assassin into a revolutionary. And, an act of rebellion into an act of war. Old lessons will be learned anew. The cost of freedom is paid in blood and so it must always be defended, especially in the darkest hour and against unlikely odds.
In Shops: Jun 27, 2018
SRP: $3.99
VAMPBLADE SEASON 3 #4
(W) Jason Martin (A) Marcello Costa
You'd think having two Vampblades to battle a foe Katie previously defeated would make things easy. But it's going to take everything they've got to survive this Earth's deadlier, slimier, skeevier Suck Lord!
In Shops: Jun 27, 2018
SRP: $4.99
ZOMBIE TRAMP ONGOING #48
(W) Dan Mendoza (A) Marco Maccagni
The gathering to destroy Janey Belle has begun. But will they be strong enough to take on her Demon form? The first of two issues this month leading to the epic anniversary 50th issue event! Features 3 regular and risqué variants, including two covers from series creator Dan Mendoza (DollFace)!
In Shops: Jun 27, 2018
SRP: $4.99
ZOMBIE TRAMP ONGOING #49
(W) Dan Mendoza (A) Marco Maccagni
Her former allies are aligning to try and take Zombie Tramp out. First to the party, Black Betty is on the case and heading straight towards the demon that was once Janey Belle. The second of two issues this month that leads directly to the epic anniversary 50th issue battle royale next month! Features 3 regular and risqué variants, including two covers from series creator Dan Mendoza (DollFace)!
In Shops: Jun 27, 2018
SRP: $4.99