Amazing Spider-Man #4 Review: Humor and Heart with Two Peters
[rwp-review-recap id="0"]
Peter Parker and the Amazing Spider-Man are still separated! Without his responsible half, Spider-Man is wrecking half of New York with his new Tri-Sentinel. Without his powers and fun-loving half, Peter is left to help in small ways that have derailed his life even further. Peter knows he needs to find a way to rejoin Spider-Man, but the Wall-Crawler is reticent to rejoin his joy-killing counterpart.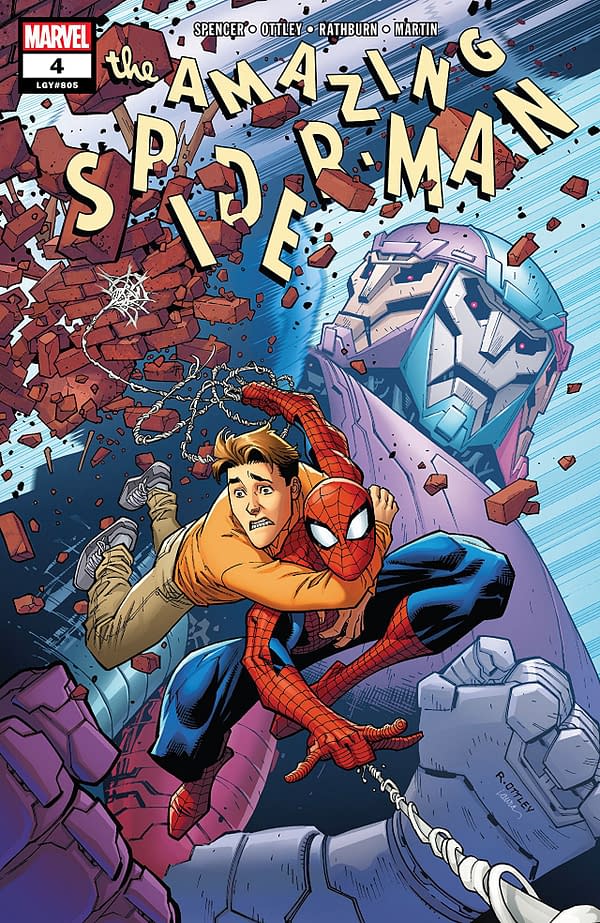 Amazing Spider-Man #4 continues the series' tendency towards rubber-banding quality. Where #3 felt a little weak and slow, #4 goes back to the other end, with Nick Spencer and Ryan Ottley turning in another fun installment with a quicker pace and plenty of humor.
We get to see Spider-Man plaster corporate logos on himself, take part in a Uber-like service for superhuman transportation, and C-list villain Mendel Stromm watch an instructional video for doomsday bunkers.
However, alongside that humor and fun is some heart. Many Spider-critics, and I have been guilty of this in the past and especially in my youth, criticize some of the more pathetic and joy-killing qualities of Peter Parker. However, this comic shows why you need that balance for someone with powers and methods like this. You need responsibility with the power, if you will. It also reminds the reader why Peter is such a great and iconic character.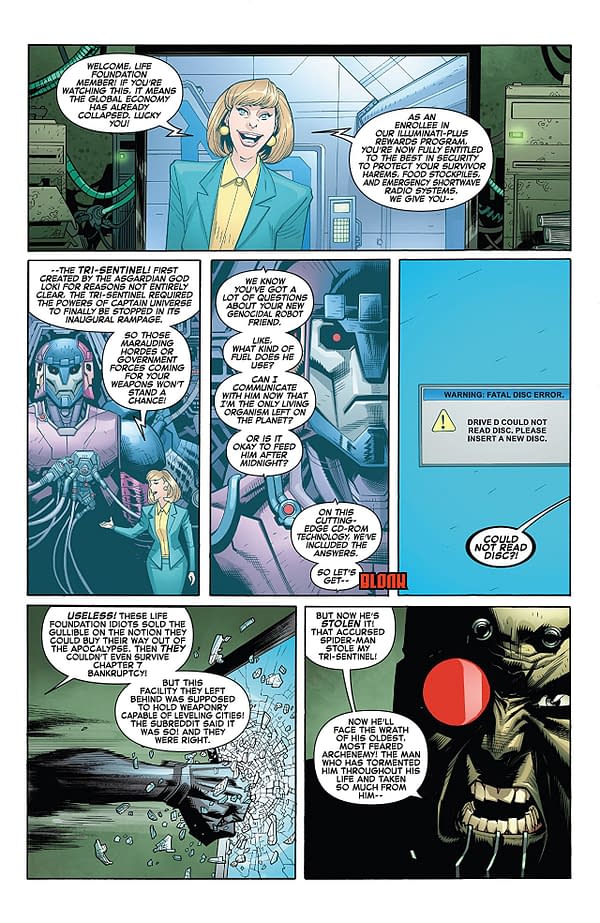 Ottley's artwork jells very well in this issue too. His style lends itself to action and visual expression, and both play a large role in the visual narrative of the comic. It does bother me that the costume loses its lining at a relatively short distance, but that's admittedly not the worst way thing to happen to a book's aesthetic. I do dig how Spidey paints his face onto the Tri-Sentinel. Cliff Rathburn, Laura Martin, Peter Pantazis, and Jasen Smith support the Ryan Ottley well with solid inking and an admittedly pale but still vibrant color palette.
Amazing Spider-Man #4 has me once more hopeful for the future of Marvel's premiere superhero. It is both funny and meaningful, and Ottley, Rathburn, and Martin each do solid work in the art department. This one earns a recommendation. Give it a read.
[rwp-review-ratings id="0"]
[rwp-review-form id="0"]