New Artist Greg Scott On Sun-Drenched LA Noir And The Black Hood The Castle of Horror Podcast talks to comic book artist Greg Scott, whose cinema-inspired, gritty art will be adorning Season 2 of The Black Hood from Dark Circle/Archie Comics. Scott talks about his movie habit, LA Noir, and the strangeness of urban life.
Listen to this episode here: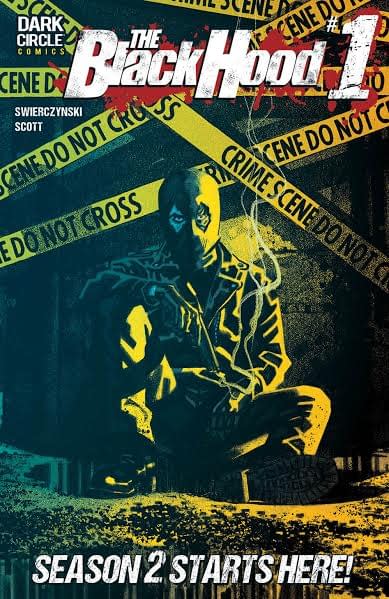 Black Hood Season 2 #1
Script: Duane Swierczynski
Art: Greg Scott, Kelly Fitzpatrick, Rachel Deering
Cover: Greg Smallwood
Variant Cover: Michael Walsh
On Sale Date: 10/19
32-page, full color comic
$3.99 U.S.
Castle of Horror Podcast Links:
Join us over on Facebook to chime in.
The show is hosted here. Get our RSS Feed. Subscribe at iTunes. Listen on Stitcher. Or on YouTube.
Twitter: @castleofhorrorp.
The Team: Hosted by Jason Henderson, writer of IDW's Ben 10 series and creator of the HarperTeen novel series Alex Van Helsing. Featuring Drew Edwards, creator of Halloween Man, Tony Salvaggio of Clockwerx from Humanoids, attorney Julia Guzman of Guzman Immigration of Denver, and Jamie Bahr, lead singer and upright bassist of the rock and roll band Danger*Cakes.