Batman #41 Review: An Intriguing if Thin Start to a New Arc
[rwp-review-recap id="0"]
Batman awakens to the voice of Poison Ivy, and he immediately knows something terrible is happening. He knows he can't trust Catwoman and Alfred at the moment, and he makes it to the Batcave to inoculate himself and Selina.
Soon enough, Ivy makes contact with Bruce through Alfred and reveals that she has achieved what no other conqueror or villain has ever done. She has taken over the world already.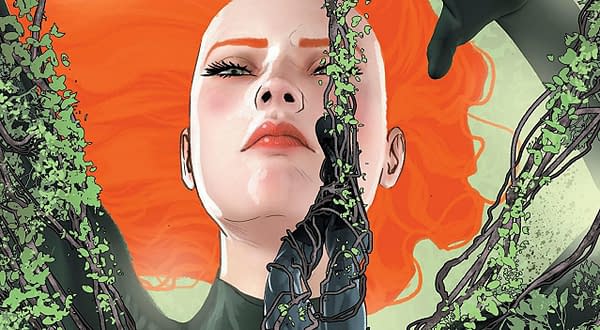 Batman #41 brings out a dramatic opening salvo for the new story arc. Poison Ivy is more powerful than ever before. Batman and Catwoman are alone against an entire world at her disposal. Bruce has no idea how this could have happened. It grabs your attention and holds it within the first few pages.
Tom King many things right with this entry, but there are two things that stuck out for their subtlety.
Firstly, you're left as much in the dark as Bruce for the first few pages. Like him, you have some vague grasp of the situation, but you're not sure of the extent of what's going on. There is a voice, it's Ivy, Bruce can hear it too, and something big is about to go down.
Secondly, Poison Ivy's dialogue is really good. It's truly flirtatious and charming. She's not demanding subservience, and it isn't smutty and thinly-veiled innuendo. It's actually cute and inviting.
The only significant problem is how quickly the comic comes and goes. There's a flow to the book, but it doesn't have a genuine conclusion. You're just left with Bruce and Selina grasping for answers and solutions. It's an introduction, and, while it is enticing, it's far from a satisfying installment. Of course, many a comic book does this. It's just a little disappointing to see King leave it so unfinished as a single chapter.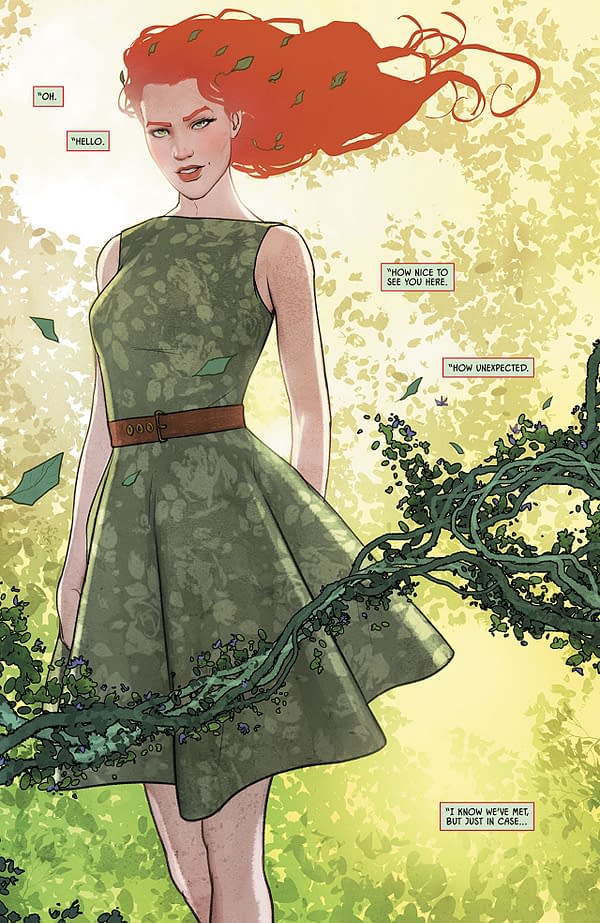 Mikel Janin returns to provide the art for this book, and it's gorgeous. He shows what sets him apart from artists with similar styles like Mike Deodato Jr. and Will Conrad here. There is a gorgeous texturing to each scene, especially in one particular full-page spread of Ivy's face and hair. The inking is great too.
There are some scenes were Bruce is in his boxers, and the rendition of his body gets into uncanny valley territory, but the good Janin provides in this issue far outweighs the bad.
June Chung's color art complements Janin's style well with many pale and dark shades contrasting one another to create a colder atmosphere. Plus, when a disparate color enters this space, it is allowed to stand out all the more.
Batman #41 is a promising if thin start to a new chapter in the saga of the Dark Knight. Ivy is back and more dangerous than ever. Bruce and Selina are left alone to stand up to the threat. Janin and Chung provide some fantastic artwork. This one comes recommended for sure. Give it a read.
[rwp-review-ratings id="0"]
[rwp-review-form id="0"]