Batman: Detective Comics #979 Review: Full Omactivation
[rwp-review-recap id="0"]
Red Robin has been taken over by Brother Eye and the newest iteration of Omac. This puts him at the mercy of Ulysses, now calling himself the General. The Colony's armored soldiers are also being taken over by Omac and are attacking Batman, Batwoman, Colonel Kane, and the Colony. Back in the Batcave, Orphan is being attacked too.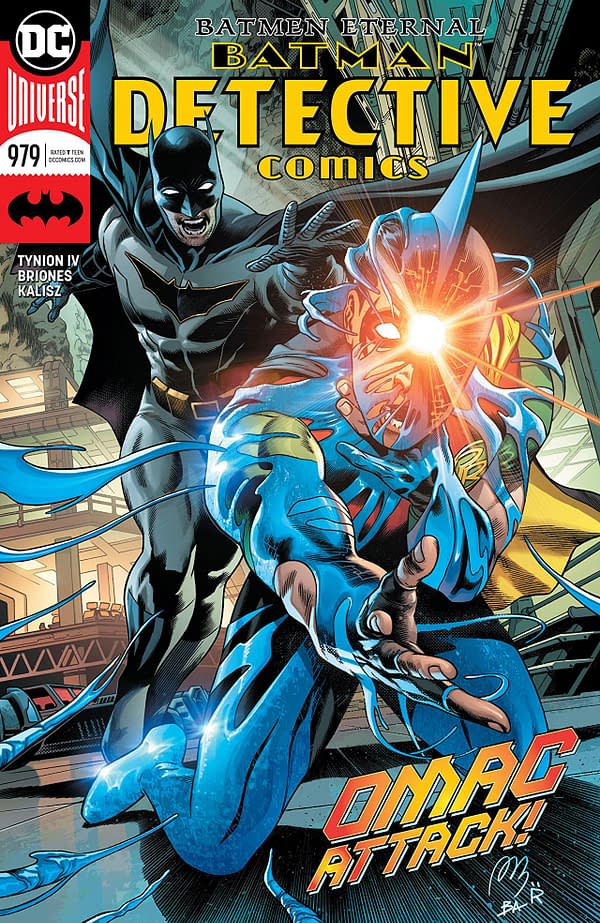 Batman: Detective Comics #979 unfurls the full attack force of Omac across Gotham, and it is at least a little exciting to see this villain return in such a manner.
However, the pivotal conflict is between Red Robin and Ulysses. Tim is helpless to escape the Brother Eye technology which is taking over him. Ulysses taunts him and claims to be trying to bring Tim to the "full potential" shown by future Tim Drake.
Detective Comics has solidified an interesting parallel between Batman and his allies with the Colony, and it is highlighted more so in this issue with the Omacs taking over and the technology at Batman's disposal. In a sense both Batman's organization and the Colony are paramilitary organizations which answer to only those directly involved. This allows the reader to at least somewhat see Batwoman and Colonel Kane's side in this conflict, as little sets Batman apart from the Colony other than the nonlethal methods.
Admittedly, the plot is a little thin in this one too. It's mostly setting up the current scenario without executing the narrative. The interplay between Tim and Ulysses is interesting, but it doesn't hide how little actually happens in this installment.
Also, the sequencing gets way too cute at times, and it becomes difficult to follow the flow.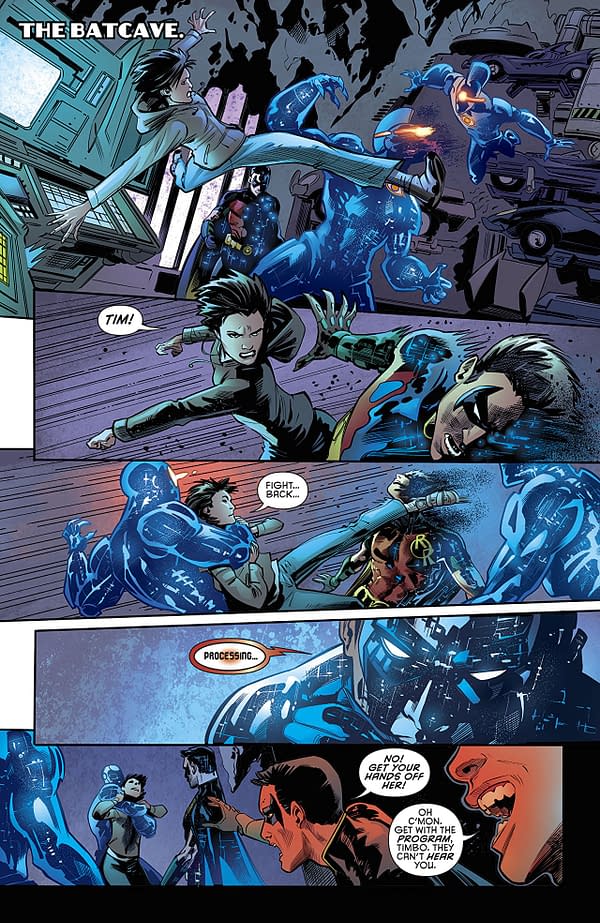 Philippe Briones' artwork is largely good with figures looking great and detailing working quite well. There are times when the faces can look a little off, and the draw distance is noticeably short in some panels. This results in those panels looking bare. John Kalisz's color work continues to be well-balanced and gorgeous, and that helps keep the overall visual quality high.
Batman: Detective Comics #979 doesn't advance the story very far, but the drama between Red Robin and Ulysses keeps the overall book compelling. Briones and Kalisz's artwork is quite solid to boot, and the book earns a recommendation. Feel free to check it out.
[rwp-review-ratings id="0"]
[rwp-review-form id="0"]