On Saturday, while everyone else was running around at C2E2, Bleeding Cool was the first to report on the new ComiXology App and the change in policy that would stop in-App purchases on iPhone and iPads, and stop Google Play purchases on Android devices.
This is in line with newly-purchaser Amazon's similar policy on the Kindle which denies payments to Apple, only allowing people to purchase on the website rather than the iOS App.
And while this is incredibly inconvenient for customers, with reports of folk saying that their usual app browsing often leads to large purchase, it will lead to greater amounts of each purchase going to publishers and ComiXology. And it means that comics previously curtailed over appearing on the iOS App over content concerns will now be on a level playing field with other comics. Which, I suppose, is good news for Bleeding Cool's publisher Avatar Press. Also, the Marvel, DC, IDW and Image apps powered and synched to ComiXology remain operative. And, the new App offers a smoother reading process – once you actully have the comics on your device.
But not everyone is convinces. This is how the new ComiXology App went down on the iOS App Store reviews… where it has dropped from being a five star app to one-and-a-half.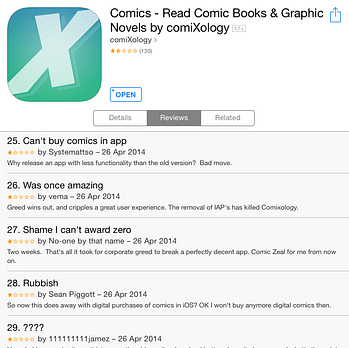 And it's not that much better on Android either…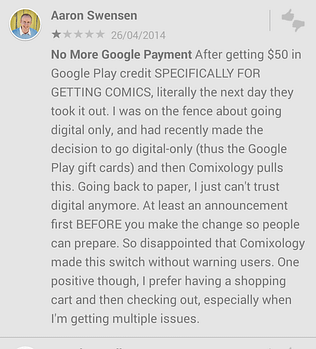 Enjoyed this article? Share it!