Dynamite has sent over a writer's commentary by Paul Cornell and Jeremy Whitley for Vampirella #7. Cover by Philip Tan, interiors by Andy Belanger. Here is an epic commentary on Vampirella #7, featuring an unprecedented changing of the guard in writer right before your eyes on the printed page! Now that is tag teaming! Buy your copy, in stores now, and read along.
Paul Cornell:
Page 1:
After writing so much doom and gloom in the last arc, I welcomed the chance to get a bit playful and fun with this one. Page 2:
I wanted to make sure that we acknowledged all the different versions, which is what my run was about, plus added some fun ones of my own. The 'original' version was meant to be all cartoony, like the very first depictions, but I think that was asking too much of Andy [Belanger]. Page 3:
Actually, to give him credit, they're not ridiculously waif-like. Page 4:
I appreciated the chance to throw some shade at that silly costume directly. Page 5:
I love offhand allusions to stories the reader won't see. Something I often indulge in.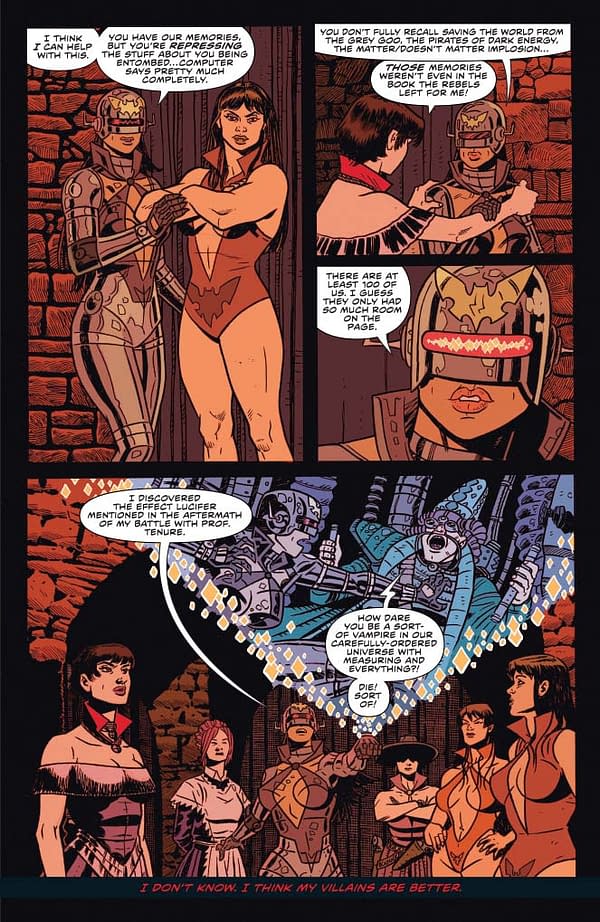 Page 6:
You know the song, from Winnie the Pooh?
Page 7:
I like what Andy's done with the coffins framed around her head. He makes that new hairstyle rock too.
Page 8:
I really like those moments when I can show that my Vampirella has a kind of off-kilter morality going on. She lets herself enjoy these amoral thoughts.
Page 9:
I thought it was my duty to get around to mentioning these characters from previous versions that readers would have been invested in, and not edit them out or over-write them.
Page 10:
I kind of empathize with the chibi, too. Always.
Page 11:
And of course there are also 'bad' Vampirellas! Because one would feel cheated without, surely?
Page 12:
Random action sequences. If I was ever going to do them, it was in this two-parter.
Page 13:
My head, also.
Page 14:
And, most of all, I wanted Vampirella to bite herself and like it. That's kind of the climax of my run, right there.
Page 15:
The forbidden room is right at the heart of the gothic genre. This two-parter was also very much about something. I'm liking the structure more from this distance.
Page 16:
I do hope someone brings back Vampirello. Not often I get to gender-switch a character in that direction. And he has such gothic roots.
Page 17:
It's a great pleasure to hand over to a writer as talented as Jeremy, with Andy still here as the artist, and editor Matt Idelson there to make sure it all flows smoothly together. It's not often in comics you get to manage a handover so well. Good luck, Jeremy! Thanks for having me, all.
And now (tag!), Jeremy Whitley:
Page 18:
Thanks, Paul! It's a pleasure to have an opportunity to follow you on this book. You've left me so many wonderful toys to play with, especially with the changes to Vampirella in Gothic Plot. So naturally I then spent a whole page with Vampirella not wanting to wake up. But who doesn't like Vampirella lounging in bed.
Page 19:
If you want a single image of a girl that's hard not to fall in love with, you can do worse than Andy Bellanger and breakfast foods.
Page 20:
I like the idea of Vampirella, someone who has literally seen it all as having difficulty being sincere. I'm sure no writers out there can relate to this.
Page 21:
So now to start breaking all of the nice toys that Paul gave me to play with. Sorry, Paul.
Page 22:
Andy killed it on this page. HA! Anyway, hope you guys are enjoying it so far. Come back next month to watch Vampirella rip a guy's still-beating heart out of his chest. No, really, that's in the next issue.
Enjoyed this article? Share it!