Great news for fans of Cullen Bunn and Tyler Crook's award-winning horror series Harrow County who like the series exactly enough to pay $30 for the first volume of a paperback omnibus but not quite enough to pay $40 each for the library edition hardcovers (what's your problem, cheapskate!?). Dark Horse has announced the impending release of Harrow County Omnibus One, collecting the first sixteen issues of Harrow County in a 368-page paperback. The book is set to hit comic shops on July 29th and real bookstores on August 11th, where it will retail for $29.99. Check out the press release below:
MILWAUKIE, Ore., (January 22, 2020)—Cullen Bunn and Tyler Crook's award-winning horror series, Harrow County, gets collected as Harrow County Omnibus Vol.1! This 368-page paperback omnibus collects Harrow County issues #1-#16.

Emmy always knew that the woods surrounding her home crawled with ghosts and monsters. But on the eve of her eighteenth birthday, she learns that she is connected to these creatures—and to the land itself—in a way she never imagined.

Harrow County Omnibus Vo.l 1 will be in comic shops on July 29, 2020 and in bookstores on August 11, 2020. It is available for pre-order on Amazon, Barnes & Noble, and at your local comic shop. Harrow County Omnibus Vol. 1 will retail for $29.99.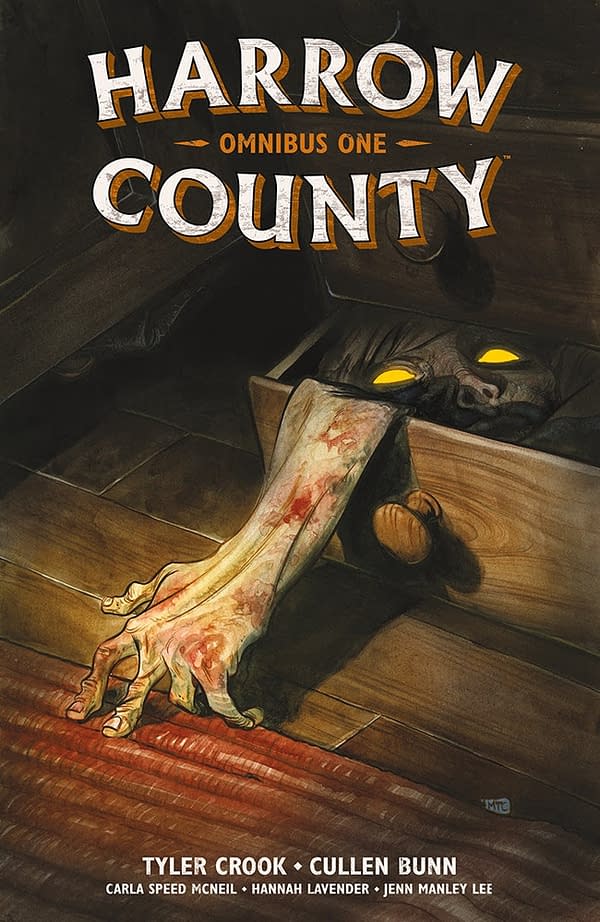 Enjoyed this article? Share it!