Dark Nights Metal #5 Review: A Compelling Build-Up Before the Conclusion
[rwp-review-recap id="0"]
Barbatos and the Batman Who Laughs prepare for the final stage of their plan to sink our Earth into the Dark Multiverse. Meanwhile, Superman and Batman have found Hawkman turned into a massive demonic monster, Wonder Woman squares off against Black Adam and the corrupted Hawkgirl, Mister Terrific and Green Lantern Hal Jordan have been locked up on Thanagar Prime, and Aquaman and Deathstroke have found a secret antechamber with an Nth Metal core far below Atlantis.
As has been the case with the Dark Night brought upon by Barbatos and his Nightmare Batmen, glimmers of hope shine through only to be overshadowed by our heroes facing even darker despairs.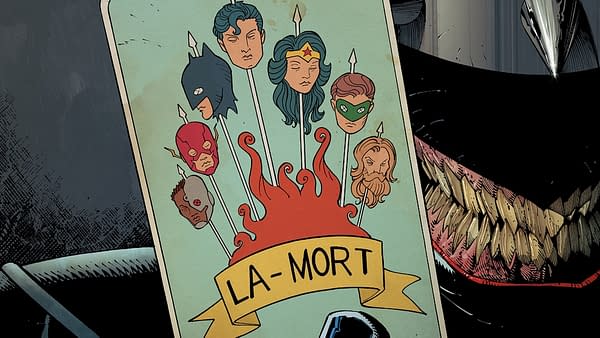 This was easily the most compelling issue of Metal since #2. There's not as much setting up and far more execution. While Metal has been largely enjoyable, its biggest flaw has been its constant need for more plot development and tacking on more details, any number of which would be enough for a whole story unto themselves.
With #5, we are now seeing those elements finally play out in a climactic fashion. We see the epic clashes mentioned above, a classic hero makes a welcome return, and we get some character development and nice moments between our protagonists. Plastic Man's presence is further contextualized, and we get an idea of what the new Eel O'Brian will be like.
GL and Mister Terrific make for an especially good team-up. Who knew? They play off of each other quite well, and there are plenty of laughs between the two (especially in regard to how many asses Starro the Conqueror has). Superman and Batman have some of the World's Finest camaraderie, too, and Wonder Woman reminds us all why she's the Justice League's best warrior.
The Batman Who Laughs is shaping up to be a classic DC villain in his own right. He's sadistic, spiteful, nihilistic, and aptly frightening. Hopefully he may outlive the events of Metal, though I don't expect him to do so.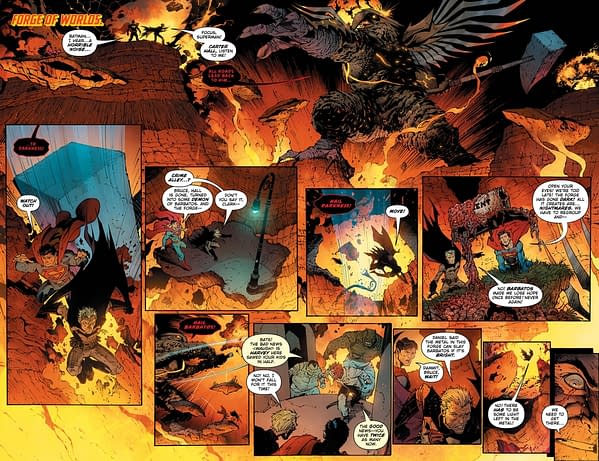 Greg Capullo's artwork is still perfectly suited Scott Snyder's story. His gritty style continues to be fitting for the gloom and nihilism of Metal. His detailing is top-notch, and the environments he, Jonathan Glapion, and FCO Plascencia create are captivating. Glapion's ink work is very good, and Plascencia's color art is very atmospheric.
Dark Nights: Metal #5 may very well be the most exciting issue of the series. Its story is gripping, its characters are engaging, and the art is darkly beautiful. This one gets a strong recommendation, and you should give it a read.
[rwp-review-ratings id="0"]
[rwp-review-form id="0"]