DC Universe Rebirth #1 Outsold Civil War II #0, Marvel Still Dominates Marketshare In May 2016, But Sales Are Shrinking It's war. Civil War. Rebirth war. DC ended May with the launch of their first Rebirth title, DC Universe Rebirth #1, as well as ending Geoff Johns run on Justice League #50 and Scott Snyder's on Batman #52, and the death of the New 52 Superman. While Marvel launched Civil War II, the new Captain America title. So while DC Universe Rebirth beat Civil War II to the top, Marvel had enough to dominate both the top ten and the marketshare. With a surprisingly strong launch for Becky Cloonan and Steve Dillon's Punisher as well.
But Rebirth was enough to bring Marvel's dollar share down – which had risen from 37.39% to 42.98% back down to 39.64% and their individual sales share which had jumped from 42.71% to 47.87% back down to 44.80%.
While DC Comics' dollar share which had slipped back slightly from 26.32% to 25.82% bumps back to 26.45% and their sales share which had also slipped slightly from 25.94% to 25.13% takes a bump up to 26.34%.
This does indicate that the Rebirth titles running through June may do a decent job of turning the tide – for a bit.
Meanwhile, Image Comics seems to have said goodbye for a while to their 10%-topping figures, as they stay around the 8-9% share for another month. IDW entrench their position above Dark Horse – by publishing 50 comics to Dark Horse's 20 – and Boom! continues to use Mighty Morphin Power Rangers to bring in more individual sales of comics than Dark Horse.
Big the big news is still the absolute slump in sales between 2016 and 2015. And it's getting worse. Let's make this clear, May 2016 – a four week month like May 2015 – saw comics sales drop by 17.6%. That kind of fall is enough to kill comic shops – and publishers. Overall for the year to date, overall comics and graphic novels sales are down 12.72%. Which means it's getting worse as the year goes on, not better.
There's an awful lot on the shoulders of DC Rebirth to rescue us all… or it may be more of a Reburial. I'm calling it, if a five-week June 2016 can't beat a four-week June 2016, we should start to think about packing up and going home…
TOP COMIC BOOK PUBLISHERS
RETAIL MARKET SHARE
PUBLISHER
SHARE
MARVEL COMICS
39.64%
DC ENTERTAINMENT
26.45%
IMAGE COMICS
8.38%
IDW PUBLISHING
5.70%
DARK HORSE COMICS
3.25%
BOOM! STUDIOS
2.51%
DYNAMITE ENTERTAINMENT
1.66%
TITAN COMICS
1.39%
VALIANT ENTERTAINMENT LLC
1.09%
ONI PRESS INC.
0.98%
OTHER NON-TOP 10
8.95%

UNIT MARKET SHARE
PUBLISHER
SHARE
MARVEL COMICS
44.80%
DC ENTERTAINMENT
26.34%
IMAGE COMICS
7.95%
IDW PUBLISHING
4.99%
BOOM! STUDIOS
2.34%
DARK HORSE COMICS
2.31%
DYNAMITE ENTERTAINMENT
1.51%
TITAN COMICS
1.48%
VALIANT ENTERTAINMENT LLC
1.25%
ARCHIE COMIC PUBLICATIONS
1.02%
OTHER NON-TOP 10
6.00%
NEW TITLES SHIPPED
| | | | | |
| --- | --- | --- | --- | --- |
| PUBLISHER | COMICS SHIPPED | GRAPHIC NOVELS SHIPPED | MAGAZINES SHIPPED | TOTAL SHIPPED |
| MARVEL COMICS | 102 | 34 | 0 | 136 |
| DC ENTERTAINMENT | 74 | 28 | 0 | 102 |
| IDW PUBLISHING | 50 | 23 | 0 | 73 |
| IMAGE COMICS | 43 | 22 | 0 | 65 |
| DARK HORSE COMICS | 20 | 24 | 0 | 44 |
| BOOM ENTERTAINMENT | 24 | 12 | 0 | 36 |
| DYNAMITE ENTERTAINMENT | 19 | 6 | 0 | 25 |
| TITAN COMICS | 16 | 3 | 4 | 23 |
| ONI PRESS INC. | 10 | 3 | 0 | 13 |
| VALIANT ENTERTAINMENT LLC | 10 | 2 | 0 | 12 |
| OTHER NON-TOP 10 | 111 | 114 | 19 | 244 |
COMPARATIVE SALES STATISTICS
DOLLARS
UNITS
MAY 2016 VS. APRIL 2016
COMICS
-6.54%
-4.15%
GRAPHIC NOVELS
-6.31%
-11.10%
TOTAL COMICS/GN
-6.46%
-4.77%
MAY 2016 VS. MAY 2015
COMICS
-14.34%
-17.60%
GRAPHIC NOVELS
4.52%
-3.39%
TOTAL COMICS/GN
-9.05%
-16.58%
YEAR-TO-DATE 2016 VS. YEAR-TO-DATE 2015
COMICS
-9.23%
-14.01%
GRAPHIC NOVELS
4.80%
3.46%
TOTAL COMICS/GN
-5.11%
-12.72%
TOP 10 COMIC BOOKS
| | | | |
| --- | --- | --- | --- |
| RANK | DESCRIPTION | PRICE | VENDOR |
| 1 | DC UNIVERSE: REBIRTH #1 | $2.99 | DC |
| 2 | CIVIL WAR II #0 | $4.99 | MAR |
| 3 | THE PUNISHER #1 | $3.99 | MAR |
| 4 | BATMAN #52 | $3.99 | DC |
| 5 | CAPTAINAMERICA: STEVE ROGERS #1 | $4.99 | MAR |
| 6 | STAR WARS #19 | $3.99 | MAR |
| 7 | JUSTICE LEAGUE #50 | $5.99 | DC |
| 8 | DARTH VADER #20 | $4.99 | MAR |
| 9 | BLACK PANTHER #2 | $3.99 | MAR |
| 10 | AMAZING SPIDER-MAN #12 | $3.99 | MAR |
TOP 10 GRAPHIC NOVELS & TRADE PAPERBACKS
| | | | |
| --- | --- | --- | --- |
| RANK | DESCRIPTION | PRICE | VENDOR |
| 1 | BATMAN: THE KILLING JOKE SPECIAL EDITION HC | $17.99 | DC |
| 2 | DESCENDER VOLUME 2 TP (MR) | $14.99 | IMA |
| 3 | CIVIL WAR TP | $24.99 | MAR |
| 4 | BLACK SCIENCE VOLUME 4: GODWORLD TP (MR) | $14.99 | IMA |
| 5 | WE STAND ON GUARD DELUXE HC (MR) | $24.99 | IMA |
| 6 | CHEW VOLUME 11: LAST SUPPERS TP (MR) | $14.99 | IMA |
| 7 | THE JOKER: ENDGAME TP | $24.99 | DC |
| 8 | STAR WARS: KANAN VOLUME 2: FIRST BLOOD TP | $17.99 | MAR |
| 9 | SPIDER-GWEN VOLUME 1: GREATER POWER TP | $17.99 | MAR |
| 10 | SPIDER-MAN/DEADPOOL: DON'T CALL IT A TEAM UP TP | $34.99 | MAR |
TOP 10 BOOKS
| | | | |
| --- | --- | --- | --- |
| RANK | DESCRIPTION | PRICE | VENDOR |
| 1 | DOCTOR WHO OFFICIAL ANNUAL 2015 | $12.99 | PEN |
| 2 | THE WALKING DEAD ADULT COLORING BOOK (MR) | $14.99 | IMA |
| 3 | GUARDIANS OF THE GALAXY LITTLE GOLDEN BOOK | $4.99 | RAN |
| 4 | COURAGEOUS CAPTAINAMERICALITTLE GOLDEN BOOK | $4.99 | RAN |
| 5 | APES & BABES SC (MR) | $19.99 | IMA |
| 6 | SPIDER MAN: TRAPPED BY THE GREEN GOBLIN LITTLE GOLDEN BOOK | $4.99 | RAN |
| 7 | SPIDER MAN: HIGH VOLTAGE LITTLE GOLDEN BOOK | $4.99 | RAN |
| 8 | MIGHTY AVENGERS LITTLE GOLDEN BOOK | $4.99 | RAN |
| 9 | THE INCREDIBLE HULK LITTLE GOLDEN BOOK | $4.99 | RAN |
| 10 | ANT-MAN LITTLE GOLDEN BOOK | $4.99 | RAN |
TOP 10 TOYS
| | | |
| --- | --- | --- |
| RANK | DESCRIPTION | VENDOR |
| 1 | DC COMICS VARIANT PLAY ARTS KAI: BATMAN TIMELESSSPARTAFIGURE | SQU |
| 2 | BATMAN ARKHAM KNIGHT: RED HOOD FIGURE | DC |
| 3 | POP! STAR WARS: RANCOR WITH LUKE & SLAVE OOLA FIGURE 3-PACK | FUN |
| 4 | STAR WARS: THE FORCE AWAKENS: CAPTAIN PHASMA ARTFX+ STATUE | KOT |
| 5 | FFG DC COMICS COLLECTION: POISON IVY STATUE | YAM |
| 6 | DC COMICS BOMBSHELLS: CHEETAH STATUE | DC |
| 7 | BATMAN V SUPERMAN DAWN OF JUSTICE: SUPERMAN STATUE | DC |
| 8 | FINDING DORY FEATURE FIGURES | BAN |
| 9 | ALIEN: WARRIOR DRONE ALIEN ARTFX+ STATUE | KOT |
| 10 | STAR TREK STARSHIPS SET #2: SHUTTLECRAFT | EAG |
TOP 10 GAMES
| | | |
| --- | --- | --- |
| RANK | DESCRIPTION | VENDOR |
| 1 | MARVEL HEROCLIX: UNCANNY X-MEN BOOSTER BRICK | NEC |
| 2 | MARVEL DICE MASTERS: CIVIL WAR | NEC |
| 3 | MACHI KORO CARD GAME | IDW |
| 4 | MARVEL HEROCLIX: UNCANNY X-MEN FAST FORCES 6-PACK | NEC |
| 5 | TEENAGE MUTANT NINJA TURTLES DICE MASTERS BOX SET | NEC |
| 6 | TEENAGE MUTANT NINJA TURTLES HEROCLIX | NEC |
| 7 | MARVEL DICE MASTERS: CIVIL WAR STARTER | NEC |
| 8 | 3D GAME OF THRONES: KINGS LANDING PUZZLE | 4D |
| 9 | STAR WARS: EDGE OF THE EMPIRE RPG CORE RULEBOOK | FAN |
| 10 | STAR WARS: ARMADA BOARD GAME | FAN |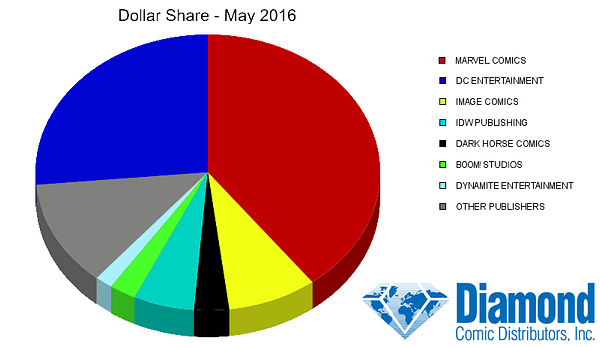 Dollar Market Share – May 2016 Unit Market Share – May 2016