Deathstroke #30 Advance Review: Deathstroke vs Batman Begins
[rwp-review-recap id="0"]
A package is left at a crime scene in Gotham City with Batman's name on it. It has DNA results inside claiming that Damian Wayne, aka Robin, is the son of Slade Wilson, aka Deathstroke the Terminator. This leads Batman on a collision course with Deathstroke, and that can only end in blood.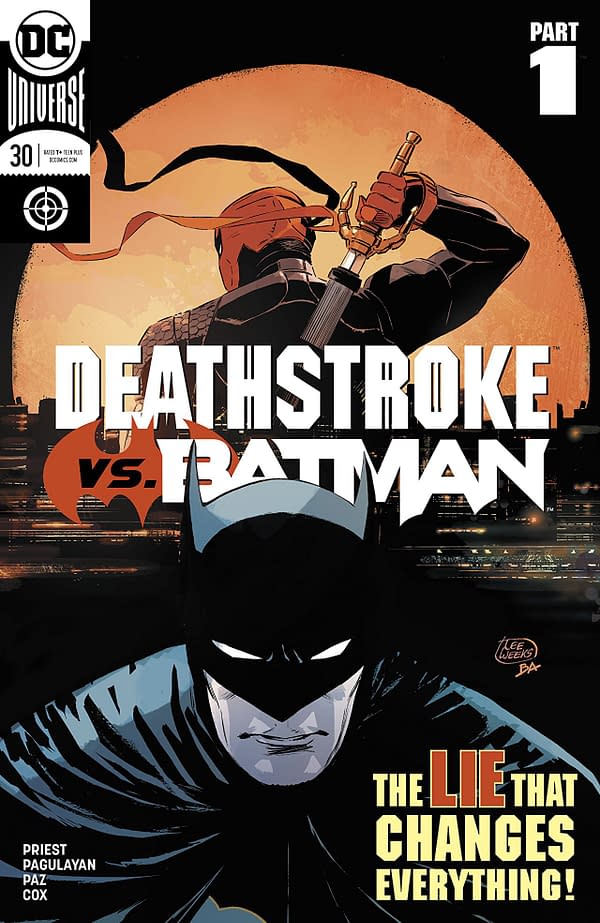 The comic opens with a brief conversation between Alfred Pennyworth and Wintergreen, which is great on its own.
I should have been looking forward to the kind of Batman Christopher Priest was going to right outside of the Justice League, and it's, as one should guess, a brutal and utilitarian Batman. In fairness, someone has involved his secret identity and that of his son, so Batman is going to be pretty pissed.
The inevitable battle that begins between Bruce and Slade is what one would hope for—a freefall deathmatch between two of the most dangerous men on the planet. The dialogue is even better; Slade has Batman's number and knows how to taunt and provoke the Caped Crusader.
Also, weird aside: the credits page is on page 12 of this one, which is smack in the middle. Also, it says. "This story takes place before current events in the DC Universe." That gave me a laugh, because it's pretty much saying, "We don't really know what the hell is going on right now, but this has nothing to do with it." I respect that.
Carlo Pagulayan brings his A-game to this comic. The action sequences are phenomenal and creative. The characters are given a lot of detail and expressiveness. It leans towards realism, and it does it really well. Jason Paz's inking is neat and heavy. Jeromy Cox's color work helps bring it all together into a great-looking book.
Deathstroke #30 begins "Deathstroke vs Batman" with a high-impact and gorgeous issue by Priest, Pagulayan, Cox, and Paz. This arc looks like it will be just as great as we all hoped. This issue gets a strong recommendation. Check it out.
[rwp-review-ratings id="0"]
[rwp-review-form id="0"]