Doctor Strange #384 Review: Strange vs. Loki, Round One
[rwp-review-recap id="0"]
Doctor Strange returns to the Sanctum Santorum to challenge Loki with the power of the Yggdrasil, the World Tree from Asgardia. Loki takes on the fight with glee, and it quickly turns into a mystic war between the dueling Sorcerer Supremes.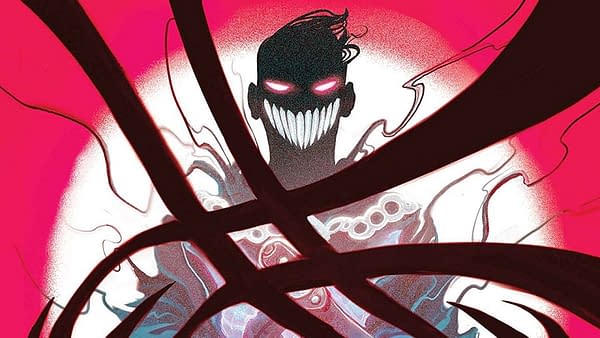 This is the beginning of the knockdown drag-out we've been waiting for between Doctor Strange and Loki. Strange has attained new magic power from the Yggdrasil and can stand on equal footing with the Trickster God. The fight quickly spans dimensions and toys with natural forces. Strange is quite pissed, and Loki is always spoiling for a fight.
This is one of those comics where there isn't a lot to say about the plot. This showdown has been building up for a few issues, and Donny Cates and Gabriel Hernandez Walta have been doing a damn good job of establishing the tension and the stakes.
There is an ending twist that does show how reckless Strange has gotten with some of his recent maneuvers. It's a good twist.
A highlight of the comic is when Strange shows Loki how to open the sealed door in the Sanctum Santorum. Loki responds with, "Is that "Was that 'Shave and a Haircut?' Oh, you unbelievable hack!"
Cates knows how to write these characters well. This easily feels on par with Jason Aaron and Chris Bachalo's opening salvo back when Doctor Strange launched again as part of All-New, All-Different Marvel.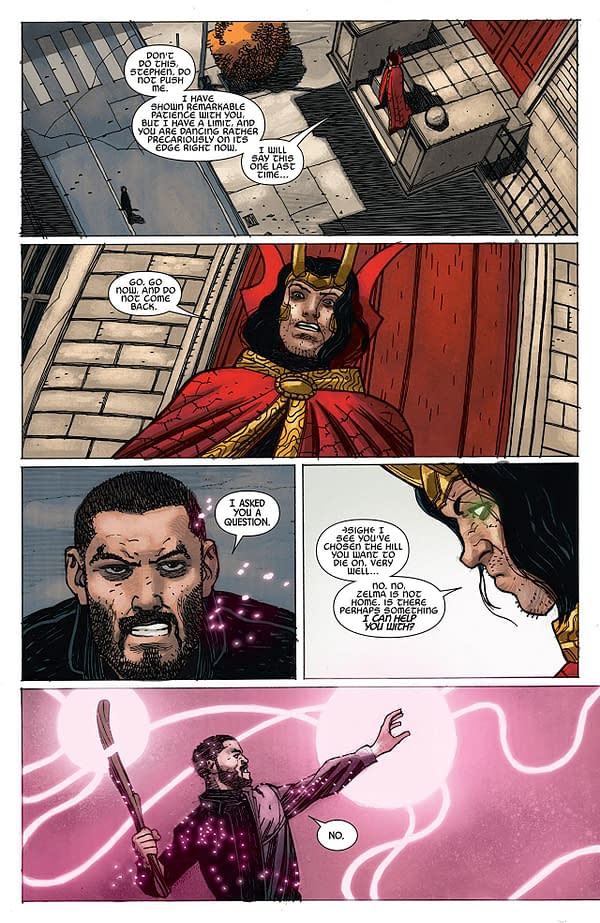 Walta continues to show why he was a fantastic choice for this comic. His work balances grit and surreal stylings. He continues to improve on facial expression and background detail. Walta is a great fit for Doctor Strange. Jordie Bellaire continues to show why she is one of the best color artists in the industry, and her work here is dark and atmospheric to match Walta's grittiness.
Doctor Strange #384 is a fun start to the battle of Strange vs. Loki. It takes some wild twists and turns, and the next issue looks to only be better based on the finale to this one. I highly recommend this one. Cates, Walta, and Bellaire are a powerful team. Pick it up.
[rwp-review-ratings id="0"]
[rwp-review-form id="0"]