Writer Emma Beeby has written up a commentary track to go along with her part of Dynamite's all-female written summer event, Swords of Sorrow. Her one-shot special focuses on the characters of Pantha from the Vampirella series and Jane Porter from Tarzan. The cover for the issue was done by Mirka Andolfo while the interiors were by Rod Rodolfo. Page 2
I knew I was going to have quite a task in introducing these two characters, because we've never really met them like this before. Pantha has been around for millennia, and for this story I wanted to have as much of a character clash as possible so I wanted to use an early, raw, Pantha. She's basically a superpowered scary celebrity of her time. She's utterly brutal. A new thing was to have her able to partially transform – just her head or her teeth or her claws, which turned out really well on the page.
Page 5
Jane also gets quite a makeover. This is one of the only times we see her apart from Tarzan, so I wanted her to have grown into her confidence and abilities. She's never exactly been a simpering damsel in distress, but now she has the skills to keep up with him. So, obviously, she is a pioneer aviatrix. I love this panel of her and the plane. When I got the initial character designs through for both of them I was just blown away. Rod Rodolfo did an amazing job. Also: I LOVE her giant manga hair!
Page 8-9
I had a lot of fun plotting out their first meeting. It's not like big cats or wild jungle creatures are new territory for our intrepid explorer Jane Porter. She's supposed to be preparing her own African jungle expedition before all this happens, and Tarzan has taught her the language of the animals. But it's not her best plan to try it out on Pantha, even in her cat form. I researched the language of the Tarzan books (geek) and in theory she shouts what translates as something like, "Black jungle cat, be gone!"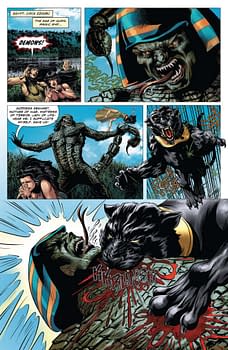 Page 14
In an earlier draft of this I had some fun character moments for this chase sequence like having them take the early steam powered London Underground (which Pantha liked much more than cars, though she terrified the other passengers) but I didn't have room in the end. What I like here is that both are out of their depth and are realising they need the other to guide them: Pantha in navigating this world and its technology (and dealing with motion sickness!) and Jane with trying to understand this concept of mythology and demons as being real and tangible…and likely to try to bite your head off.
Page 12
I got to cross three time periods with these characters, with Purgatori being the modern one. It's not often you get to put all those different speech styles together in one script. As she's LITERALLY just unleashed hell, this seemed a likely reaction. Also, I'm a bit of a mythology nut – seriously, any excuse – and I got to do no-holds barred, ancient Egyptian deities and demonology in this story. Egyptian demons are awesome. They were bits of scary creatures all stuck together plus some added pieces of human and mummies mixed in. That was Rod's brief for them and this was the result. I love this page.
Page 18
A demons vs airplane chase and a flying pyramid. Did I mention how much fun this was to write??
Page 22
What DO you do after you've saved the world from rampaging demons? I figured that after the big fight they hit the town, drink some fine wine, and try to enjoy the time they have until the next battle.
For more information on Swords of Sorrow: Pantha / Jane Porter Special, click here.
Enjoyed this article? Share it!