When taken as a whole, this series Far Sector is perhaps the boldest, freshest set of ideas DC Comics has seen since Grant Morrison was on JLA or Vertigo was at its height. A beleaguered human police officer has been offered a prototype power ring and sent beyond the traditional sectors and domains of the Guardians of the Galaxy to help keep the peace in a precariously placated city with a population larger than her homeworld.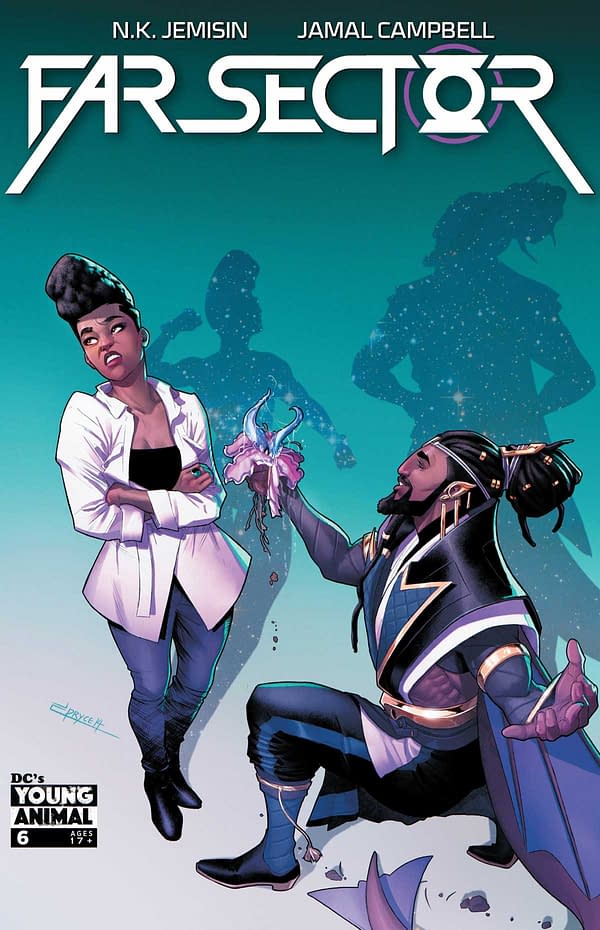 In this issue, that literal out of this world experience includes emotional entanglements, comeuppances, and regret, nuance, and overture. The literary density of this work is impressive, as every page overflows with sumptuous visuals from Jamal Campbell and Deron Bennett, taking you all the way into a wholly alien experience with details that'd have Gene Ha applauding and subtle artistic flairs that'd give David Mack pause. The flashes of color, in particular, used to shift mood or location, are especially effective.
N.K. Jemisin puts on a virtual masterclass in characterization here as her lead Jo Muellin trades barbs with Marth of the Sea, By The Wavering Dark, Until The Sun Falls (that's legit his name), a strangely charismatic politician with blood on his hands and illegal drugs in his veins. The encounter between them is absolutely riveting, and the resolution to it feels both inevitable and surprising, paying off developments from previous issues. The reader is along for the ride as every decision is made, and it's engaging as heck. Also, there's a last act surprise that's a visual shocker and has big implications that totally kicks things up a notch from the character-heavy bulk of the issue.
The actual plot eased off the accelerator a bit, but don't worry — for Far Sector, that means going from the normal "dazzling" to just "really, really good." The production values and detail — in every strand of kinky hair, every flash of from Muellin's expressive eyes — are off the charts, and this comic book is well worth every cent. RATING: BUY.
Far Sector #6
(W) N.K. Jemisin (A/CA) Jamal Campbell
Tensions in the City Enduring are high as the Emotion Exploit-the mandatory genetic tech that strips citizens of their emotions in the name of peace-is up for referendum. But Jo's attentions are divided when Councilor Marth makes a surprising and distinctly emotional overture …
Enjoyed this article? Share it!