Firefly Alum Launch Comics Series With Free Issue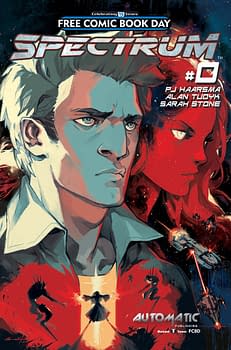 Recently, Alan Tudyk and Nathan Fillion joined together for a crowd-funding project called Con Man. The web series featuring the two cast members from Firefly did pretty well, raising $3.2 million or 735% of goal. Now the two are taking that success and turning it into a comic book called Spectrum based on the show-within-a-show from Con Man and it will debut as part of Free Comic Book Day.
Con Man, starred Fillion and Tudyk as actors from a canceled cult sci-fi show, was a comedic look at the wild world of fandom and conventions. Spectrum will tell the story that launched their careers. In the comic, a vicious attack from an alien invading force devastates the globe, but the prophetic dreams of Captain James Raaker warn that the suffering has just started. Humanity's last hope is escape in an untested spaceship built by a madman.
The four-issue series from Automatic Publishing will be written by Tudyk and novelist/producer PJ Haarsma (The Softwire Series) with artwork by Sarah Stone (Transformers) and overseen by Shannon Eric Denton. The Free Comic Book Day offering is not a sampler or a preview, but the actual first issue of the series.
The first season of Con Man is now available on Vimeo, and centers on Wray Nerely (Tudyk), who has struggled to find his big break following the untimely cancellation of Spectrum, while his friend Jack Moore (Fillion) has become a major celebrity. Jack enjoys the life of an A-lister while Wray tours the sci-fi circuit as a guest of conventions, comic book stores, and pop culture events. The show explores the crazy (and real) behind-the-scenes antics in the world of fandom.