Green Lanterns #46 Review: Just the Issue this Comic Needed
Jessica Cruz progressed deeper into her memories while Simon Baz is confronted by Power Ring of Earth-3. The hour of tragedy arrives for Jesse, and Simon confronts a dark reflection when he finally nears his partner. Outside, John Constantine tries to guide Simon while calming the concerns of the Justice League.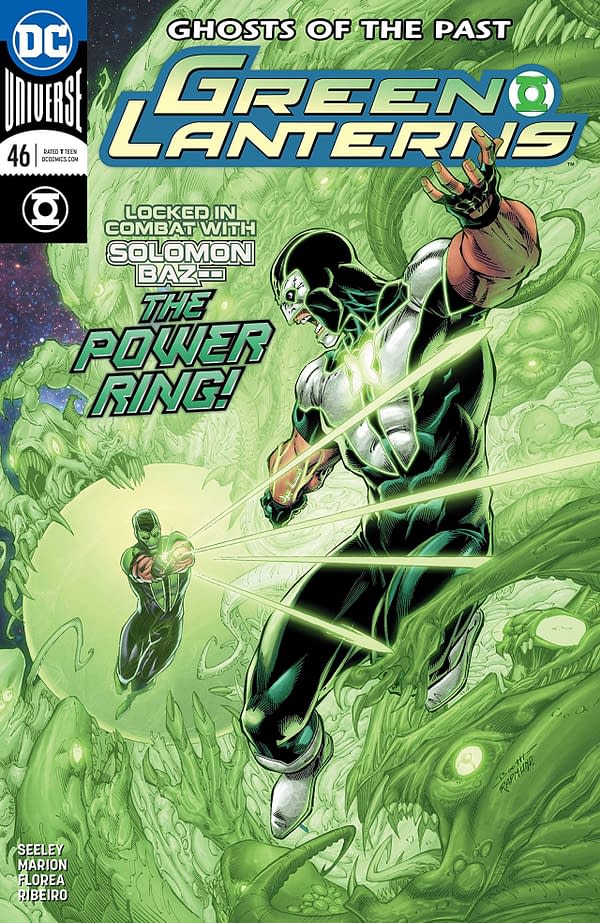 Tim Seeley continues to impress with Green Lanterns' return to a more personal and intense story for Simon and Jessica. Both are put in the position of facing their inner demons, and it makes for one of the most compelling arc the series has had in some time.
The dreaded scene of the murders is effective in its poignancy and discomfort. It's abrupt, brief, and horrifying. The team did excellent work in giving this part some impact.
The meeting between Simon and Solomon Baz makes for an interesting contrast between what Simon is and what he could have been. Once you get past the at-times cartoonish morality flip of Earth-3, Solomon Baz is a believable reflection of Simon. They aren't that different.
The ending leaves both characters in a surprisingly dark place, and it leaves you anticipating where the next issue will go from here.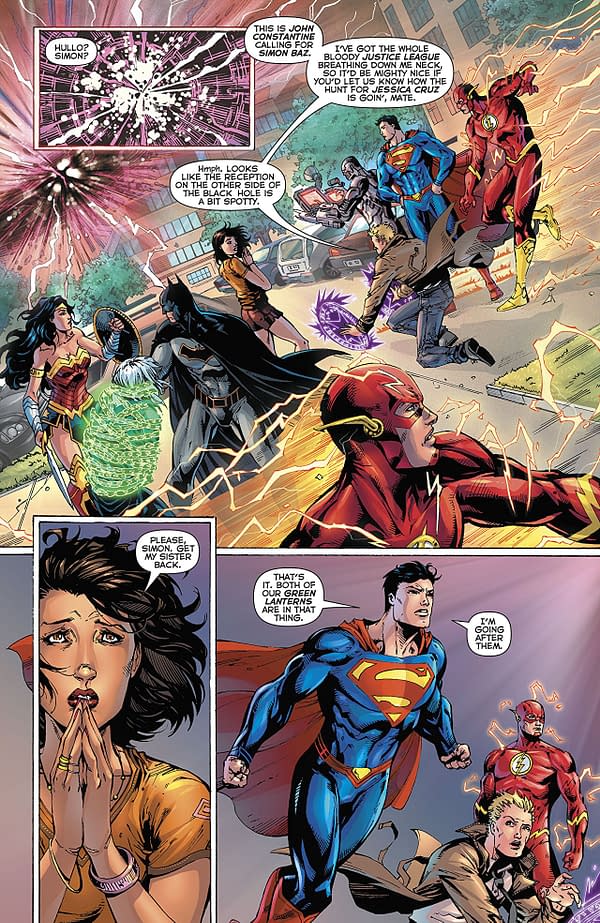 V. Ken Marion provides great artwork here with a detailed and line-heavy style reminiscent of Jim Lee. He plays with the visuals of the Power Ring aesthetic, and the environment is given a lot of life and detail of its own. Sandu Florea provides a thin and precise inking that doesn't overwhelm the figures. The only real visual flaw is the severe cheekbones of Simon, Superman, and Constantine which do look odd at times.
Dinei Ribeiro's color work remains balanced and bright throughout the runtime of the book, sealing the deal on the visually appealing aesthetics of this comic.
Green Lanterns #46 is a great installment in this series, and it's breathing life back into the book after the lackluster 'Superhuman Trafficking' arc. This story is personal, visceral, and painful. The artistic team does great work, and the overall comic earns a recommendation. Give it a read.