Harbinger Wars II #3 Review: Changing Sides and Bloody Mayhem
Bloodshot and Livewire discovered that Geomancer is the one powering the Loveboat and keeping it aloft. The Geomancer strikes at Bloodshot, and Ray begins his warpath through G.A.T.E and the Loveboat. Meanwhile, Ninja-K, X-O Manowar, and Major Palmer have discovered the Psiot boy whose powers have gone out of control. However, Faith and another contingence of Psiots have arrived to protect the young boy from G.A.T.E and Omen.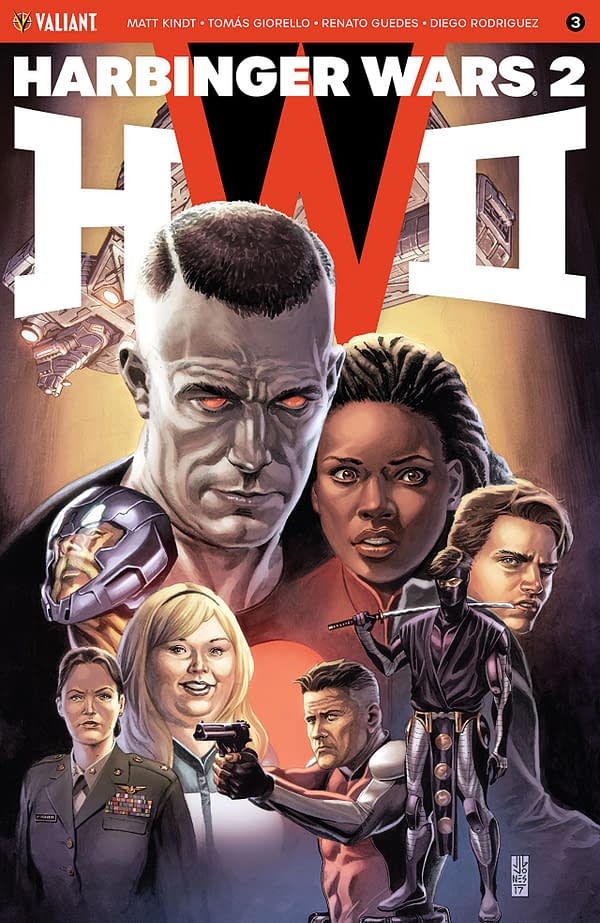 Harbinger Wars II #3 enters the next stage of the conflict and shows things getting worse and people changing sides. The two factions almost seem to come to an understanding at the encounter with the young Psiot, but the Loveboat situation has taken a different turn altogether.
Livewire's intentions and emotional state is called into question, as is Bloodshot's sanity. Ninja-K and Faith come out of this issue looking good, and I'm not sure how many Major Charlie Palmer fans there are out there — but he looks like an ass in this comic.
Matt Kindt seems to be veering towards a resolution that shows that both sides have some bad actors, but that is a little squirrelly considering how heavy this comic has been on resembling a human rights issue and using the current debate over immigration and refugees as a springboard. Having Livewire possibly go overboard is one thing, but here's hoping Harbinger Wars II won't go in a "both sides have a point" direction. You can have Livewire going too far without putting the Psiots in the realm of living weapons.
Yes, I know that I praised this comic for giving both sides a point in past reviews, but, upon pondering that idea further, well you can have well-intentioned people on both sides, but, ideologically, the Livewire, Faith, and the Psiots are in the right as a whole.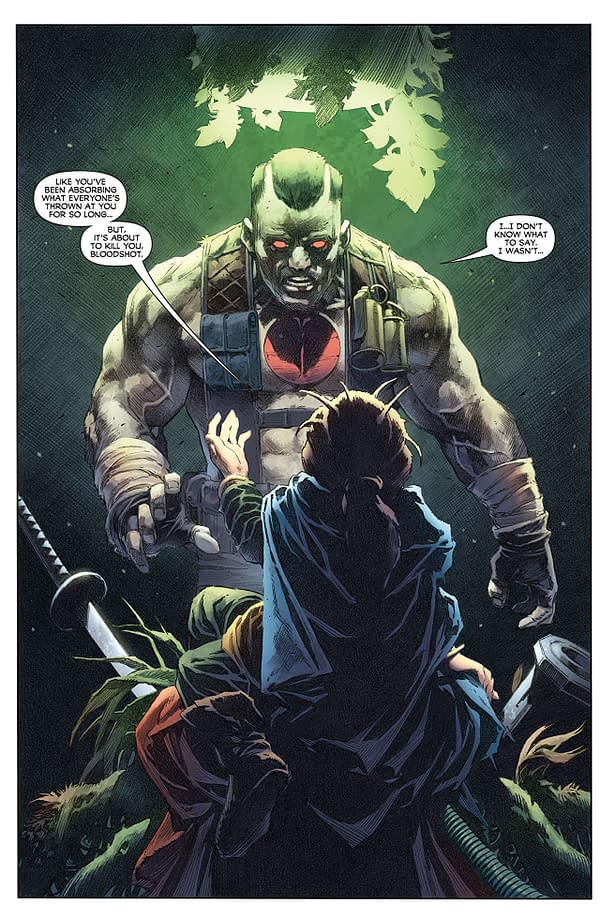 Tomas Giorello and Renato Guedes split the artwork in this comic again, and both artists put in some amazing work. I'm not entirely sure why both are necessary, but I'm honestly not complaining. Giorello and Guedes are both immensely talented artists with different strengths, and I'm glad to see them both working. Diego Rodriguez backs them up with great and varied color work, and the overall book is gorgeous.
Harbinger Wars II #3 is an action-packed and exciting issue where members of both sides come to question their motives and if this can still be resolved without people dying. Giorello, Guedes, and Rodriguez make sure that the visuals are top-notch, and the book earns a recommendation. Check it out.
---
---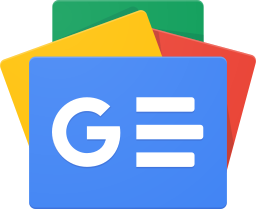 Stay up-to-date and support the site by following Bleeding Cool on Google News today!