Her Infernal Descent #3 Review: Trading Art with Andy Warhol While Pondering Life Itself
[rwp-review-recap id="0"]
Lynn and Agatha Christie enter the land of avarice. They need soup for the Cerberus, and this is where it is located. They find soup in the possession of Andy Warhol. However, he needs something in exchange. This leads Lynn and Christie into a series of trades with the many figures that have landed in this part of Hell.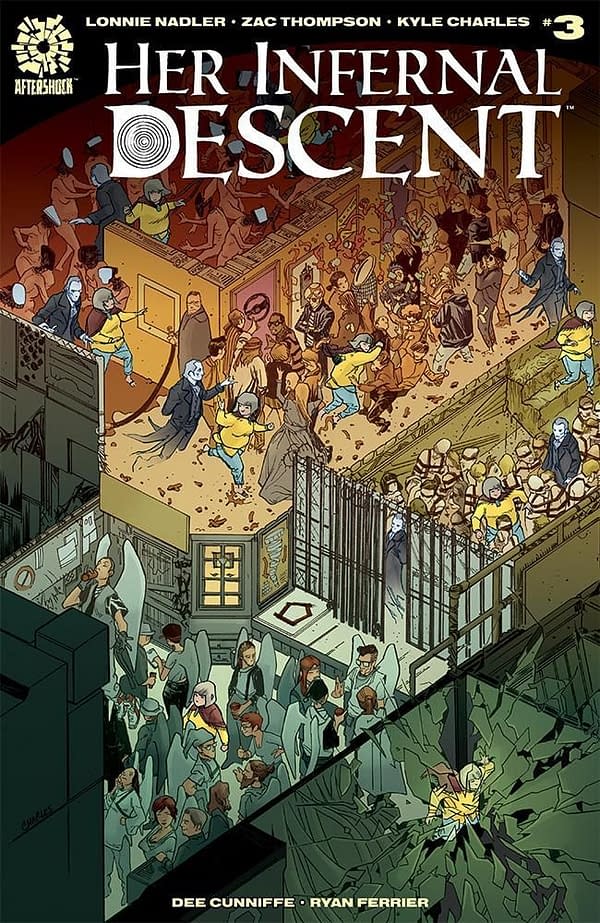 Her Infernal Descent #3 is the kind of story that English students and literary nerds love. I'm definitely the former and somewhat the latter, so, yeah, I ate this right up.
A blunt and course character accompanied by a writer waxing philosophy with artists in perdition? Yeah, it's kind of hand-crafted for college students and people fresh out of college to find something they can apply their education towards.
This sounds far more underhanded than I intend, and I do want to clarify that I unabashedly love everything about this issue. I love that it gets a bit meta with its nihilism. I love that the snake eats its own tale towards the end when Dante Alighieri himself shows up because why the hell not. I love that its thesis about storytelling being story-prolonging is borne true by a sequence of seemingly mundane trades across the land of avarice.
What keeps it from being pure intellectual masturbation and questions about the meaning of life to keep you awake at night (I feel like mentioning it's 4:40 a.m. EST as I write this) is the character study on Lynn and the general human condition provided. None of philosophizing is completely pointless; it is thematic. I joke about how it's English major fodder, but it really is beautiful in its macabre manner.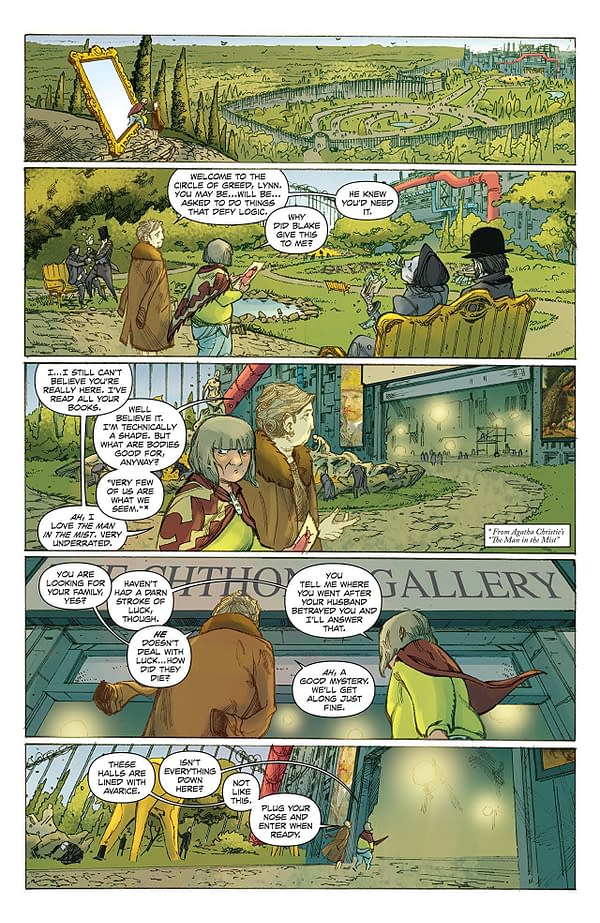 Kyle Charles and Dee Cunniffe do an excellent job of realizing these themes and questions in the visuals. Surrealist imagery litters the comic, and each environment has background details to satisfy the thorough reader. The color palette wavers with the part of avarice they inhabit, matching each locale with an appropriately toned color scape.
Her Infernal Descent #3 is a wonderfully crafted self-reflection on the nature of misery, motivation, and meaning itself. The Dante's Inferno-inspired story comes full circle when Dante himself arrives, and every point made is thematic and deliberate. Mix this with stellar artwork, and you have a book that earns a recommendation. Check it out.
[rwp-review-ratings id="0"]
[rwp-review-form id="0"]