How DC Comics Has Been Preparing For James Gunn's DC Studios Plans
James Gunn is making big changes, and annoucnements, for DC Studios. But it looks like the comic book side got wind of one or two of them in advance...
---
DC Studios has announced their news for TV and movie projects, working under one cohesive continuity, going forward. And for a number of these projects, the moment has been prepared for.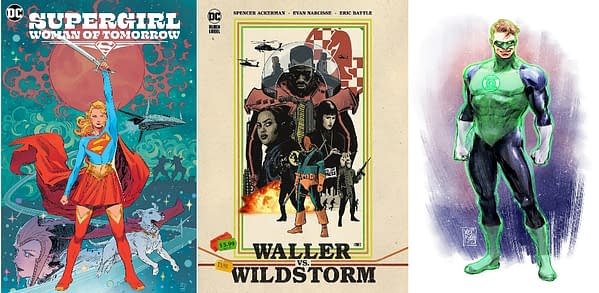 So we have Waller as a new TV series starring Viola Davis as Amanda Waller set between season one and two of Peacemaker, written by Chrystal Henry and Jeremy Carver. Amanda Waller first appeared in Legends #1 in 1986 and was created by John Ostrander, Len Wein, and John Byrne. The recent Waller Vs Wildstorm series was meant to have been published last year but Bleeding Cool broke the news that it had been delayed to 2023. Could this have been a reason for that? Might a new solo Amanda Waller series sell a little better in the light of this news? Either way, Bleeding Cool had broken the news that Waller was being set up as a new big bad of DC Comics, with a mission to kill all the superheroes, at the end of Dark Crisis. No wonder DC wants to make Waller more prominent in the comic books.
Equally, Lanterns is to be a new DC Studios TV series with Green Lanterns, Hal Jordan and John Stewart, replacing the previous Green Lantern TV project and compared to True Detective. Earlier this month, announced plans for Green Lantern were up-ended, Bleeding Cool broke the news that writer Mariko Tamaki had been bumped nineteen days after she was announced as the writer of Green Lantern: Hal Jordan, planned to launch in April. Instead, DC Comics will have Jeremy Adams  and Xermánico with Green Lantern, starring Hal Jordan and starting in May with Phillip Kennedy Johnson and Osvaldo Montos bringing forward their John Stewart ongoing series plans for later in the year with a John Stewart backup strip for the same comic. One can speculate with confidence that James Gunn's plans impacted the comic book publisher's sudden change of approach for this comic.
As for the rest, it is notable that Superman Legacy, a 2025 DC Studios movie written by James Gunn, balancing his Kryptonian heritage with his human upbringing, may have informed the recent direction for Superman to regain his secret identity. And maybe the comic will be returning to "Truth, Justice and the American Way" alongside the film.
The Authority also returned from Grant Morrison in Superman And The Authority, and now we are getting an Authority movie, based on the Warren Ellis and Bryan Hitch comic book series. Which was a surprise to everyone.
Talking of Grant Morrison, we now will have a Brave and the Bold movie based on Morrison's Batman run that introduced Damian Wayne. We speculated that James Gunn may have a birthday present today for Grant Morrison, and that seems to be how it has worked out.
A Paradise Lost DC Studios TV Series based on Themiscyra, compared to Game Of Thrones with an all-female society, before Diana's birth, looked like it may build on the just-published Wonder Woman Historia written by Kelly Sue DeConnick, with art by Phil Jimenez, Gene Ha and Nicola Scott, much delayed but finally published just in time for this announcement
The collection of Supergirl: Woman of Tomorrow based on the Tom King and Bilquis Evely Supergirl mini-series was only published last year rather sharpish after the original issues. And now on sale for anyone who wants to check it out.
And hey, Booster Gold came back from creator Dan Jurgens last year as well for Blue And Gold, and now getting a TV series too… Look for upcoming Creature Commandos comics now that there will be an animated TV Series with Weasel from The Suicide Squad played by Sean Gunn, as well as featuring Rick Flagg Sr, And with a Swamp Thing movie looking at the dark origins of the character – which suggests going to Alan Moore, Rick Veitch and Steve Bissette's Anatomy Lesson, well, that's always in print… and always being copied.