Hunt for Wolverine: Dead Ends #1 Review – Fun, But Adds Little to the Story
[rwp-review-recap id="0"]
Iron Man and Daredevil are called to the Xavier Institute to talk about what they found with Kitty Pryde of the X-Men. Both Tony and Matt have made some discoveries, but none of them are good. Kitty has similar news from herself and Sabretooth. While they are talking about their next move, three tungsten missiles are fired from orbit at the X-Mansion. The X-Men, Daredevil, and Iron Man spring into action to save the mansion and New York City.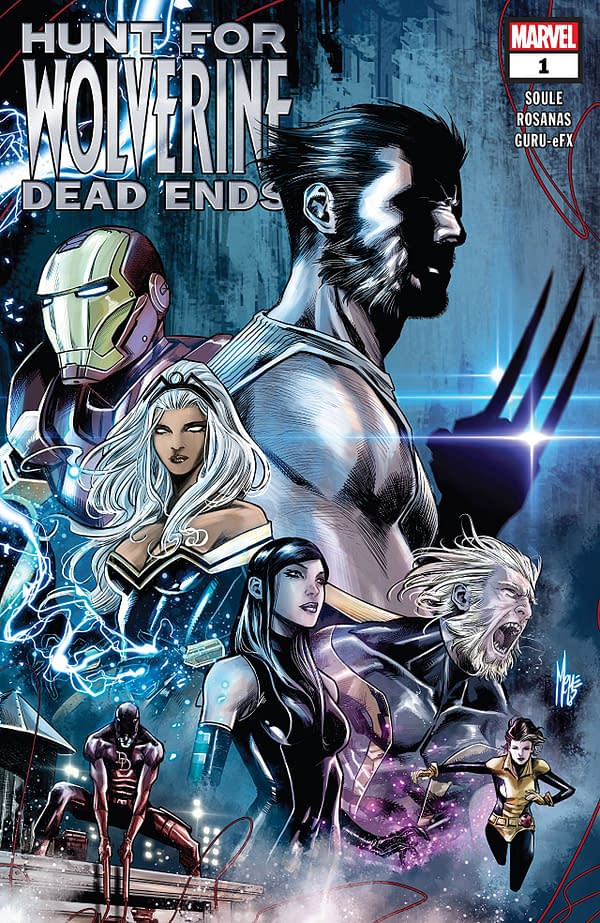 Hunt for Wolverine: Dead Ends doesn't exactly give a lot of information about where Wolverine is. Thanks to the four Hunt for Wolverine minis, particularly Claws of a Killer and Weapon Lost, we could glean that Logan is likely in the thrall of this Soteira organization.
We get a face (sorta) for Soteira's leadership and more of a grasp as to what their plans are, though Adamantium Agenda and Mystery in Madripoor gave us some info in that regard too.
The most appealing thing about this book is that we have the X-Men, an Avenger, and an unaffiliated hero/Defender in the same room together, genuinely cooperating, and not breaking down into fighting or sniping at one another. When the threat arrives, everyone works together without question. You almost forget that can happen in the Marvel Universe. Hell, Matt even asks about Cypher's well-being after what happened to him in Weapon Lost.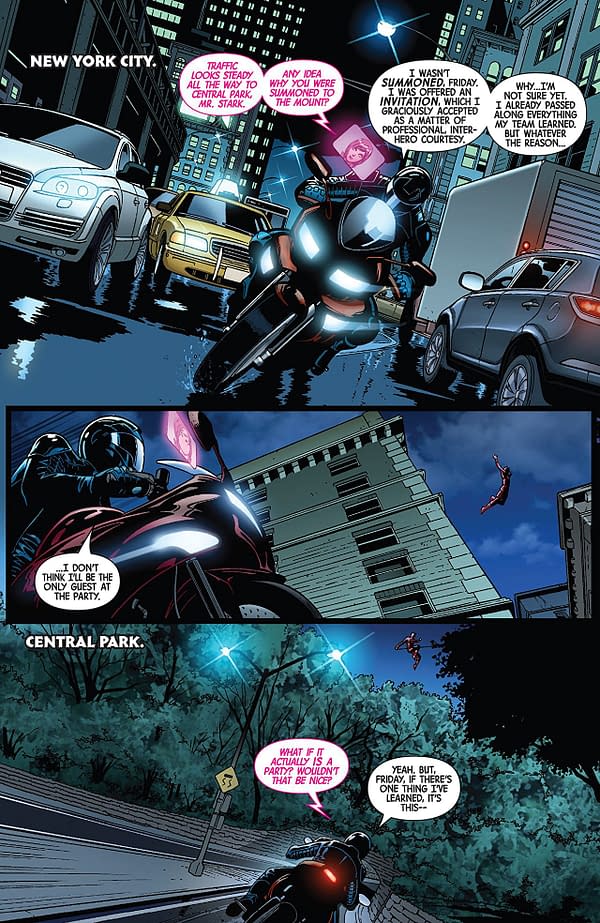 Ramon Rosanas' artwork is quite good, and he does some clever things with the paneling and conveying of story in the opening pages. Beyond that, there is an appealing sleek yet detailed aesthetic throughout the book which jives well with the narrative. Iron Man and Daredevil's costumes are given a good treatment. Guru-eFX supplies some solid color work, leaning on darker colors for the setting to be contrasted by the bright costumes.
Hunt for Wolverine: Dead Ends #1 doesn't exactly supply any significant revelations, but it is an enjoyable book in its own right. The $4.99 price tag gives me some reticence towards enthusiastically recommending it, but, if you're already enthralled in the Hunt for Wolverine narrative, I can recommend it well enough. If you sat out the previous four miniseries, well, funnily enough this one issue sums up what they can tell you about Logan's whereabouts quite succinctly, and it's not a bad place to hop on before Return of Wolverine this September.
[rwp-review-ratings id="0"]
[rwp-review-form id="0"]