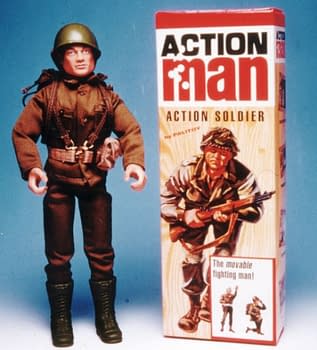 At the Diamond Retailer Day at MCM London Expo this weekend, IDW's VP Marketing Dirk Wood announced a very special project to UK retailers.
That IDW would be publishing a comic based on the Action Man property.
For our colonial brethren, Action Man was the UK version of GI Joe that never shrunk down. Licensed from Hasbro, renamed and launched in the sixties, Action Man gave a very British military feel to the iconic American toy, rather than the increasing fantasy world of GI Joe. And some of its innovations, the gripping hands, the eagle-eyes and the flocked hair were "borrowed" back again by GI Joe.
Later in the nineties, the GI Joe line of smaller action figures and accompanying cartoon was repackaged in the UK as Action Force, but Action Man in his full size continues to sell to this day, and maintains a special place in the heart of many a young boy.
As to the comic book, they made no announcements regarding creators, but they did slip that Garth Ennis was a pipe dream for the title. IDW already publish the GI Joe comic but without much success in the UK which has less of an allegiance to the brand. Action Man is a totally different thing…
At New York Comic Con 2011, Hasbro a comic called Unit E that featured comic strips of several classic toy lines, including a new Action Man. It's also notable that during the space race line of Action Men, that Rom, The Space Knight was included… also to be published by IDW.
A previous Action Man comic was published by Panini and ran for ten years from 1996 to 2006.
Enjoyed this article? Share it!