Lady Mechanika: La Belle Dame Sans Merci #1 Review – Steampunk PI Cyborg Adventure
[rwp-review-recap id="0"]
Inspector Singh visits the house of Lady Mechanika to inquire about a case. A man had his mechanical arm stolen by a thief, and he wants to know if Mechanika was involved. She was to a point, but she doesn't know the current whereabouts of the arm. She resolves to investigate soon, and she is called away by trouble involving Mr. Lewis. He has been frequently drunk and may be unable to help Lady Mechanika investigate the missing arm. She must go it alone.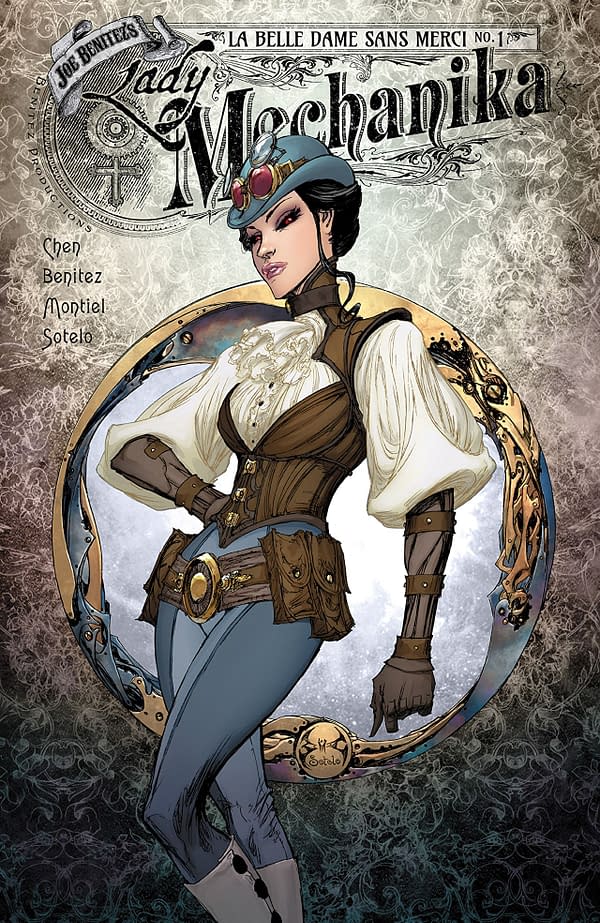 This is my first experience with the Lady Mechanika line of comic books. I'm not much into steampunk in general, but this book did win me over with its charms and clever dialogue.
This first issue is a little slow. The story is being set up, and we are made privy to the current state of Mechanika's social life. Both are fun to read, so the slowness is somewhat forgivable.
Mechanika is clever and charming herself, and her dialogue is often quite entertaining to read. This is a steampunk setting, so most characters are eloquent and well spoken. However, Mechanika's speech stands out even in this setting, and her relationships with friends and associates make for good reading.
Her backstory is interesting too, and it pops up in the main plot in interesting ways.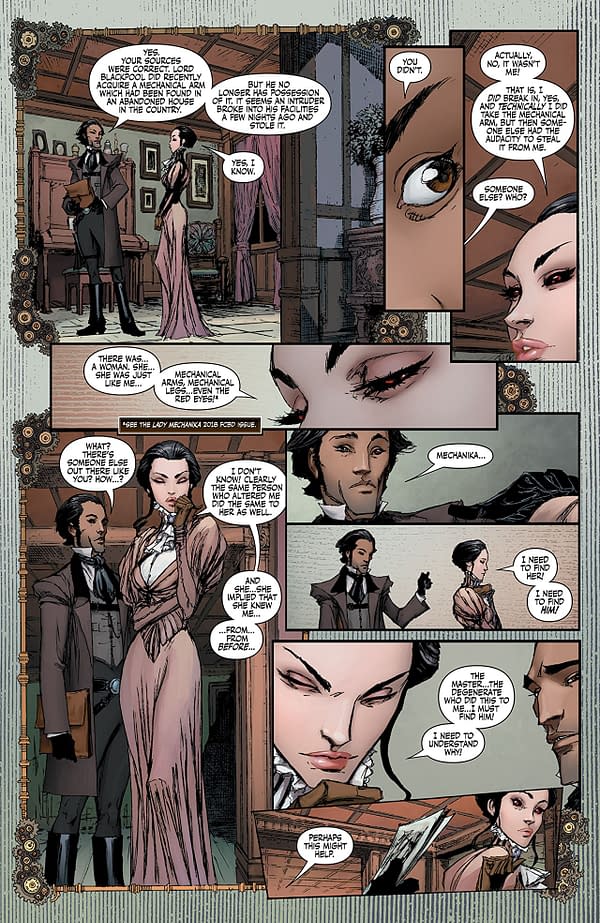 The artwork by Joe Benitez and Martin Montiel is one of the prime selling points of the comic, of course. The art is unique, using severe angles and slender figures to create a harmonious flow from panel to panel. That said, there are plenty of curves flowing figures to complement the harsher angles. I also appreciate the gears and pipes that make up the panel framing. It's a gorgeous comic, and Beth Sotelo's colors add a lot to the visuals.
Lady Mechanika: La Belle Dame Sans Merci #1 is charming if slow first entry for the new volume. The character is presented well, her personality is appealing, and the art is gorgeous. This one earns a recommendation. Check it out.
[rwp-review-ratings id="0"]
[rwp-review-form id="0"]