Lang Discover's Robo's Secret in 'Atomic Robo: Dawn of a New Era' #4
[rwp_box_recap id="0"]
Poor Robo. All he wants to do is train the next generation of Action Scientists, punch dinosaurs, and talk to his secret robot son, Alan.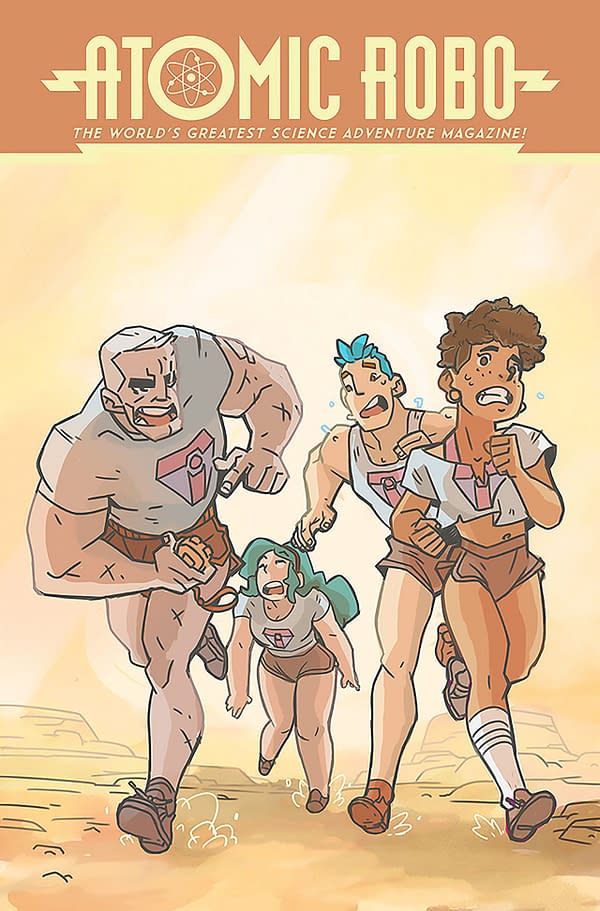 Robo has every reason to keep Alan a secret, too, since he is the robotic embodiment of an Artificial Intelligence based off of Alan Turing's mind- which also tried to destroy the earth at one point.
Most of the adult Action Scientists don't look to kindly on the memory of Alan, so it's no surprise that Lang loses her cool when she realized that Robo has been raising Alan in secret. The other adults are not too thrilled, either.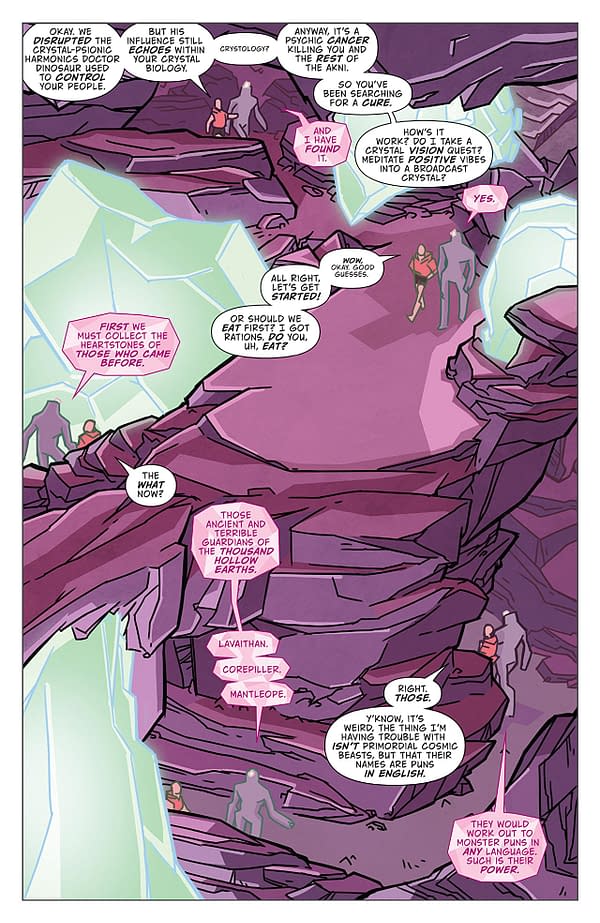 Atomic Robo: Dawn of a New Era #4 also focuses on Dr. Bernard Fischer, who is on a mission deep beneath the earth. He's met up with the Queen of Hollow Earth, who has entrusted him with finding a new power. Or he might be hallucinating, it's hard to say with Bernie.
The Junior Action Scientists (the Dead Scientist's Club, as they call themselves) have a pretty nasty run-in with Jenkin's version of the danger room, and we learn how Vik really feels about dragons!
Here's the funny thing about Atomic Robo, and Dawn of a New Era, in particular. This book was written for all ages, doesn't have questionable material, and clocks in at 27 pages. Most all ages comics would throw a bunch of art at a thread-bare plot, but Robo is a densely packed, yet entertaining read.
Where else are kids going to read about a dinosaur fighting robot built by Nikolai Tesla? Just reading this issue might light a spark of curiosity about Alan Turing, which could in turn ignite a passion in science. There's a lot of cool things going on with Atomic Robo, and it's not just the hero.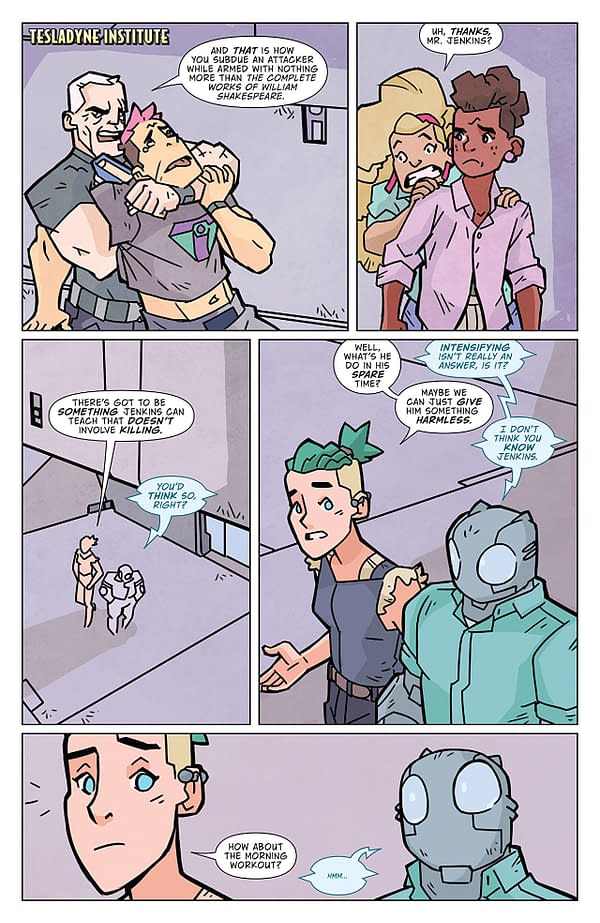 Kids in Dawn of a New Era are front and center, curious, and passionate about discovery and science. That's pretty cool for kids to see in a comic.
Atomic Robo isn't just for kids, either- Brian Clevinger's script is fun for all ages, and doesn't "dumb down" the story to make it more accessible for younger readers. I'm still getting used to how Scott Wegener is drawing Atomic Robo for this run, but everything has such a bright, punchy, animated feeling to it, so it's easy to like. I just love the way Wegener normally draws Robo, so I hope there's a return to form coming in the future.
Atomic Robo: Dawn of a New Era #4 is easy to recommend, especially for parents who like to read comics with their kids. At $2.99 the book is easy to justify buying, and there's plenty of story inside, with engaging characters and monsters.
SUMMARY: Script: Brian Clevinger; Art: Scott Wegener; Colors: Shannon Murphy; Letters: Jeff Powell; Editor: David Mariotte; Publisher: IDW Publishing; Publication Date: April 3, 2019; Cover Price: $2.99; 27 pages.
[rwp-review-ratings id="0"]
[rwp-review-form id="0"]