Lost on Planet Earth #1 Review: It Drips With Roddenberry Sauce
Basilisa Miranda is a woman on a mission. Born in the latter half of the 24th century in a world without want or poverty, she's got a host of accomplishments under her well-polished belt. She was a world judo champion, stomped through science fairs while wearing braces, graduated with honors. For breakfast every morning, she eats a disgusting but hypernutritional smoothie of science goop to optimize her memory and cognition. Generally does everything she can to move towards her goal: becoming a captain in the Interplanetary Fleet, serving the Star Union with distinction beyond anyone, even her well-regarded hero.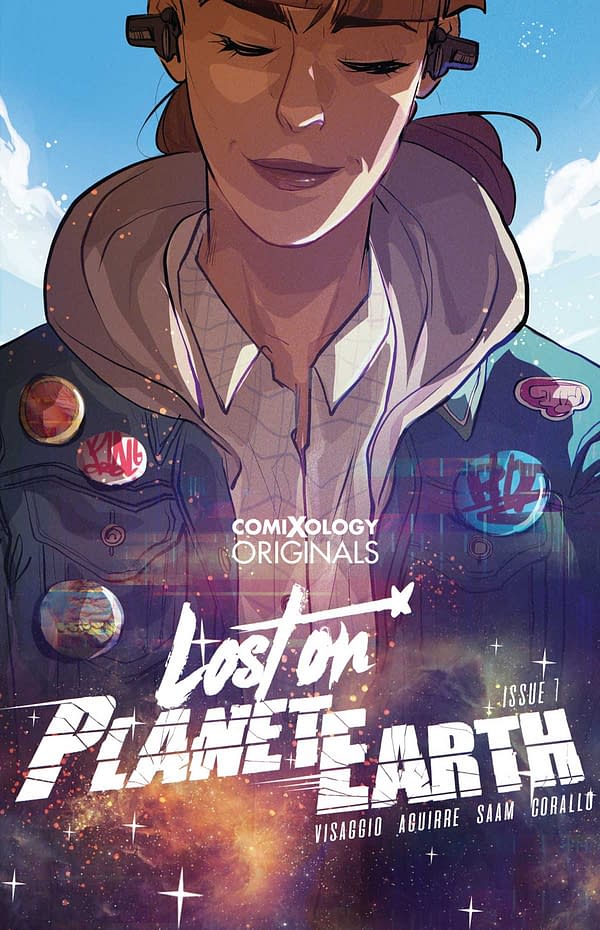 Sound familiar? This set-up drips with Roddenberry sauce and isn't shy about it, down to the uniforms of its crew members. This takes a turn in that things doesn't go according to plan for this hyper achiever. Instead of going where no one has ever gone before, Basil takes a turn that leads to a much more down to earth destination.
The diverse futurescape of an egalitarian, multi-ethnic world is well realized by Aguirre and Saam, showing a bright, friendly future without obvious danger or deprivation. As far as humans go, there's every slice of ethnicity out making their way in the world, seemingly without the limitations inherent in our modern world. The only person who isn't as polished and presented is an immigrant from another world, opening the door to experience the protagonist never even considered. Even that looks like an effect instead of actual disenfranchisement. This utopian slice of life won't wow you with visuals or dazzle you with spectacle, but it's serviceable in its way in presenting a possible look ahead.
Here's the thing: the underlying idea here is a bit of Reality Bites wrapped in a science fiction shell. To quote George Michael, "the fallen dreams of heaven, but what the hell are you supposed to do when they come true?" Everything Basil has ever wanted is maybe nothing she ever wanted, despite decades of drive towards that goal. That kind of young adult angst and ennui is not exactly fresh, despite its future-flecked affectations, and with the almost abrupt stop with so little had happened, this lacks conflict, urgency, and animus. RATING: MEH.
Lost On Planet Earth (comiXology Originals) #1 (of 5)
It's 2381, and Basil Miranda, on the verge of graduation, knows exactly what she's doing with the rest of her life and always has: a primo assignment on the best ship in the fleet alongside her best friend in the world. She has meticulously prepared herself, and the final Fleet Exam is tomor-row. But what if none of that is what she really wants? And why hasn't she ever asked herself that before?
Lost on Planet Earth is the latest expectation-defying series from Visaggio, the Eisner-nominated writer of Kim & Kim and Eternity Girl, whose acclaimed comic Vagrant Queen was recently adapted for TV by SYFY. Lost on Planet Earth reunites Visaggio with artist Aguirre. The pair previously collaborated on Kim & Kim and created the acclaimed series Morning in America; they are joined by letterer Zakk Saam and editor Joe Corallo. This is the first release for Visaggio, Aguirre, Saam, and Corallo under the name DEATH RATTLE, a rock band-style moniker for their creative collaborations.