Ludocrats #2 Review: The Professionals are at Work Here
Wow. Well, making any narrative make sense is an uphill climb, even sometimes for seasoned creators, but to take an intentionally ridiculous idea and make it wholly clear and understandable while not taking any of the "ridiculous" out of it … you're setting the game difficulty level pretty high.
Luckily, this book is firmly held in the steady hands of professionals. Kieron Gillen, Tamra Bonvillain … names you've seen a lot. The rest of the team aren't exactly slouches and this … well …
Baron Otto Von Subertan is quite a figure — his Volstagg-ian proportions are only dwarfed by his deep devotion to being a Ludocrat, someone who rules but is never boring. To say he is "whimsical" would be like calling the Pacific Ocean "a puddle." He starts off the issue a drooling amnesiac riddled with more than a dozen syringe harpoons, fired from the guards of the Hyper-Pope.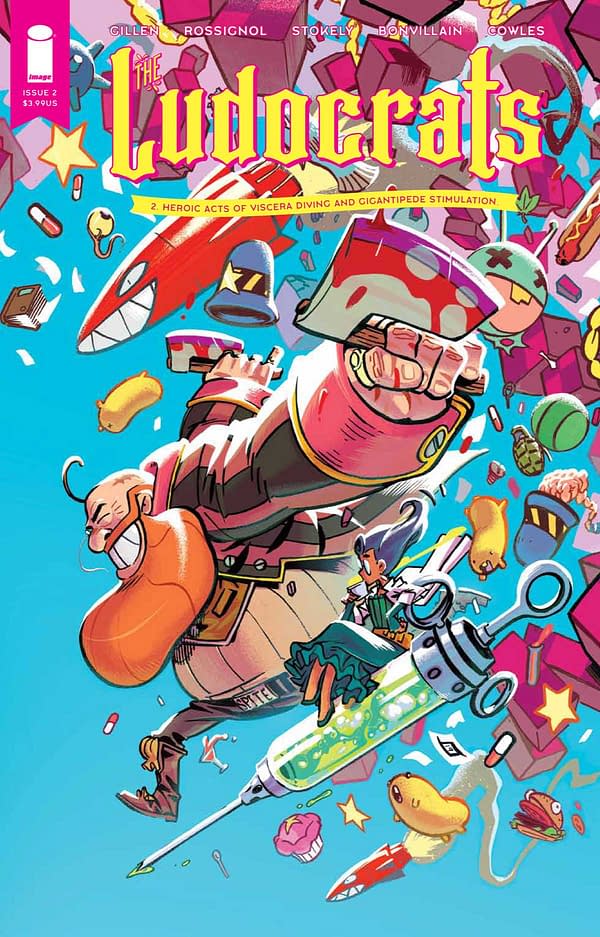 Yeah, hang on, it doesn't get any less wacky, and that's a huge compliment.
After a refreshing blast in the face with a sonic cannon ("boo-yah?"), he remembers losing his newfound love, a metal-sheathed jurist he lovingly calls "Gratty," arrested by the aforementioned Hyper-Pope on some cooked up malarkey. Otto is a man of action, easily seen by how unbothered he is strutting around naked as he bellows pronouncements, and gathers specialists, calls for "The War-Wig of Wallacha" and sets about rescuing Gratty from her imprisonment.
At his side, he has the wildly unflappable Professor Hades (think Janine in Ghostbusters by way of Holtzman's skill set in the Answer The Call version of Ghostbusters), Bogol Theen ("the capering chainsaw gastronaut"), last issue's breakout star Voldigan the Perdiferous (imagine if everything Littlefinger said on Game of Thrones was hilarious and he was a teleporting "voidwalker"), the fetish-dressed surgeon Elaina Triptych and one of Otto's relatives who really knows how to make an impression.
When Otto calls for a map, it's delivered by a cloud of one-eyed bats the size of butterflies. When Professor Hades is deadly serious, she says, "This is a beast with no anus."
This issue starts out funny and can have the reader bending over, stifling hearty guffaws by the end of it. Even the credits are amazing, where writers Gillen and Rossignal designate each of themselves a "literary disaster." The exaggerated artwork might get lost in the hands of a tyro colorist, but this is Tamra doggone Bonvillain here, so every panel is crystal clear as to foreground and background, every ridiculous story element visually comprehensible and engaging. Please stick around for the surprises on the last page, which proves the larger narrative is moving ahead while this singular adventure comes to its conclusion. As noted, there are professionals at work here. Wow.
RATING: BUY.
Ludocrats #2

By: Kieron Gillen, Jim Rossignol, Jeff Stokely, Tamra Bonvillain

How could we follow the startling first issue of LUDOCRATS? With issue two. Sometimes it doesn't pay to overthink these things. Herein, stuff of a ludicrous and oft entertaining character happens.