Moon Knight #191: The Boxers Marc Spector Wears to Fight Revealed!
[rwp-review-recap id="0"]
Moon Knight learns he has a daughter in time to see she and her mother at the mercy of the Sun King and Raul Bushman. He is now fighting for their lives as well as his own.
Elsewhere, the Truth receives some help in prison.
Also, Khonshu gives Marc Spector and his other personalities an explanation of theology and who and what Ra is.
Also, Marc Spector fights in his white, vertical-striped boxers.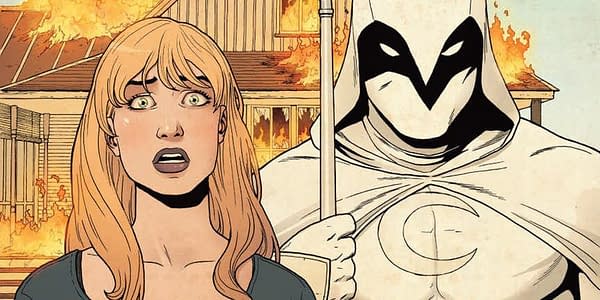 Moon Knight #191 provides a dramatic continuation to the "Crazy Runs in the Family" story, as Marc Spector at last encounters the Sun King along with the return of Bushman. He also must grapple with the fact that he is a father and is even forced into some alone time with his daughter to protect her and regroup.
The scenes with his daughter are fairly endearing. She's actually an interesting character unto herself. She's quite precocious and open with her opinions. Eventually, they bond over the music of Dazzler.
The Sun King is shaping up to be a great villain. The origin issue from Moon Knight #188 was a stellar opening to the character, and he's continuing to impress with his sadism and nihilism tempered by an oddly warm and calm demeanor. It's good to see the Truth back so soon, as he was a great villain too.
I'll never get past how oddly casual Khonshu is for an Egyptian god. It's great that Max Bemis kept that quality in the comic.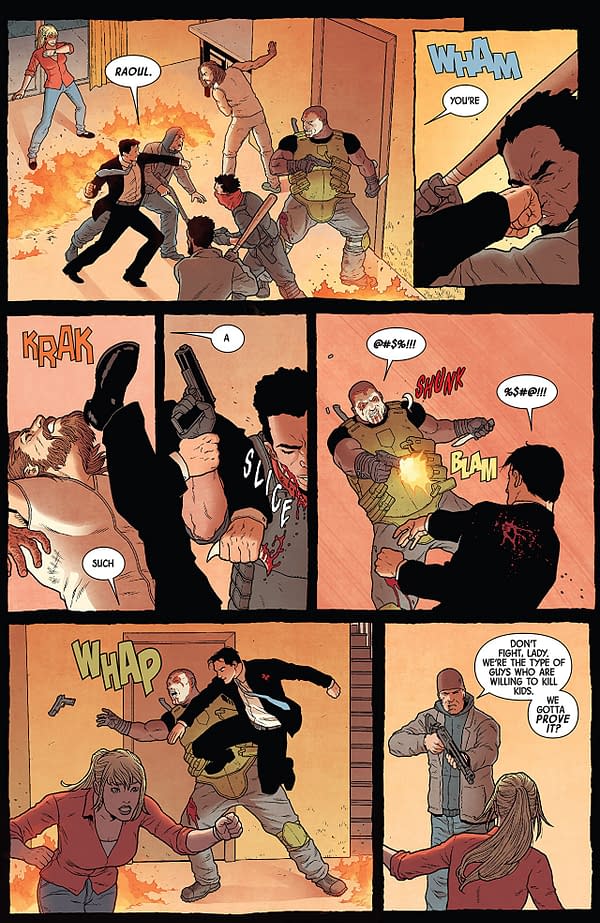 Jacen Burrows' artwork continues to be the right mixture of clean and unnerving that Moon Knight deserves. Plus, his fight scenes are structured very well. They're more sequential than many fight sequences these days. Each panel leads directly into the next. Guillermo Ortego's inkwork certainly helps maintain that clean and neat quality. Mat Lopes' color art is bright and saturated enough to create this aesthetic of being so neat that something feels off. That style fits this era of Moon Knight very well.
Moon Knight #191 continues the "Crazy Runs in the Family" arc in an exciting and shocking manner. Marc Spector has to reevaluate what he knows about his life and the world around him, and this era of Moon Knight shows that it can handle a lot of action very well. The art team of Burrows, Ortego, and Lopes shows off a lot of talent too. This one gets a recommendation. Check it out.
[rwp-review-ratings id="0"]
[rwp-review-form id="0"]