Obscure Comics: General Mills Presents Batman V Superman #3 & Blippar
How The Comics in Cereal Get Made, Batman V Superman: Dawn of Justice General Mills Edition
DC Comics and Warner Brothers really heavily promoted Batman V Superman: Dawn of Justice, as touched upon in the past, and for the past two Obscure Comics. The amount of effort that went into the cereal end of that promotion, including the special Batman and Superman cereals, and in particular the special comic books that were released starting at the end of February 2016, is impressive. The marketing team, in particular, with the comics, made sure their age demographic was clear, young children Elementary to Middle School-aged. At the time, Alysia Powell, senior marketing communications planner for General Mills Cereal, said, "We are all about bringing fun to breakfast. It doesn't get much more fun than finding a special, collectible surprise in your cereal box." In addition to fun through the comics, life lessons were designed to be an essential part of each story and emphasize the importance of diverse opinions.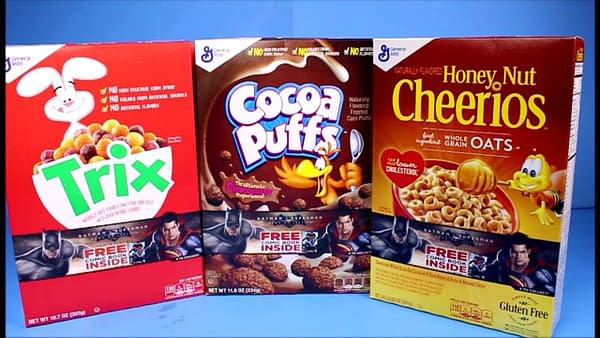 In addition, the importance of making sure the comics seemed to truly be part of the Batman V Superman: Dawn of Justice universe meant that "even though plot details of the film are top secret, we worked closely with filmmakers to make sure our stories were consistent. While all major reveals are saved for the film, eagle-eyed readers may discover a few clues in the comics about what's to come." Further Alex Antone, the editor of the comics, and now current editor at Skybound, added, "all the comics that we've done to support Batman v Superman: Dawn of Justice were directly inspired by the film." To make sure the comics were in universe with the movie, the creators "worked hand-in-hand with Warner Bros. Pictures and the filmmakers themselves to help come up with story lines," though who these filmmakers are is pretty vague. Also every writer had seen Man of Steel before hand too and DC "wanted each story to be a fun, action-packed adventure, but we also aimed to make a statement about how both Batman and Superman inspire people to be the best versions of themselves … albeit in different ways," Antone added. However, few people would describe Man of Steel as "fun" so this kind of promotional statement should be taken with a grain of salt, but shows that creators, marketing, and editors put a lot of work into these books, even for being just promotional pieces. Plus, there is the additional effort that went into the Blippar part.
Batman V Superman: Dawn of Justice on Blippar Again
A bit back when discussing the Batman V Superman: Dawn of Justice comics that Dr. Pepper put out, Blippar came up as part of that coverage. Now the company was not, and is not, owned by Warner Brothers, but again when it came to doing Augmented Reality, General Mills joined Dr. Pepper and had their AR done by Blippar. This time the backs of the cereal boxes hosted an AR game that used the Blippar app. In the press release, Alysia Powell emphasized that "the Blippar experience brings the back panel game to life in an interactive way that is fun for the whole family. Fans of all ages can play alone or with a friend or sibling." Though anyone can judge for themselves the "fun level" and see the video, General Mills released showing the game in use.
Obscure Comics: General Mills Presents Batman V Superman: Dawn of Justice #3: Picture Proof
The third of four General Mills Presents comics was written by Marguerite Bennett, with art by Marcus To, under another great Gary Frank cover. Set clearly before Batman V Superman: Dawn of Justice, this issue explores the air of rumor and mystery that Batman exists under in this universe, with many not sure if he is real or just a media creation.
The issue is narrated by Emily, who watches as Batman deals with several fleeing crooks and is lucky enough to take pictures of Batman on her phone, not that any at school believes her. She later figures out that he'll return to the crime scene, so she gets new photos. Deciding to prove she saw Batman, Emily combs through every image she has until she finds one clear picture of Batman. Taking a print of the photo in hand, she goes to prove she isn't a liar to a bully in her grade but finds that other students don't think badly of her and defend her, even without seeing the photo.
Later that night, Batman visits Emily, who tells her he knows she has a photo of him but that he knows she'll do the right thing with it. After the visit, Emily decides to do the right thing, delete the photo, and destroy the print out she'd made.
Still Worth Something, but Not Really Worth Reading
This issue, perhaps more than the other three, hits home the emphasis on making sure these four comics have "life lessons were designed to an essential part of each story and also emphasizing the importance of diverse opinions." These aren't bad qualities to have in a comic, but literally, the only action in this issue is three pages in a twenty-page comic. The writing and quality of dialogue are good, and Marcus To really draws this book well, and based on this issue alone could clearly give us some great Batman stories. However, the issue is just boring and of the four is the least worth reading, even though it still has a value of $5 to $20 depending on the market. It was also one of the easiest of the four to find, sadly, but the ease of obtaining all four comics is best left for next time.