Alan Moore has done a lot of work with Avatar Press, Bleeding Cool's parent company. They are reprinting a number of his works, including Another Suburban Romance and Light of Thy Countenance. Cinema Purgatorio continues, another Moore project, and Crossed Plus 100 Mimic rolls on. All of this is coming out in June. Details below.
APR181346
CROSSED PLUS 100 MIMIC #4 (MR)
(W) Christos N. Gage, Patrick Shand (A) Emiliano Urdinola, Raulo Caceres (CA) Gabriel Andrade
Two epic tales in every giant-size Crossed +100 Mimic issue! Christos Gage heads down a dark path in MIMIC, as Fleshcook and Julie continue their delicate dance, pushing each other to their limit. In second feature, Pat Shand teams up with artist Raulo Caceres to deliver a chapter of AMERICAN HISTORY X, based on the events Moore spotlighted as key points in the saga. Available with a sizzling array of covers: Regular by Gabriel Andrade, History X Wraparound and American History X by Raulo Caceres, Fatal Fantasy and Hellish Homage by Renato Camilo, and Ms Mayhem by Christian Zanier. Don't miss the three-cover Crossed Over set by Matt Martin, each limited to just 250 copies, nor the Century (of Blood) cover limited to 100 copies also by Camilo. (STL083320)
MATURE THEMES
48pgs, FC SRP: $5.99
APR181356
CINEMA PURGATORIO #15 (MR)
(W) Alan Moore & Various (A) Kevin O'Neill & Various (CA) Kevin O'Neil
Join a master class of sequential artisans as they spin stories to terrify and delight in the finest anthology in comics. Now showing: Cinema Purgatorio by Alan Moore and Kevin O'Neill, A More Perfect Union by Max Brooks and Gabriel Andrade, Code Pru by Garth Ennis and Raulo Caceres, Modded by Kieron Gillen and Nahuel Lopez, and The Vast by Christos Gage and Gabriel Andrade. Each story has its own cover by the series artist and there is also an Ancient Tome Premium edition limited to 1000 copies. (STL083314)
MATURE THEMES
48pgs, B&W SRP: $6.99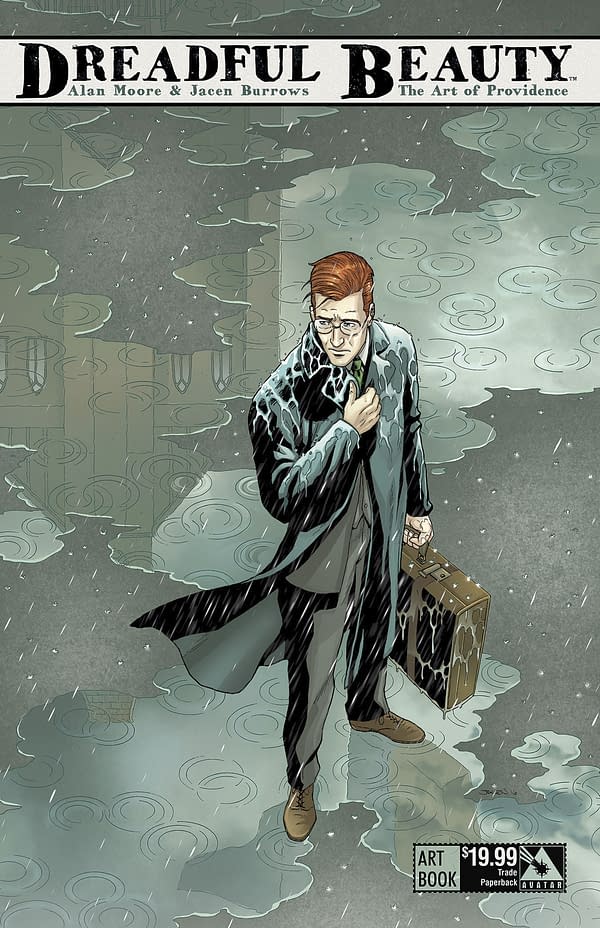 APR181362
DREADFUL BEAUTY ART OF PROVIDENCE TP (MR) (C: 0-1-2)
(A/CA) Jacen Burrows
The amazing work of Jacen Burrows is celebrated in this special art book! Over 15 years of amazing works are featured here, all showcasing Burrows' original pencils and inks. Included is a complete cover gallery, from The Courtyard to Neonomicon to Providence, as well as choice pages, designs and lots of unused, ultra-rare, and unseen art! For fans of the series, this is a wonderful companion volume showcasing the haunting artwork and painstaking labor that went into bringing it to life. (STL049690) (MAY171177) (C: 0-1-2)
MATURE THEMES
SC, 144pgs, B&W SRP: $19.99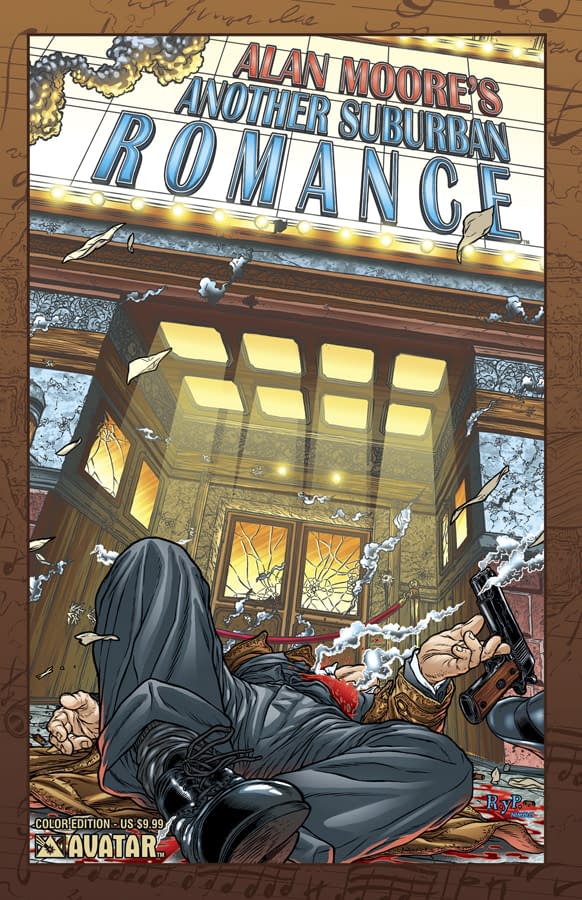 APR181363
ANOTHER SUBURBAN ROMANCE COLOR ED TP (MR)
(W) Alan Moore (A/CA) Juan Jose Ryp
One of the seminal works from the writer who defined modern comics, Alan Moore, is re-mastered for the first time in breathtakingly vibrant color! Alan Moore's performance works making up the play Another Suburban Romance are translated into print and lavishly illustrated as full sequential stories. Comprised of three major pieces, adapted from Moore's original presentations by frequent collaborator Antony (Fashion Beast) Johnston, this original graphic novel is completely illustrated by Juan Jose Ryp. Running from the 1920's Chicago style killings in Old Gangsters Never Die, to the ruminations on modern life in the namesake piece Another Suburban Romance, this powerful work is an essential piece of the Alan Moore graphic novel library that no fan will want to miss! (STK653793) (OCT141057)
MATURE THEMES
SC, 64pgs, FC SRP: $9.99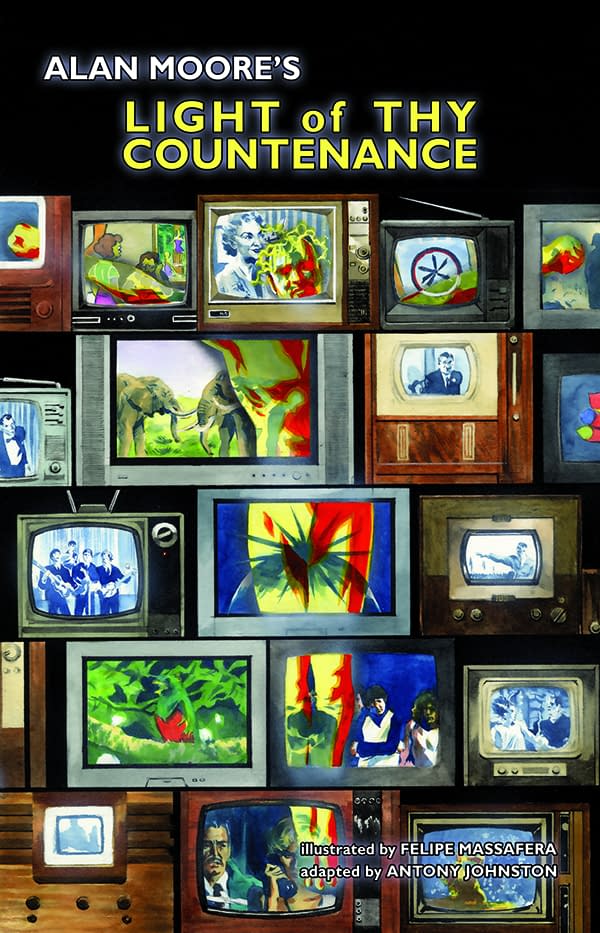 APR181364
ALAN MOORE LIGHT OF THY COUNTENANCE GN (MR)
(W) Alan Moore (A) Antony Johnston, Felipe Massafera (CA) Felipe Massafera
Alan Moore, master and magician of storytelling, tears back the veil of one of the most arcane of enchantments — The Magic of Television. Part grimoire, part grim invocation of things that are all too ordinary, this beautiful 48-page novella is stunningly painted by Felipe Massafera. Maureen Cooper is not real. She is an apparition summoned to screens, into homes, into the hearts and mind of the viewing audience by Carol Livesly. But Carol Livesly is not the god that creates the illusions that capture the mind and bind the soul. She is only a servant of a higher power. A higher, hungry power, as old as the world and eternally new. As, perhaps, are we all… LIGHT OF THY COUNTENANCE, an original and breathtaking story by Alan Moore, has been adapted to graphic novella format by Antony Johnston preserving every word, and each page has been painstakingly painted by Felipe Massafera to create this comics masterpiece. Available in a standard Softcover and a limited edition Hardcover, of just 2000 copies, both with covers by Massafera. (STK384494) (NOV083804)
MATURE THEMES
SC, 48pgs, FC SRP: $7.99
APR181365
ALAN MOORE A SMALL KILLING TP (MR)
(W) Alan Moore (A/CA) Oscar Zarate
One of the classic Alan Moore works is finally back in print in this new full color, magazine size, printing with totally re-mastered artwork and lettering. As Alan Moore himself says " A Small Killing is one of the best pieces of comic book art that I have ever been involved in." Adman Timothy Hole has everything going for him and has now been handed the biggest assignment of his life, marketing a major cola in Russia. But his smooth life begins to unravel as he is stalked by a demonic child that makes him question not just who he is, but how he really effects those around him. It is about the little murders that we all have to make each day just to get by. The trace assassinations of tiny things. Really, how much damage can be done by a small killing? This work is much more than a sophisticated thriller, it is a nonlinear masterpiece, from the writer who has defined adult graphic novels! As an added bonus this graphic novel includes a new commentary article by both Alan Moore and the artist Oscar Zarate. (STK209381) (STAR19589)
MATURE THEMES
SC, 8×10, 104pgs, FC SRP: $16.95
Enjoyed this article? Share it!