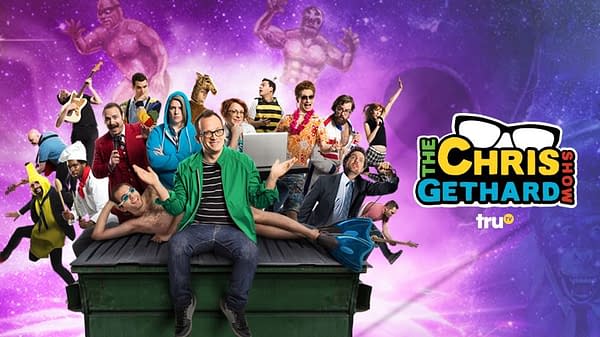 Okay, look… here's what's been going on. Over the past few months, I've been subtly and not-so-subtly telling you just how great truTV's The Chris Gethard Show really is — whether through posts about the show returning for 10 additional episodes or singing its praises during The Weekly Static's recognition of truTV as our 2017 MVP, as well as one of standout show's during Bleeding Cool Chatter's The Best TV of 2017 episode.
Comedian Chris Gethard brings his interactive, off-the-rails talk show live to truTV, stretching the limits of what is possible on late-night television. Each week, Gethard walks a tightrope between chaos and control, attempting (and often failing) to wrangle celebrity guests, a cast of comedy improvisers, a studio audience and an electric fan-base of callers, all without a safety net. Throughout its rise from a live stage show at the Upright Citizens Brigade Theatre in New York to a humble NYC public access show on Manhattan Neighborhood Network to a beloved and critically-lauded series for Fusion, The Chris Gethard Show has attracted a host of A-list celebrity guests including Method Man, Ellie Kemper, P. Diddy, John Oliver, Paul Giamatti and more.

Produced by Funny Or Die, The Chris Gethard Show is executive produced by Will Ferrell, Zach Galifianakis, Adam McKay, Owen Burke, JD Amato, Brian Stern and Gethard.
With the network giving the show an additional 10 episodes — the first premiering last night — I need to make it my personal mission to get each and every one of you to check out the show at least once. But first! Check out my video review of last night's episode and open your mind to the possibility of navigating your eyeballs to The Chris Gethard Show every Tuesday night at 11 p.m. ET.
Where are my manners? Let me stop being rude and introduce you to the main members of our The Chris Gethard Show family: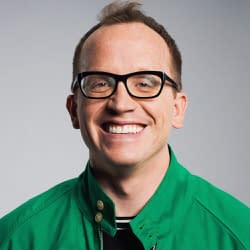 Chris Gethard: The show's host, of whom I've grown a little protective over the course of the season in a big brother, little brother way (so play nice, Paul Scheer and Jason Mantzoukas). Gethard is the "geek heart" of the show, and it vibes through every minute of it.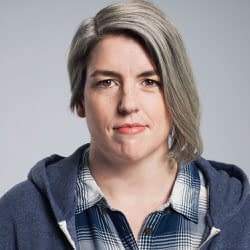 Shannon O'Neill: Similar to Tyrion's role as Hand of the King in Game of Thrones, Shannon is the perfect combination of sidekick, accomplice, and wing-woman for Chris. She strikes me as the kind of friend who would help you hide a body — no questions asked — and would have your back in a back alley fight. She's the sister I wish I had — and I have sisters.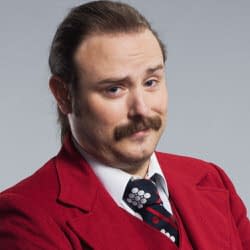 Murf Meyer: Murf is the show's announcer and "Vocal Chords of the King" — a man who views a teleprompter as merely a suggestion. Murf is the kind of guy who would help you "secure" the body that Shannon will later help you hide (though you could switch their roles and still feel safe) — and again, no questions asked. My best description for him? Murf's the guy who would stage dive a Bieber concert if the Jameson was flowing.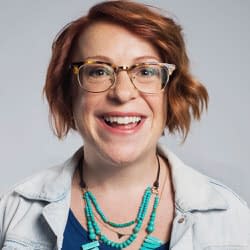 Bethany Hall: Bethany is the show's internet liaison; otherwise known to me as "The Mistress of the Intertubes" and an endless source for cool online questions and polls. If the internet was a person, Bethany is who I hope she would be.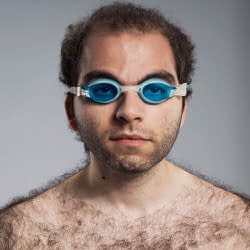 The Human Fish (David Bluvband): A fish-human hybrid said to be "figuring out the world of men", he mostly speaks in comparison/"X vs. Y" format. Fascinating in ways I still haven't quite processed yet, I'll leave it with this: Red Vines vs. Twizzlers…???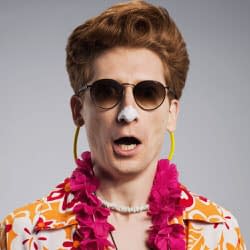 Vacation Jason (Riley Soloner): The vacation-loving Jason stands as Chris' "big bad," never hesitating to make Chris look bad on his own show — and grab some sweet screen time in the process.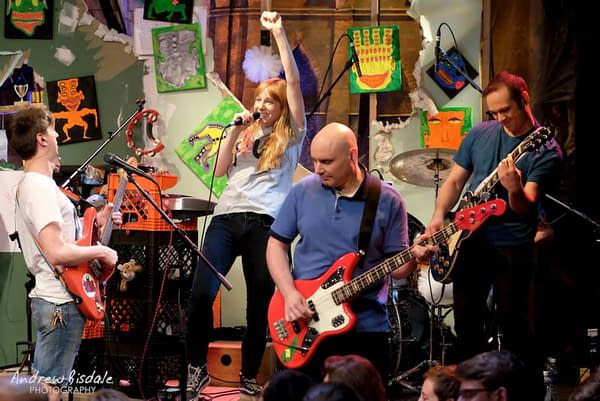 The LLC: Serving as the show's official house band, The LLC create original music for every episode of the show. They also curate themes for many of the show's recurring sketches and characters. The LLC are: Hallie Bulleit (lead vocals, kazoo, percussion); Bill Florio (glockenspiel, vocals); Jon Vafiadis (guitar); Alex Clute (guitar); and Mikey Erg (cajon, percussion, vocals). Every episode, every sketch, and every character on the show is made just that much better by their musical talent.

To further beat my point to death, here are some highlights from the show:
Photos courtesy of truTV.