Halo: Showtime's Live-Action Series Puts Out Master Chief Casting Call
Showtime's looking for a few good people to joing the ranks of the Space Marines – and there's a particular currently vacant green helmet and armor that Halo fans should take particular interest in. The cable giant is looking for a male actor ("a Spartan-like warrior of large build") to take on the live-action lead role of John/Master Chief in their 10-episode scripted drama series based on Microsoft's video game franchise. The casting call for Master Chief (aka Master Chief Petty Officer of the Navy John-117) was first reported by The Hollywood Reporter based on casting notices obtained, with production slated to begin in June 2019 in Budapest.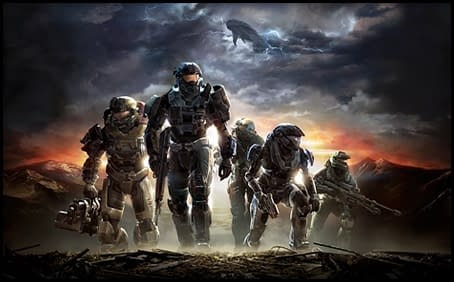 As fans of the Halo franchise already know, Master Chief's face was never fully revealed in the games – with the super-solider's mostly seen in his military gear. Considering he's listed in the character rundown as a series regular, it's safe to assume that Showtime's Master Chief will be spending a little more time in his civvies (Showtime declined to comment to The Hollywood Reporter's reporting at the time of this post).
Other characters included on the casting notice: calls for actresses between the ages of 55-65 to audition for Dr. Halsey – most likely SPARTAN-II program creator Dr. Catherine Halsey (Halo: Reach, Halo 4, Halo 5: Guardians) during the later stages of her career; and Jenny, an Asian woman between the ages of 18-20 who apears to have no direct past connection to the games.
Kyle Killen (Awake) serves as the project's executive producer, writer and showrunner; while Rupert Wyatt (Rise of the Planet of the Apes) will direct several episodes and also serve as an executive producer. The Halo series will be produced by Microsoft/343 Industries, along with Steven Spielberg's Amblin Television (though Spielberg is not listed as an executive producer).