Mac's Books Reviewed: Defiant: The Legend Of Brithnoth, City Of Lost Souls, And Vivacity
Bleeding Cool contributor, Olly MacNamee, takes a look at the comic book scene in the UK and beyond in this monthly review:
This Month's Reviews:
Defiant: The Legend of Brithnoth (Time Bomb Comics)
City of Lost Souls (Geeky Comics)
Vivacity (Jessica Martin)
Defiant: The Legend of Brithnoth
Publisher: Time Bomb Comics
Writer: Andy Winter
Artist: Daniel Bell Based on the only surviving portion of a 10th century poem called The Battle of Maldon, this all colour graphic novel from Time Bomb Comics transports the reader back into a world of Viking invasions and British determination and, well, defiance, in the face of overwhelming odds. I have to admit, this era of British history fascinates me immensely and legends were made and lost through poetry of the time. The legend of Brithnoth is one such surviving artifact from that time, thanks to the surviving manuscript and allows for writer Andy Winter and artist Daniel Bell to people Anglo-Saxon Essex with realism and historical depth while not necessarily lingering on the bloody times they are recounting. Yes, there is blood spilt, this is a story of a battle after all, but this isn't horror, it's history, albeit one with some embellishing as was the wont of Anglo-Saxon poets of the time.
In 991AD a fleet of 93 Viking longships, containing 3000 men arrived on the South East coast of England ready and willing to take on the British as they sailed up river through Essex to raid the Royal Mint at Maldon taking on all comers along the way. The poem – or what is left of it from this era – depicts the stand-off between the King of Denmark, Sweyn Forkbeard and the Earl of Essex and the book's eponymous hero, Brithnoth. Part historical representation, part hyperbole, the poem weaves a tale of strong-willed would-be heroes, brutal battling and cowardly actions too. The book introduces us deftly to the main players, introducing Brithnoth himself soon enough, a fair, compassionate leader who builds up a small but formidable force through two parts training and one part pep talk. Unlike others, Brithnoth held the belief that the Vikings should not be simply paid off but met and with force, even if it meant fighting to the very last man. We meet others from his community, the deformed and often drunk Godric, who lost his nose and his eye in battle and now suffers from depression as he realizes his looks will never win him the hand of a fair maiden, as well as the criminal-come-conscript Wistan amongst many more who make up Maldon's small township and its fighting force. As stated earlier, in building a picture of pre-Norman Conquest Britain, Alex Winter and his artistic collaborator, Daniel Bell, create a well realized and believable, living breathing facsimile of Essex, Maldon and Anglo-Saxon England; its society, its people, its clothing and customs.
I felt drawn into each page, the artwork is clear, with an eye to the details of life in 10th century Essex. Splash pages and double page spreads are littered throughout the book's 85 pages to better suggest the sheer scale of the Viking fleet and the real threat they posed the South East coast of England one August in the late 10th century. This is s sparsely populated land where 3000 invading men could do a lot of damage as they plough through Ipswich, and onto Maldon and the promise of gold. Of course, Winter's adopts modern English through which to give voice to the cast of Defiant: The Legend of Brithnoth, but this is the English of everyday usage, often course language but only as one would expect to hear amongst such men as Brithnoth rules who enjoy a beer and a brawl when they aren't defending their lands. History tells us that after the defeat of Brithnoth and his troops at The Battle of Maldon, the king of England at that time, Aethelred the Unready, paid off Sweyn and his armada with the first recorded example of Danegeld, something that would have Brithnoth and his battle-hardened men turning in their graves no doubt. Yes, this is a story of defiance, of David versus Goliath and a choice between bravery in battle or the more cowardly choice of defeat in paying off the enemy, but it's also a story of life in 991AD Anglo-Saxon England. Brithnoth and his men (well, most of his men anyway) take the only route he can believe in and it costs him dearly. The way of so many modern day superheroes one might note. But, could it have cost the country more in the long run if he had not remained so defiant?
Defiant: The Legend of Brithnoth is to be launched at the Birmingham Comic Festival this April 18th. You could pick up a copy there, or ask for it at your local comic book shop.
City of Lost Souls No. 1
Publisher: Moo Mac Comics/Geeky Comics
Writer: James McCulloch
Artist: Janine van Moosel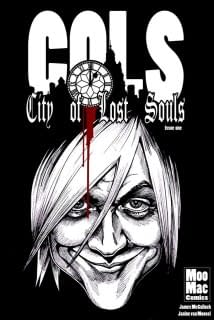 There's a lot happening in this first issue of this ongoing series from Geeky Comics as writer James McCulloch and artist Janine van Moosel create their horrific vision and set the story in motion. The first four pages alone introduces us to the extremely undesirable narrator of the series, Matt Jordan, a serial killer who kills without any discernable pattern, other than his drive to kill twelve victims before committing suicide himself rather than face prison. Not your average star of a comic book then.
Waking up being throttled by an immortal soul catcher, Soku, was not the afterlife Matt had imagined and it is quickly revealed to both Matt and the reader that the boredom felt by these immortal other-siders is only alleviated in a game of chase where the stakes are impossibly high.
What follows is the straight of this great chase as Matt and his would be otherworldly guide the diminutive demon, Ki, cross into Hell in search of The City of Lost Souls. Violence ensues, as one would hope in a comic firmly rooted in the genre of horror and van Moosel's black and white art has the right balance of black to better create a dark, shadowy underworld in which one could imagine the hordes of Hell calling their home.
What is introduced to us in this first issue is a dark twist on the age-old hero's quest but without a hero; a Dante's Inferno without Dante and a final page that only ramps up the promise of further bloodshed in future issues. City of Lost Souls No.1 does well then to interest me in the story while despising the central character. Although, I warmed to Ki, Matt's spirit world guide who threw himself, short as he is, upon the first rampaging demon that came their way, knowingly quipping that 'size doesn't matter…It's what you do with it that counts', as he chops off the would-be hunter's hand. Black humour, for me at least, has always been appealing in horror whatever the medium and the inclusion of such lines in City of Lost Souls helps alleviate the tension and supernatural brutality and makes the whole experience a good read. No a bad feat, given Matt is such a horrible, horrible man.
Dark in tone and in humour, look out for City of Lost Souls in your local comic book store, or online.
Vivacity
Publisher: Jessica Martin
Writer and artist: Jessica Martin Following up from her IT Girl comic of last year, Jessica Martin returns to the silver screen sirens of yesteryear for her second comic, Vivacity, focusing on Vivien Leigh, her early life of privilege and colonial entitlement in India, her marriage to Laurence Olivier (as well as charting her first failed marriage to Leigh Herbert Holman as a young woman) and her rise to starring in one of the 20th century's biggest films, Gone With The Wind.
The narration takes the guise of a would-be interview, allowing for the comic's Vivien Leigh to pass commentary on her own life, or at lest a portion of it. Martin, in her introduction, does not claim to be creating a biographical story charting her whole life (which she does admiringly well, knowing that the story behind Gone With The Wind is the vignette people want to know the most) and in focusing on a few choice highlights she is more able to fit the life and loves of Leigh into a comic book without any feeling of claustrophobia. The writing is well paced, tight and one panel can easily boil down the prose of a whole chapter of any official biography, making a comic version an appropriate medium for the message in this case. Leigh, the unreliable narrator, let's us into the mind behind the performance and her own thoughts when others were less kind of her participation in the classic film. Martin's artwork has developed too since IT Girl, with a clear joy emanating from each portrait of Leigh on the printed page and evocative of the era she is spotlighting. Martin's healthy fixation with the history of Hollywood's original leading ladies comes through on each page and her decision to produce art from pencils works well and adds a tonal quality that makes up for a lack of colour. This comic, with a thick stock cover, is clearly a labour of love from start to finish and a love to read too. A straight up tale of olden days Tinsel town and an interesting, loving inclusion in the history of one of Hollywood's most iconic silver screen stars.
Look out for Jessica Martin online or at any number of UK comic cons over the coming year.
Olly MacNamee teaches English and Media, for his sins, in a school somewhere in Birmingham. You got a comic you want reviewing? Get in touch through Twitter @ollymacnamee or Facebook