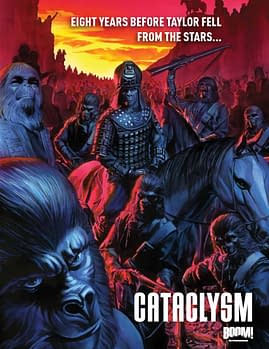 SleepWatch: Looks like my jet lag caught up with me. I just slept till noon.
SigningWatch: A few upcoming signing events at Gosh Comics, London… A launch party for the Fatale collection, with Ed Brubaker and Sean Phillips on Saturday, July 7th, 6.30 – 9pm. And a launch party for Ellipsis by Tom Humberstone on Friday, July 27th, 7pm -8.30pm.
ApeWatch: From Boom, in September… Planet Of The Apes: Cataclysm.
KickWatch: Check out this Kickstarter campaign for an upcoming graphic novel called The Adventures of Joe and Nancy.
PassWatch: As the publicity over gay superheroes seems to posess every media organisation going, agaian, the Guardian runs a Pass Notes piece on One Million Moms.
PornWatch: Comic store Caffeinated Comics in San Francisco let a rather nasty porn movie be filmed in its premises during work hours, part of a series of humiliation porn films called Public Disgrace. I'd link to one of the many sites that hosts it but, seriously, it's rather nasty. I don't think even I could divert myself from the sight of someone appearing to be sexually assaulted, watched by a crowd of onlookers, by the fact that she's surrounded by issues of Captain America, Astonishing X-Men and Phonogram, but each to their own. Now I need a mind eraser.
This is Computo the Comic Link Conqueror speaking. I come for your women. But for now I merely collate comic-related bits and pieces online. One day I will rule. Until that day, read on.
They say I am a work in progress. The fools.
Eye on Comics » Blog Archive » Comic Artist's Motion to Suppress Denied in Child-Porn Case
Josue Rivera, 40, better known to the comics industry and readers as the artist Justiniano, has failed in his effort to have evidence in the child-pornography prosecution against him tossed out.
Pocket God's Other Success: Digital Comics | TechCrunch
All told, the series has sold more than 600,000 digital copies, Castelnuovo says, with issue number one seeing more than 200,000 sales…… in the world of digital comics, they're actually kind of amazing. For example, selling 200,000 copies puts Pocket God at roughly the same level as Avengers vs. X-men #1, which was the top-selling comic in March 2012. Castelnuovo says some subsequent issues have sold as many as 80,000 copies, which would place them among the top 10 comics for most months.
Enjoyed this article? Share it!