New York's Immersive Theatre Speakeasy Dollhouse Wows Comics Folks on Seth Kushner's Birthday
I run up the subway steps with only two minutes to spare until my appointment. Turning the corner, I start looking for some indicator of where I'm going but don't expect to find any since the place isn't really on any maps. But then I see an unusual number of people on the street trying to look casual about a block away. I mentally "tsk" them—not very subtle. If we get raided tonight it'll ruin Seth's birthday. The one he doesn't know he's having. Unless he sees all these people. I thought everyone was supposed to go around the back.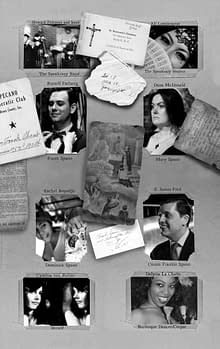 But the problem, I realize as I get closer, is that there are too many people. Seth has too many friends. And they are all here being unsubtle. Thankfully, his wife has noticed too, just in time, and faking a sprained ankle, has slowed things down. I cut the line to ask a bootlegger in the know what's what. A fine lady in a very pale lace gown with an even paler complexion asks if my name's on the list. I say some magic words, jumping the list. Suddenly everyone's moving quickly. I keep getting pulled by the elbow, come this way, come that way. It's getting confusing already until I'm not even sure how we got inside. It's dark. We try to be quiet, but every so often there's a solid metal thunking on the door and someone has to open it or Cynthia, who's trying to keep us all in hand, says, "Don't open it!" in sternest tones.
And she should know. It's her place. Well, her grandfather's place. Frank Spano's. He's dead, as far as I understand it. Though I wasn't there. Lots of people were there but no one seems to know what happened the day he was murdered. In fact, we're here to help Cynthia figure out what happened, in a way.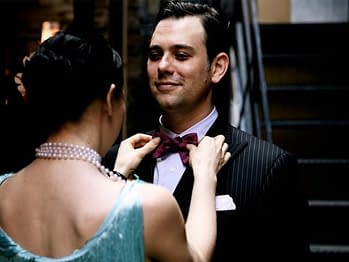 We didn't think Seth would mind if we helped Cynthia out even if it is his birthday. He's generous that way. The door opens a few times, cautiously, and things are getting crowded. It's too full to wait here so we wander a little warily through double thick doors, secret doors, and suddenly we're in the Speakeasy. Everyone has the same reaction, and it slows things down. Everyone keeps bumping into the person ahead who stops for approximately one and a half seconds before they realize they are not supposed to do that since we're in a hurry and everyone needs to get in. The band is already playing but we shouldn't stop to listen just yet. We have to go down further as everything seems to slope and descend. But everyone ends up at the bar, filling the room like a destination, reflected in glinting mirrors hanging with…spiderwebs? Oh, we forgot, it's Halloween and things are going to be a little stranger than usual. We were warned. Cynthia said so. The other guests start flooding in and we lose each other in the crowd of plumed headbands and fedoras. We're still waiting for Seth, aren't we? A friend finds me at the bar and I don't even recognize him at first he's so spiffy for the party. That's the thing in the Speakeasy, things become unrecognizable from time to time. He hands me a heavy coffee cup of mixed hooch, pinkish. It smells of anisette. That's ok since I like anisette. Cheers. As soon as I take a sip, things start to change again. The other guests are melting away upstairs and we can breathe and move around. The bootlegger gives me a signalling look across the room and we all try to climb on top of things to see because there are so many of us it's a little excessive. In wonder how Cynthia puts up with us. There's a clanging of the heavy back door, or maybe the front door. The main door, one way or the other. The one with the secret porthole and the grill. It's opening. I glimpse Cynthia's red dress. We all take a breath, then shout "SURPRISE", hoping that isn't a mistake since we can't really see what's going on.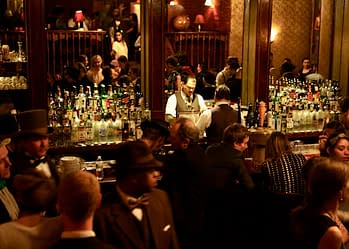 Seth stands there for a minute. He thinks he's here to take photographs. He probably doesn't know what to do. Everyone starts laughing. Because we know it's a little mean, really. He thinks no one cares about his birthday, part of the plot. The secret's out. But there's not much time for reaction or reflection because suddenly everything's changing again. Until now, we've been drifting with our little schemes. Now the music kicks up a notch and things start happening. Impossible things we have to try to figure out. Frank Spano is here, and his wife, Mary. Tonight's the night he gets shot. Again. Like every night at Cynthia von Buhler's Speakeasy Dollhouse.
Well, that was fun.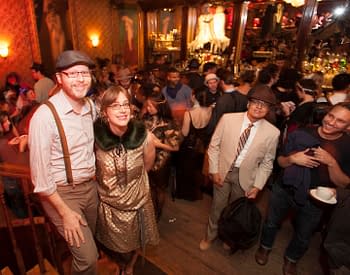 What does this all have to do with comics? Well, if there had been a raid, and if the prohibition was still in effect, let's just say those cells would have had beautiful walls by the time we were sprung. A sizable horde of New York and Brooklyn-based comics people turned out to celebrate award winning photographer and comics creator Seth Kushner's 40th birthday on October 26th in a rare alignment of the planets that managed to get us all in one place at one time instead of bumping into each other here and there in studios and shops or separated by crowds at comic cons. Seth is the camera behind the photo profile book Leaping Tall Buildings and when you pick up a graphic novel or click on a prominent comic professional's website, the portrait you see is probably courtesy of Seth Kushner. The more interesting the photo, the more likely it is to be a Kushner picture. But like any desirable piece of visual property on the internet, his pictures have gone viral and they make their rounds uncredited, too.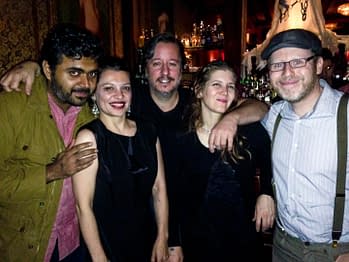 In the past two years, Seth has also been publishing his serialized comic Schmuck online, produced a printed collection called Forcefield FotoComix, and is about to debut a mini collection of Schmuck at Comic Arts Brooklyn. He's one of the founding members of Hang Dai Studios, so his "bootlegger" Dean Haspiel (The Fox) had plenty to do with the guest list to the Speakeasy, and studio mates Christa Cassano, Gregory Benton (B+F), and Shiraj Ganguly wouldn't have missed the event. Also present were Josh Neufeld (A.D.: New Orleans After the Deluge), Chris Miskiewicz (Everywhere), Jen Ferguson, Jon Allen (Vacationland), Shamus Beyale, and the list goes on. There were enough of us to make it a little difficult for other visitors to the Speakeasy to move around, but we tried not to be too much of a nuisance. Oh, and the more specific connection, if there needs to be one, is that one of the performers in the immersive drama of Speakeasy Dollhouse is Katelan Foisy. She's a frequent contributor to the Comic News Insider podcast, a painter, writer, model, and tarot reader, and stars in several of Seth's photocomix. That's really not an extensive enough biography description. You should look her up here on her blogspot.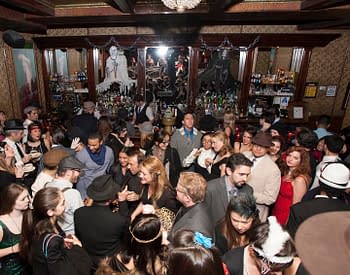 Speakeasy Dollhouse is celebrating its two year anniversary this month, though it's hard to believe that it hasn't been around for much longer than that given the star talent it already attracts to take part in its interactive theatrical, musical, and of course, booze accompanied reenactment of the true life events surrounding the murder of Frank Spano. Spano's actual granddaughter Cynthia von Buhler started off my making the first chapters of a book about her family's mystery via Kickstarter, a story told through the use of dollhouse models, and simply because she wanted to, she staged a one night performance of a play version of the story in a speakeasy setting. That one night has turned into two years and now the best-kept secret in town is no longer a secret. In fact, if you want to get tickets, a little determination is necessary.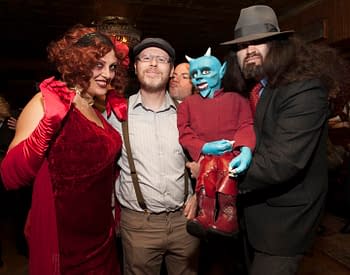 Past contributors to the performance, which involves acting roles, burlesque dancing, vocals, and events happening in several locations on the Speakeasy premises throughout the 2 ½ hour show, include Neil Gaiman and Amanda Palmer. The Speakeasy experience had already become a very big deal among bohemian types in New York long before I got caught up in this surprise party, but it's set to become even bigger since Cynthia announced that due to the success of the show so far, there'd be another new show added in the spring. The performances I saw were indeed stellar, highly professional and well choreographed to the layout and the crowds of the event space, but what was most surprising to me was the instinctual way in which the performers were able to highlight and then downplay the uniqueness of their roles in order to blend into the audience at different points during the evening.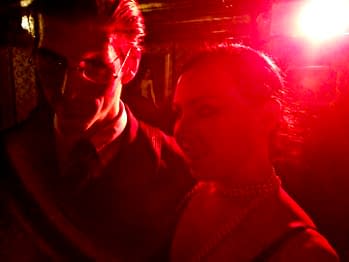 I thought I knew with reasonable certainty who were performers at the event and who were guests, though the fact that most people dress in prohibition-era clothes to go the Speakeasy makes that a little more difficult, as well as the fact that all the guests are given roles for the evening, but only when I looked through the Speakeasy's website later did I realize I was totally taken in. Several of the people I had assumed were guests were actors, too. It's that kind of uncertainty, though, which makes for a transformative experience for guests. The Speakeasy already challenges assumptions about theatre, about history, about our notions of the past, but to break down your real-time perceptions, too—that's pretty much priceless.
I, of course, can see now why Seth Kushner did a photo profile on Cynthia von Buhler previously and why his wife and friends knew it would be the perfect place to surprise him, especially since he's notorious for figuring out plots ahead of time. What better place than somewhere you can't help but be surprised, different every time? It took a lot of passwords and heavy doors to do that. The place is like a vault but what you'll find there deserves to be well guarded. It's for your own protection, really. You have to know what you are getting into and be sure. Spoiler warning: once you do go, it's very, very hard not to go back again. You've been warned.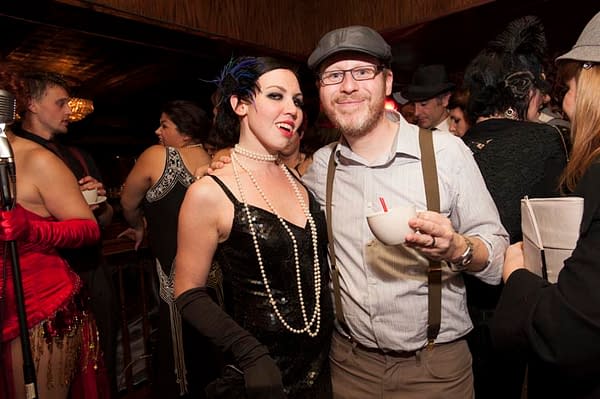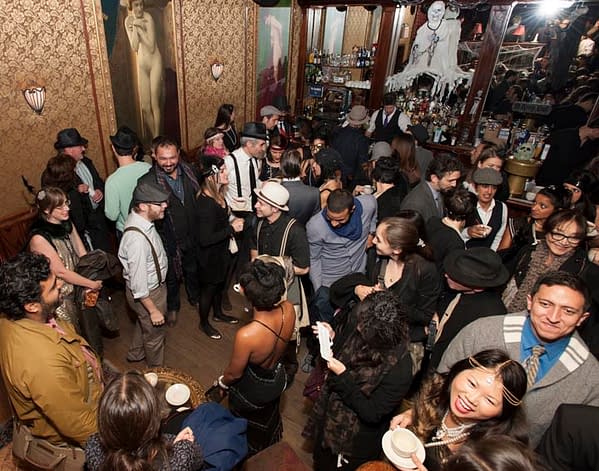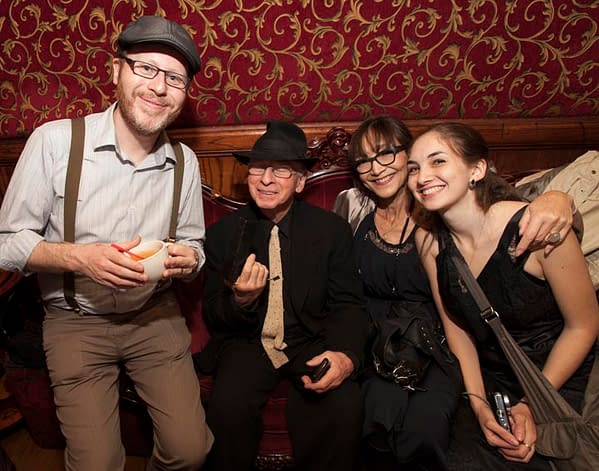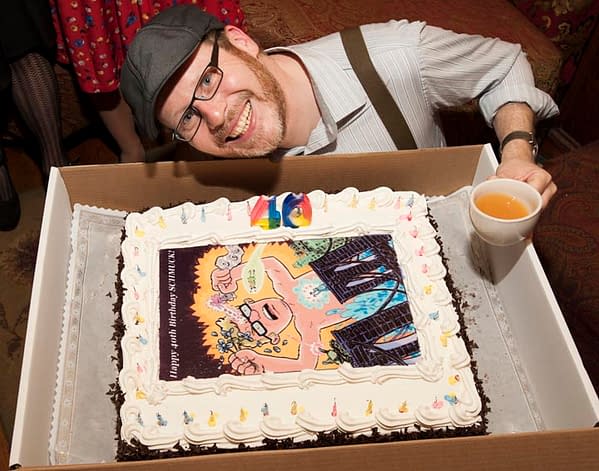 [All photos in this sequence so far are by Carlos Molina]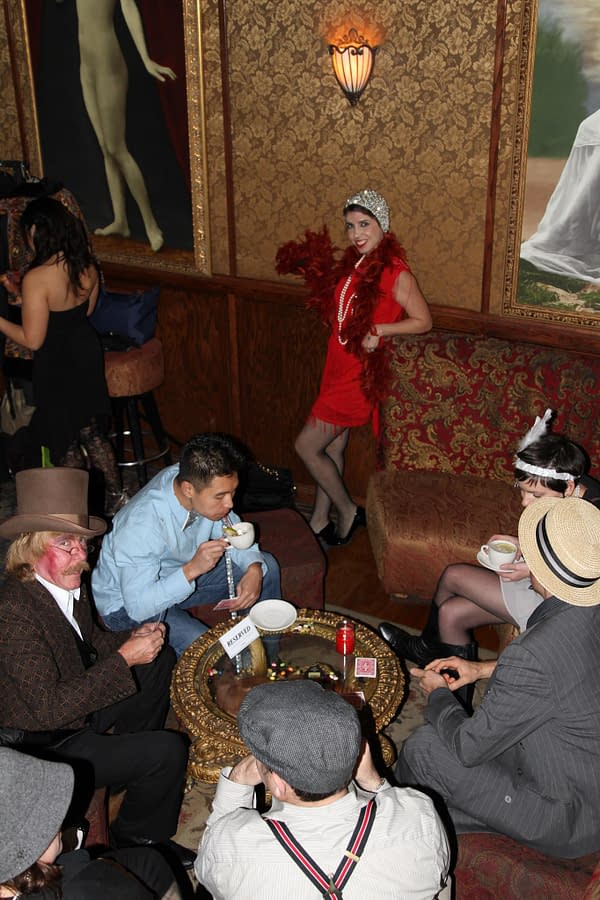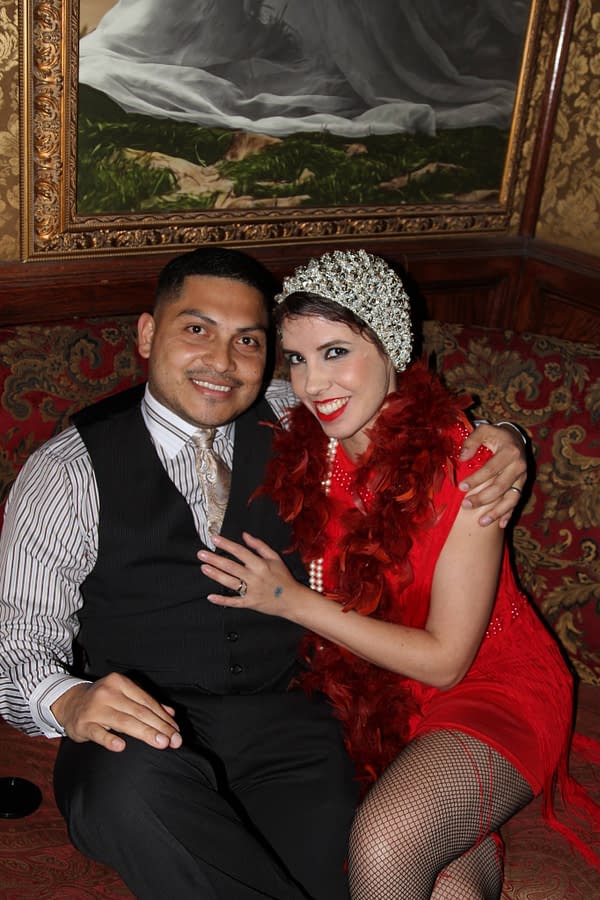 [The previous two photos are by Marlon Gonzales]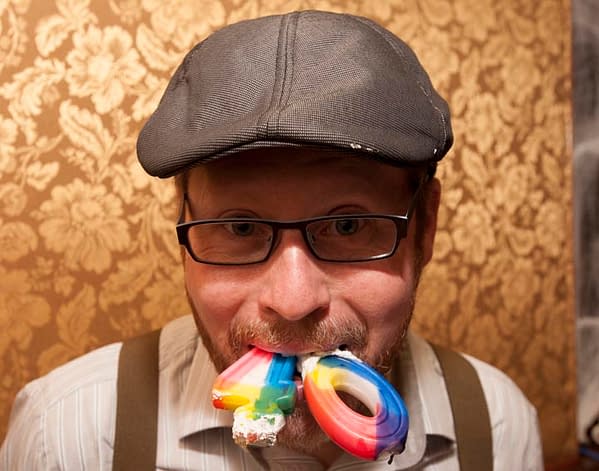 [Photo by Carlos Molina]
By the way, today is actually Seth Kushner's calendar birthday, so Happy Birthday Seth and thank you for a wonderful experience as well as helping round up photos for this piece!
Hannah Means-Shannon is Senior New York Correspondent at Bleeding Cool, writes and blogs about comics for TRIP CITY and Sequart.org, and is currently working on books about Neil Gaiman and Alan Moore for Sequart. She is @hannahmenzies on Twitter and hannahmenziesblog on WordPress. Find her bio here.
---
---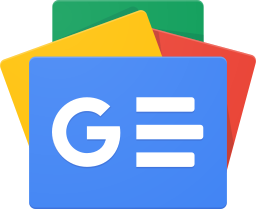 Stay up-to-date and support the site by following Bleeding Cool on Google News today!