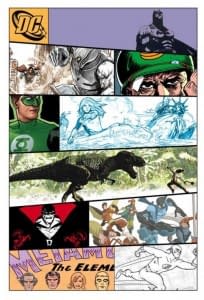 On July 8th, DC Comics' Wednesday Comics hits the stands. A massively oversized comic, folded over twice to fit in a traditional comic stand, Wednesday Comics features 16 stories, one page each, running over twelve weeks, written and drawn by some of the finest comic book creators, including Neil Gaiman, Mike Allred, Kyle Baker, Paul Pope, Walter Simonson, Brian Stelfreeze and so many more.
So why the possible comic book speculator aspect? Well, a number of retailers have expressed their reluctance in ordering such an odd-sized book, that's an anthology to boot. Which means if there is a large demand, there may not be the supply to support it. So prices rise.
Then the folding aspect may make it harder to find a mint copy. Indeed, those lucky enough to get an unfolded copy may have a very rare book on their hands. Again with the price rise for decently preserved comics.
Also, newspaper USA Today are running the first John Arcudi and Lee Bermejo Superman page in tomorrow's edition, the same day the comic ships in the USA and Canada. And each week, the USA Today website will print the subsequent one page chapters.
Reduced supply, possible reduction in pristine copies and mass media coverage. Just make sure you sell any speculation copies well before the eventual hardcover collection comes out…
Enjoyed this article? Share it!