[#SXSW 2018] Marvel's Cloak and Dagger First Impressions: A Solid Start to a New Superhero TV Show
When Marvel first announced that they were going to make a television show based on the characters Cloak and Dagger and air it on Freeform, people were a little confused. It didn't seem like a network that the traditional Marvel audience would watch. Yet here they were developing a show based on these two characters that no one had really heard of. That seems to be the angle of Marvel TV: taking the lesser known characters and giving them a chance to shine.
Marvel decided that it was time for people to see the pilot of this new show at South by Southwest (SXSW) in Austin, Texas. The two leads (Aubrey Joseph and Olivia Holt) were there, along with pilot director Gina Prince-Bythewood, Jeph Loeb, and showrunner Joe Pokaski. In an intimate little showing in a church, fans got to see the first of the two episodes that will premiere on Freeform on June 7th.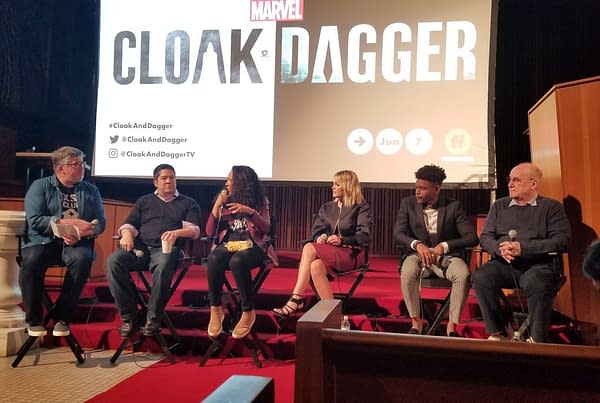 Our first impressions of the show in a nutshell: it's pretty good. While this isn't a full review because we weren't shown the entire premiere, it seems that they are off to a good start. Stars Joseph and Holt have a very easy chemistry both on and off screen. The show also doesn't pull any punches with its content. Like other Freeform shows, this one isn't afraid to dig into themes of addiction, broken families, and in this case, police corruption. These are all things that young people really do deal with on a regular basis, so it's nice to see that Marvel believes the Freeform audience can handle that. This isn't Jessica Jones level of dark, but tonally, the closest it could compare to would be the darker episodes of Agents of SHIELD.
Marvel likes to say that each city their shows take place in becomes a character on that show. For the Netflix shows it's the various neighborhoods of New York City, and for Runaways it's L.A. It looks like Cloak and Dagger is looking to do the same thing for New Orleans. There's a plot point that seems like it was tailor made for the city and the things it has had to deal with. It's clever and really well done. Prince-Bythewood is a major talent, and she said in the Q&A that she brought most of her own team in. There are also some great musical moments that help capture the mood the show is starting to set.
This is only the first episode, but Cloak and Dagger seems to be off to a solidly entertaining start. Whether or not the entire season can work as a cohesive whole remains to be seen, but for a pilot (which are notoriously hit or miss), this one very much feels like a hit. Maybe not a bullseye, but it hits the target nevertheless.