Review: Junji Ito Adapts "No Longer Human" into a Masterpiece of Existential Horror
Osamu Dazai's novel No Longer Human is considered a masterpiece of Japanese Literature. It looms large in Japanese culture the same way Albert Camus' The Outside does in France or Dostoyevski's books do in Russia. The book has been adapted into movies, TV series, anime and manga, but for horror manga-ka Junji Ito to adapt it is a major event.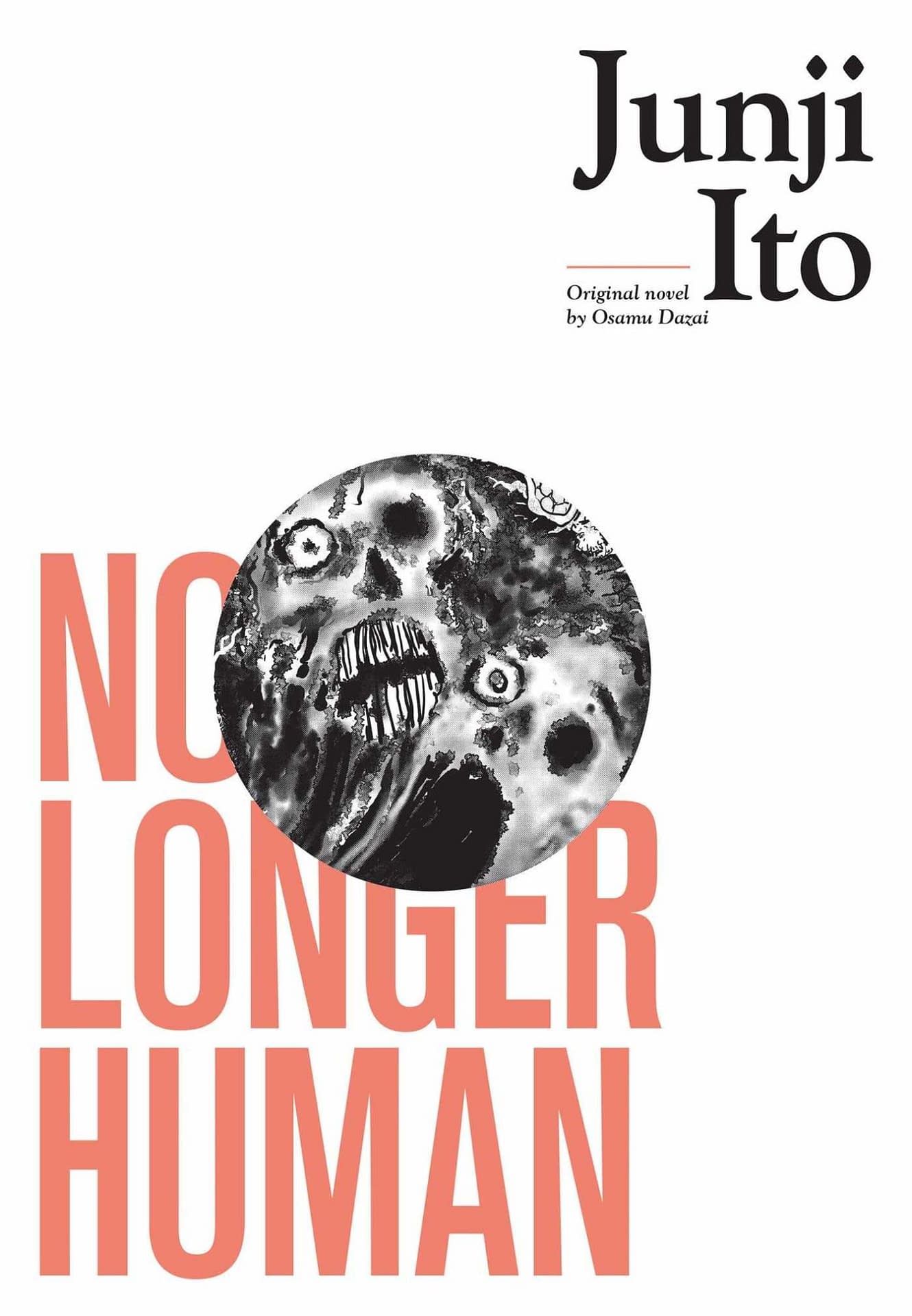 No Longer Human tells the story of Oba Yozo, born in upper class privilege but perpetually alienated. He hides his true nature from people, enduring childhood abuse and trapped in a pattern of destructive behaviour. He's feckless, selfish and drawn to women that he seduces and destroys. He gives in to alcoholism and despair. It's a portrait of a morally weak man who can't help but destroy himself and the women who love him. Many critics suspected that the book was a thinly-veiled self-portrait. Dazai's own life was beset with affairs and scandals. He and his wife committed suicide by drowning shortly after its publication.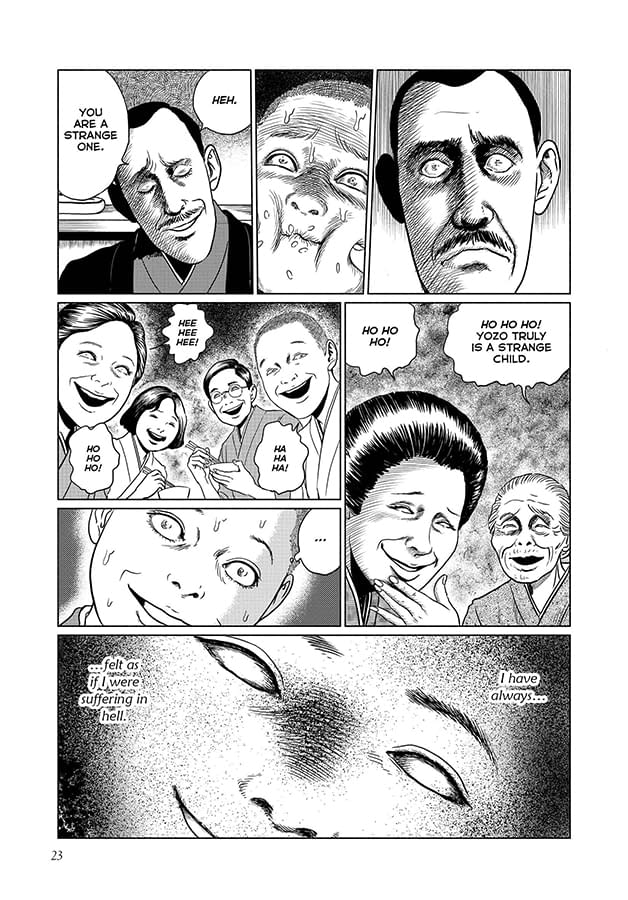 Ito's manga adaptation turns the novel into outright existential horror. His usual techniques of anxious, terror-stricken eyes and distorted faces get at the true terror at Yozo's core. Ito's art turns Yozo's entire life into an existential trap from which there's no escape.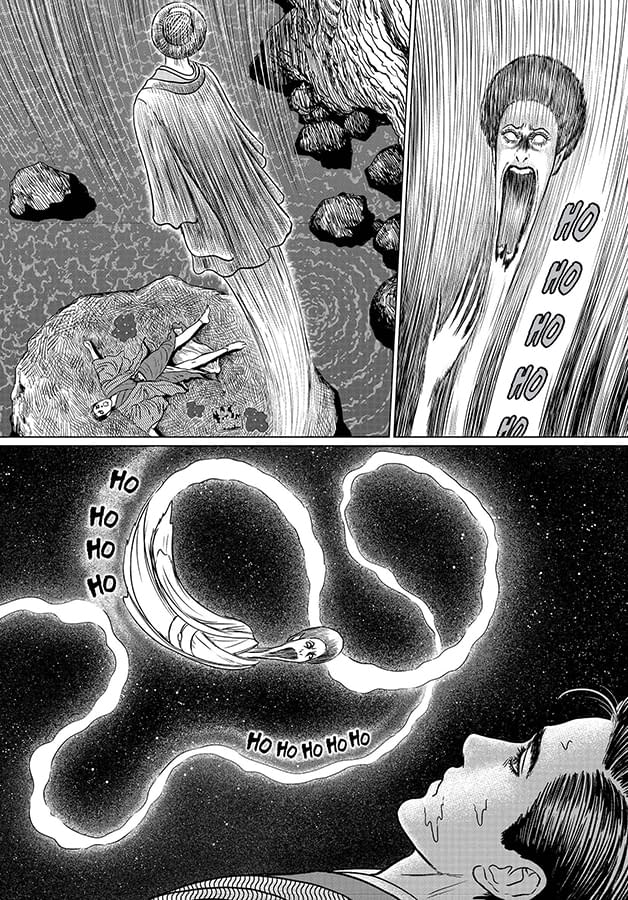 Ito employs a trope that graphic novel adaptations of classic novels have been using lately. He has Osamu Dazai show up in the story and meet the main character. The author – his graphic novel version, anyway – becomes inspired to write his story. Considering Yozo was the author's stand-in, this creates an extra meta layer for the book.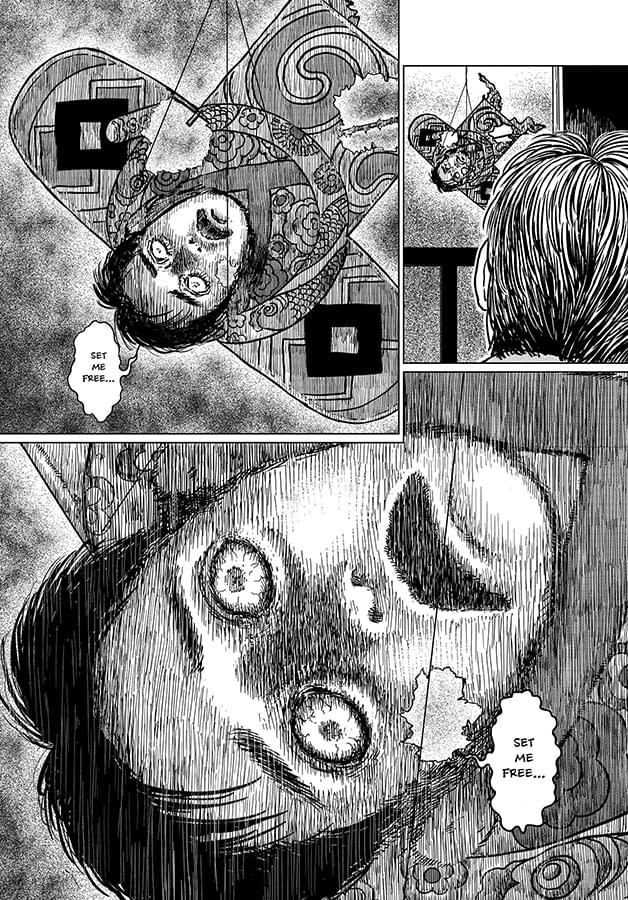 Even without the supernatural trappings and monsters of Ito's horror movies, No Longer Human is no less horrific or terrifying here. Yozo's seduction of the women in his life are a horror story and he is the true monster here. He draws them into his orbit and dooms them to madness, suicide and death. Ito portrays all these incidents unflinchingly, showing that real horror comes from people, not supernatural monsters.
No Longer Human is out on December 17th and available for preorder.