Skybound Launches J.L. Westover's Mr Lovenstein Kickstarter
Over the last year, Skybound has entered the world of Kickstarter graphic novels campaigns with some big wins from Michelle Fus' Ava's Demon earning over $500,000, Brandon Thomas, Khary Randolph, Emilio Lopez & Deron Bennet's Excellence teaming up with hip hop superstar MURS and Simon Stalenhag's narrative art book The Labyrinth also crossing that massive $500,000 funding mark.
Today they're looking to continue that winning streak today on Kickstarter with the launch Mr. Lovenstein Presents: Failure, a new graphic novel collection of the incredibly popular web comic from J.L. Westover.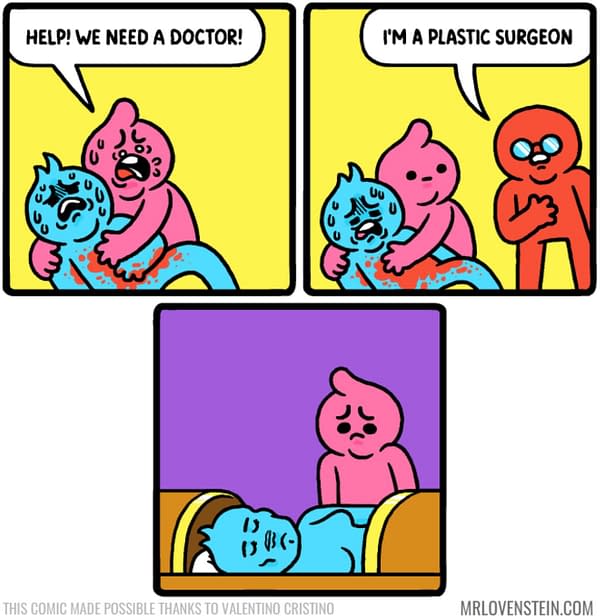 Though Westover himself jokes that a book about failure absolutely failing to secure funding would be hilarious, he's certainly stacking the deck in his favor by making sure his graphic novel includes new comics from:
But for fans of Mr. Lovenstein, their main focus will probably be the two tiers with original, limited edition art – Comic Fail, featuring a hand-drawn comic for only 15 backers, and the truly super-rare Epic Fail, featuring a hand-painted comic for only 3 backers (making it one of the rarer graphic novel tiers you'll ever see). But I'm guessing the most popular tier will be the Trophy Fail tier with a last-place trophy, as that seems like the kind of prop made to be shared via social media in all kinds of unfortunate ways. Or fortunate ways, depending on your perspective.
Mr. Lovenstein Presents: Failure is now live on Kickstarter and runs till the 19th of May, at which point we'll either be laughing at how much it failed or celebrating how much it failed to fail or something like that. If your brain has started hurting, well that's probably just the way Mr. Lovenstein wants it.