Spider-Man #240 Review: Another Heartwarming Bendis Farewell
[rwp-review-recap id="0"]
Spider-Man awakens in a hospital bed having lost time and feeling unwell. His mom informs him that he's been unconscious for days. Dr. Claire Temple arrives to tell him that he has a viral infection, and his spider-powers make it more difficult to treat him properly. As we are given flashbacks to the conflict atop the helicarrier, Miles' friends and family come to visit and give their well-wishes.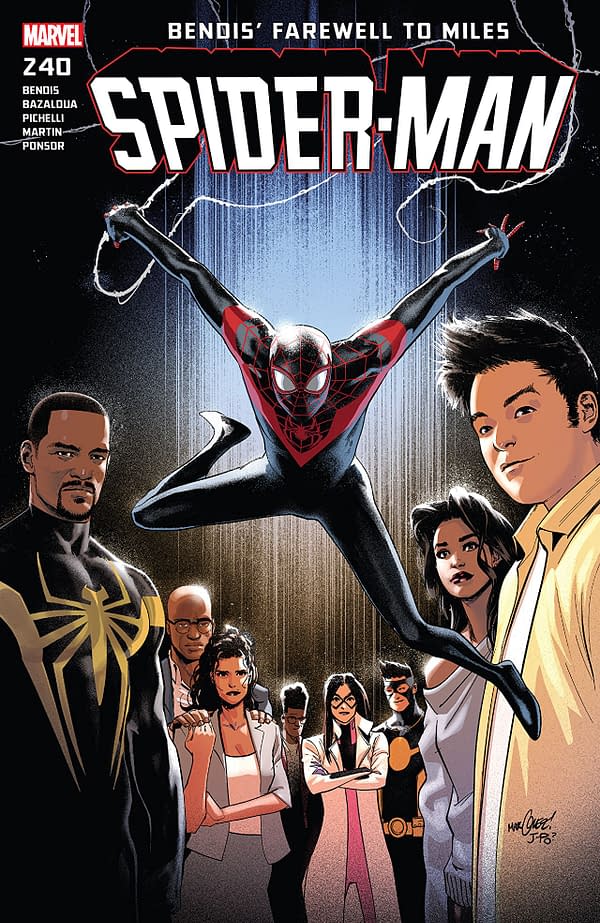 In true Brian Michael Bendis fashion, the creator's final issue writing Miles Morales, the Ultimate Spider-Man, his something of a celebration of the character and how far he's come. The Morales', Ganke, Goldballs, Bombshell, the Champions, and the Amazing Spider-Man himself, Peter Parker, all make cameos throughout this comic to support Miles.
The narrative is a stream of conscience tied to Miles, and there are blackout periods where time skips ahead.
The comic focuses more on relationships and interactions than action. We do get a few scenes on the helicarrier, but the comic takes place almost entirely in the hospital room. The finale involves Ganke and is downright heartwarming, and it has art from Sara Pichelli and Justin Ponsor (with help from Matt Milla and Pete Pantazis)—which means its visually gorgeous too.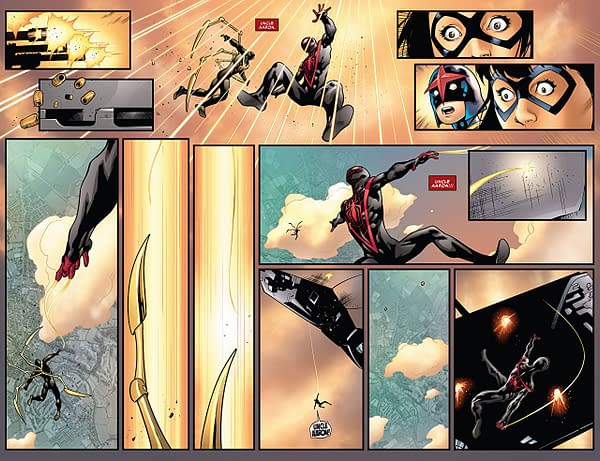 Oscar Bazaldua and Laura Martin handle the art in every other page, and the book looks great for it. It has smooth and detailed look with a lot of personality granted in the faces and body language. The costumes and brief action scenes look awesome. Martin's color work is bright and well-balanced, adding to the visual appeal of the book.
Spider-Man #240 is a fun and heartfelt send-off to Bendis' favorite son, and it makes for a good finale to this era of Miles' life. Friends and family come in to show their support for the beleaguered superhero, and the artistic team puts in top-notch work to make the book shine. This one gets a recommendation. Check it out.
[rwp-review-ratings id="0"]
[rwp-review-form id="0"]