Steve Geppi States Comics Sales Higher Than Expected Out Of Shutdown
Dan Shahin's Comic Book News channel brought in publishers to talk to Steve Geppi, owner of Diamond Comic Distributors. Humanoids' Mark Waid couldn't make it but Fantagraphics' Gary Groth, Boom Studios' Ross Richie, Dark Horse's Mike Richardson and IDW's Dirk Wood did. The stream just wrapped.
Along the way, Steve Geppi talked about the importance of communication from retailers, publishers and distributors, recommending that everyone needed to stay in their lane, publisher, retailers, distributors, that people should know their job, get that job done right now and communicate with each other. He talked about needing to get more involved now in Diamond's operations, after taking more of a back seat in recent years. He also chatted about his history with Gary Groth who, when publisher of The Comics Journal, was quite the thorn in Steve Geppi's side thirty years ago.
But what we learnt from Steve Geppi is that the order numbers that have been coming in for the new Final Order Cut-Off dates that were far stronger than Diamond was expecting, Nevertheless he predicted that they are still going to sell out and retailers would be ordering more. This is something that Boom's Ross Richie echoed later telling us that orders were higher on the first set of Boom Studios titles coming in now, than they were the first time they were ordered before the shutdown. Numbers on the books are up.
I wondered if this might be something to do with fewer titles being offered right now, with more attention being focused on this few and asked if this was a lesson that more publishers could learn from? That wasn't the question I had from the comments that got highlighted though. This one did: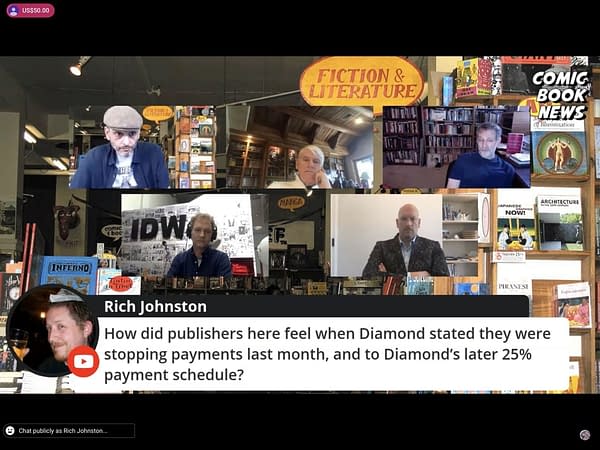 When the shutdown happened, Diamond announced they were no longer going to pay publishers the money they owed them, and that's when publishers started telling their creators to stop working on their comic books. A few weeks later, Diamond announced a payment plan for 25% of monies owed, and then gradual payment over following weeks and months.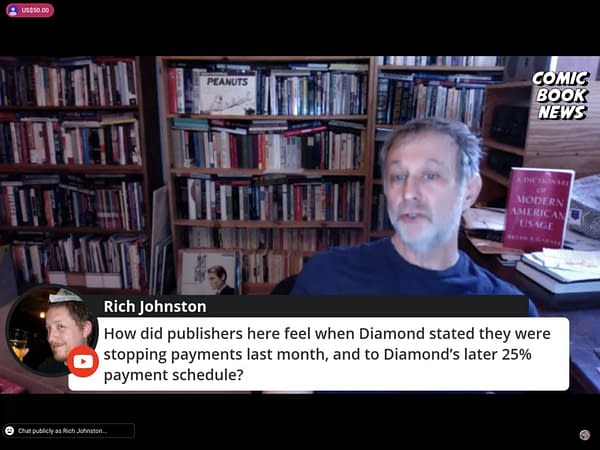 Gary Groth of Fantagraphics was ready with his trademark level of sarcasm saying that he was always happy when distributors say they are not paying. But he did understand the situation, even though he read about it on Bleeding Cool and had to contact Diamond directly to get the news, echoing Geppi's earlier statements about comunication. He was less graceful later when Steve Geppi suggested that publishers try and help out struggling retailers, by pointing out that as a result of non-payments, Fantagraphics was struggling as much as the rest of them. That it's hard to help other businesses when his own cashflow has gone.
Geppi did say that there was a new programme he was planning to be rolling out to generate and benefit from camaraderie in the comic book industry. Not only getting back what sales were lost by the shutdown, but capturing new customers that they couldn't before, and to remind them how much of the culture they love comes from a comic book. Gary didn't seem to think there was a lot of love to share right now. Groth stated that most comic stores are operating on slim margins, and using 100% of their revenue to stay in business. So if their business drops by 20% or 30%, they are out of business. That sales won't simply resume from the end of May, that they would slowly trickle in,
Ross Richie said that being told that Boom wasn't getting paid was not fun, but it was something he had to deal with it. And, as we pointed out, new orders were up on the old orders. Dirk echoed Groth's sarcasm saying he was thrilled. Mike Richardson expanded saying that Dark Horse didn't appreciate it, and certainly wasn't excited about it, but was watching the rest of the world, and problems with supply chain distributions, figuring that Diamond was just getting hit right now. Mike also had to shut down his own comic book stores, but have survived with film deals, their internet presence, and saw direct consumers sales get a big bump.
You can watch the whole of the show below… this was just a taste. You can catch up on our other coverage of the impact of the current global event on the comcis industry and on the New Distributor Wars of 2020 with these bookmarkable links,